Doug Polk is amazing! After winning over $10 million in online poker and live tournaments, he decided to "hang up the cards" at the age of 31. He's also earned three World Series of Poker gold bracelets and famously beat Poker Hall of Famer Daniel Negreanu in a heads-up, high-stakes match for $1.2 million.
He has also engaged in other endeavors, perhaps most notably that being his YouTube poker channel, Doug Polk Poker, which features a variety of topical and themed videos ranging from parodies to strategy topics to interviews and much more.
In one of his recent strategy and hand analysis videos, Doug discussed bluffing, sharing several tips and skills for bluffing on the river. "Bluffing is the most fun part of poker for some people. For others, it's the most terrifying part," he began. It's always fun when you win; but the size of the pot – especially on the river – "is scary for most people."
While Doug is right, in my view he seems to have forgotten low/middle limit players. Let me explain.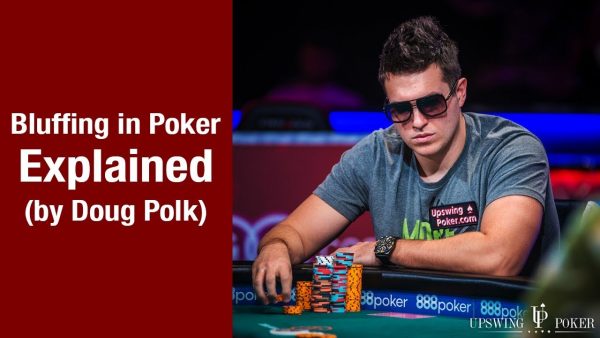 Recreational players vs. pros
There are two types of poker players (well, technically three if you include folks who play live dealer poker, but we'll focus on the poker you play against other players rather than against the casino). The majority of us are recreational players. We enjoy the mental challenge and the social interaction, as well as the thrill of winning. Most of us play low/middle-limit games. (Nowadays, $4-$8-limit Texas hold'em is very popular.) On the other hand, the pros – with whom Polk seems to be aligned – tend to play at the no-limit or pot-limit tables with high table stakes. That's where they can make big scores, well exceeding the cost-to-play (the casino rake, the drop for room promotions and bonuses, and dealer tips that can add up to $150-$200 in a typical session).
Those big bets in no-limit games are enough to scare out many opponents. That's a big edge for the no-limit and high-stakes player. That's why bluffing is so popular among the pros. Just raise high enough and his opponents fold, leaving the pot to him. The limits in low and middle limit games are so much smaller. The $8 raise on the river will not chase out many opponents. As a result, bluffs are much more difficult to pull off and frequently lose in those games.
Overcoming the small raise
Low/middle limit players need to find a substitute for the no-limit players' opportunity to make a huge raise to force out their competitors. How can we make up for it? Answer: Use the Esther Bluff. Some recreational players are already doing so – and the chips pile up for them. In brief, it is simply a way to convince your opponent that you have a big hand – one he cannot beat. The Esther Bluff is a tactic to help your bluffs succeed. It is named after my granddaughter who – without realizing it – conceived and demonstrated the concept while I taught her the game years ago. (Reference: The Art of Bluffing; see ad below.) After peeking at your hole cards and scanning the board, sit up in your seat, displaying a smile of confidence and lean forward (a reverse tell). Slight shaking of your hand is okay but don't overdo it. (Who wouldn't be a bit nervous and excited when raising with the best hand?)
I strongly advocate using the Esther Bluff for low-limit recreational players. It works well for me. I estimate the break-even for bluffing at 30 percent of my total bluffs; using the Esther Bluff, I enjoy winning about 60 percent of them – often the difference between going home a winner or a loser.