Earlier this week the world, along with your favorite poker blogger, was shocked to learn of the death of Randy "Macho Man" Savage. I was a huge fan of his growing up and, like all true wrestling fans, think that his death is even more tragic since he still has not (yet?) been inducted into the WWE Hall of Fame. This is one of those occasions where we can all say "shame on you Vince McMahon", as it's not always better late than never – sometimes it's simply too late.
Anyhow, how does the Macho Man's death specifically relate to poker? Yeah, that one had me stumped too until I stumbled upon a guy on eBay selling Macho Man card protectors. For the record, I don't get any commissions on sales, and this seller clearly is just trying to cash in on a hot topic right now… but that doesn't mean that true wrestling (re: Macho Man) and poker fans can't buy one to keep his memory alive every time they play their favorite game.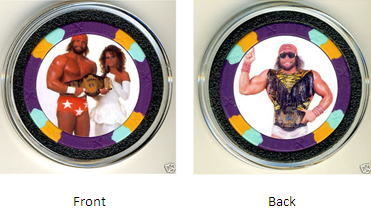 Lastly, we know that lots of poker players have a passion for all things WWE. We've combined these into a great special poker blog post that we're sure you'll love to read: Top 10 WWE Superstars I'd Love to Play Poker With. The Macho Man (and his brother the Genius) made the list!