Vegas, early July. You've been at the Rio for a full month, grinding hard, pining for that elusive WSOP bracelet. Fourteen-hour days blur together. You stop thinking. You stop showering. After another bad beat (do aces ever beat kings?) you drag yourself from the Brasilia Room to the toilet to the Poker Kitchen, where you force another greasy, overpriced burger down your throat. Staggering towards the Amazon Room, you feel like…a zombie or something.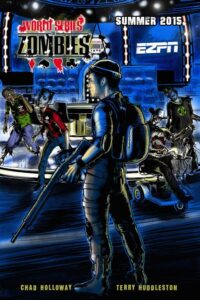 Welcome to Chad Holloway's World Series of Zombies, a 16-page comic book inspired by the long hours that players (and reporters) log at the WSOP. Holloway, a senior editor with PokerNews, is no stranger to the slog. This is his sixth summer stalking the drafty Rio hallways. "I'm a big comic book fan. I'm obviously a big poker fan," Holloway told me at his WSOZ booth. "So when I decided I'd like to do a project to combine the two, I thought to myself: why not set it to the backdrop of a zombie outbreak during the World Series of Poker?"
Read and listen to our interview with Chad Holloway.
This Comic Book "Zombifies" Poker
The story begins in a packed Amazon Room during the Main Event, where thousands of unhygienic grinders compete for money. A generic-looking dude named Dalton is in a pot with Mike Matusow, who suddenly grimaces, folds his hand, and limps towards the exit. Is he tired? Tilted? Hungry for another pricy burger? Nope, he's giving new meaning to the phrase "so sick." When Mike the Mouth returns he's—GASP—a zombie!
For the rest of the slim narrative, Dalton and other prominent poker pros battle the zombie horde. "I wanted to use pros that the general public—not just hard-core poker fans—would recognize: people like Mike the Mouth Matusow, Daniel Negreanu, Phil Hellmuth," Holloway said. He throws in a few lesser-known faces, too, like "Mad" Marvin Rettenmaier, David "Doc" Sands, and Allen "Chainsaw" Kessler. Yes, Kessler gets to wield a chainsaw.
Read and listen to our interview with Allen Kessler.
I'll admit it: I'm not much into zombies. Give me a Hobbit or a lightsaber instead. But I am glad that, like Shaun of the Dead, WSOZ is campy in all the right ways. My favorite moment is when Vanessa Selbst downs her foe with a familiar gardening tool and says, snarling with glee, "You can never beat the rake!"
Another bright spot is WSOZ's illustrations. Terry Huddleston does a fine job of bringing these poker personalities to life (and to death). And Erik Reichenbach, an artist and Survivor contestant, completed a variant cover featuring Daniel Negreanu—a timely tribute for the almost-November-Niner.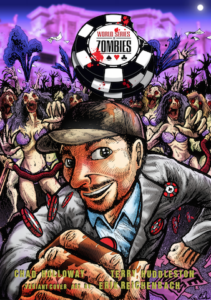 A Monstrous Mashup
WSOZ is essentially a mashup of scenes from comic books, film, and pop culture. This is both a strength and a weakness. The ending, for example, features an amusing showdown between a zombified Phil Hellmuth and the book's hero—could it be anyone else?—Phil Ivey. After Hellmuth delivers his trademark "I can dodge bullets" line, Ivey, in a nod to The Matrix, extends a double-barreled shotgun and calmly responds, "Dodge this!"
For casual readers unfamiliar with or indifferent to poker, there's nothing new here. But Holloway wrote this book for and to the poker community, and folks within this niche will be entertained. Go ahead, pick it up!
World Series of Zombies evokes the madness and monotony of those drafty Rio hallways: you'll remember why you booked that ticket to go bracelet hunting, why those bad beats sting with special suffering (seriously, do aces ever beat kings?), why you're done with sweaty summers in Vegas….
…and why, next year, you'll go back.
Digital copies of World Series of Zombies are available online at Comixology.com for $1.99.
RunGoodGear has also be printed 250 limited edition shirts featuring the cover of the comic book.