There are two kinds of books I love the most; biographies and history books. Gardena Poker Clubs: A High-stakes History by Max Votolato ticks both boxes for me, as it is both a biography and a history book. It isn't your old high school history book though. It has gambling, gangsters, robbers, bombings, gunfights, shady politicians, dirty lawyers, celebrities, you name it… all the fun stuff!
Throughout the book, Max does an amazing job bringing the drama to life. He tells the story like he was there, and he has this natural ability to make the reader feel as though they were there too! Max spent nearly 10 years researching for this book, which pretty much makes him the leading authority on the history of poker on the West Coast!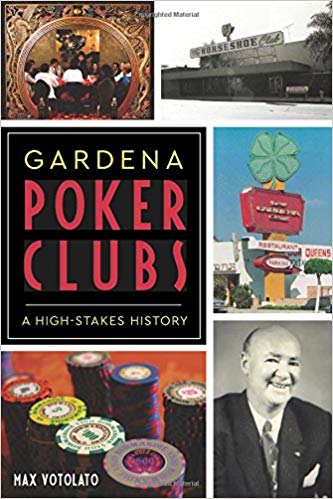 I didn't know anything about the California poker scene, current or past. A great thing about not knowing anything about the West Coast poker scene, much less Gardena's history, is that I did not see the final twist in the plot coming at the end. If you are already familiar with the Gardena casinos, finding out how they got where they are today is going to seriously blow your mind! No joke, it is nothing short of a modern day-Old West gunslinger tale, but instead of gun duels in the dirt road in front of the saloon, the drama unfolds in the courtroom and spills out into the streets. The outcome is no less deadly, as people's livelihoods are at stake. It truly is a high-stakes history!
I had never heard of Gardena, but I was familiar with this small town called Primm, which is located 40 miles south of Las Vegas off Interstate 15. I knew a little bit about Primm because it is one of the cities I looked into while researching potential places to move after my son Landon graduates from High School. We live in freezing cold, snowy Minnesota where there are no legal cash games in casinos, so I have been looking at every possible option of places to move to in Nevada for the future. Primm gets its name from Ernie Primm, the pioneer of draw poker clubs in Depression-era California, more specifically the poker capital of the world, Gardena. So, I was surprised when I got the Gardena Poker Clubs: A High-Stakes History book in my hand to discover the gentleman on the cover was Ernie Primm.
Gateway to Primm, NV. The town named after Gardena Poker Godfather, Ernie Primm.
Check out https://t.co/3WARf7HuiE pic.twitter.com/L4sCk7ZG1P

— Max Votolato (@Votolato) January 23, 2016
In contrast to all the shady characters fighting to be the king on top of the hill of the card room mecca is Ernie, who played all the hands dealt to him like a professional poker player; with class! In an environment that was filled with sketchy politicians and business owners with plenty of potential for corruption and scandal, Ernie remained humble with integrity. That is not an easy feat when you are the patriarch of a poker monopoly in which gangsters and crooked investment groups are fighting for their piece of the pie. Of course, Mr. Primm was the very face of evil from the point of view of all the church groups that were trying their hardest to topple Ernie's house of cards. Can't make everyone happy, I guess!
The book clocks in at a relatively brief 160 pages, and it's a quick read to be sure. If audio books are more your cup of tea, Votolato's work is available in that format as well.
— Max Votolato (@Votolato) October 13, 2018
If you are at all into poker history and stories of how things came to be, as well as the charismatic people that made it happen then this is the book for you. It brings people and places from the past alive and it makes going and visiting the existing place more dynamic and vibrant. I never had any plans on visiting the Los Angeles area, but after reading Gardena Poker Clubs: A High-Stakes History, I can't wait to go. I would want to take Max Votolato along as my personal tour guide though. 🙂