It has been 20 years since Chris Moneymaker won the 2003 World Series of Poker Main Event. His win helped launch the first Poker Boom and vault PokerStars to become the world's largest online poker site.
A couple days ago, Poker.org released Moneymaker 20 Years Later, a documentary that explores Moneymaker's win in the WSOP Main Event and how that win changed his life. It is definitely worth a watch for any fan of Moneymaker or those interested in the history of the modern era of poker.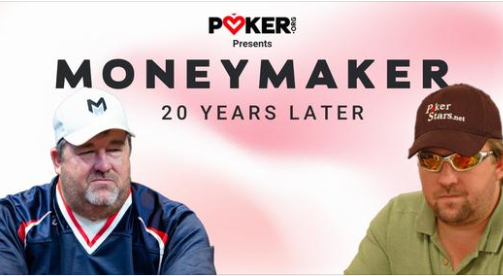 Beer, Sports Betting, Accounting, and Poker
The first thing that stuck out about this documentary was the style. It reminded me a lot of some of the poker documentaries that came out around the start of the Poker Boom. While this isn't PokerGO-esque level production, if you want an honest look into the life of the WSOP's most famous champion, this is the interview to watch.
Like many documentaries, this one started with Moneymaker talking about his childhood. The highlight of the opening segment, in this reviewer's opinion, was Moneymaker speaking about his relationship with his Dad. From there, the documentary switched to Moneymaker's college years.
We learned about how Moneymaker discovered beer and sports betting. He also talked about how he started a career in accounting despite being "too dumb" to work at some of the top accounting firms. He split his time between work and poker, quite literally, and that eventually led to his run in the WSOP Main Event.
Most of us know the story about Moneymaker's run as ESPN presented it back in the day, but in this interview, we hear more of his story. We also learn about some of the "creative liberties" that ESPN took in presenting the 2003 WSOP Main Event. This part of the documentary was fun, honest, and gave a fresh look at the Moneymaker run.
What If… Moneymaker Was a Full Tilt Pro
Imagine a world where Chris Moneymaker was an investor in Full Tilt Poker. According to Moneymaker, that almost happened! One of the more revealing sections of the documentary detailed Moneymaker's contracts with PokerStars.
He started out making $5,000 a month "to do nothing." After a year, Isai Scheinberg decided to 5x his contract. Scheinberg's generosity earned Moneymaker's loyalty, which was soon tested. While Chris was renegotiating his contract with PokerStars, Howard Lederer offered Moneymaker the chance to invest in Full Tilt Poker.
Moneymaker declined the offer, which he initially felt was a -EV play. Ultimately, it proved to be one of his smartest moves. Of course, it does make one wonder what the poker world would have been like if Full Tilt Poker had Moneymaker's services. Fortunately, we will never have to find out.
The Future With America's Cardroom
The last few minutes of the documentary gave insight into how Moneymaker signed on with ACR Poker. He spoke about how Black Friday impacted his life, his ability to play on PokerStars, and his future in poker. At one point, he revealed that he was considering retirement from poker. (We all know just about how long poker retirements generally tend to last.)
While some may see this as a backdoor plug for the website, it is still an important part of Moneymaker's story. Listening to Moneymaker talk, you get the impression that ACR Poker is on a similar trajectory as PokerStars back in 2003. The right amount of time was spent on this topic. It covered his transition to ACR Poker without making the documentary seem like an infomercial.
Moneymaker Documentary: A Fun Look In
Moneymaker 20 Years Later is an entertaining look into the life of poker's most famous World Champion. The interview helped to paint a complete picture of the man behind the legend.
The best parts of the interview focused on Moneymaker's mindset while going through the Main Event and the realities of being the first mainstream poker ambassador. Unless you lived through those years as a part of the poker community, it is hard to imagine what the early days of the Poker Boom were like. This documentary helps to paint a clearer picture of that time.
As far as critiques, because poker fans have gotten accustomed to A+ level production from the likes of PokerGO, my principal gripe was with production quality. I felt that there was a bit too much reliance on stock photos and music, plus the background music just seemed unnecessary and could have been eliminated.
With that said, overall this is still a feature worth watching, particularly for any Moneymaker fan or anyone wanting to learn more about the early days of the Poker Boom. You can watch the documentary for free below, courtesy of Poker.Org's YouTube channel.