Don't know what to watch on Netflix? Already played a bunch of casino real money games online? Looking for something to watch about poker? So before you grab yourself some popcorn, be sure to check out our list of the best poker documentaries to watch for free. The great advantage that documentaries have is that we can see the main protagonists telling their story in the first person and we can also see images and videos of historical moments in the history of poker.
Among them are the stories of two renowned players: Stu Ungar and Daniel Negreanu. You will also be able to see how Martin Jacobson prepared before playing the final table of the 2014 Main Event, European poker legends, the history of online poker and the 2003 poker boom, among other topics.
Without further introductions, I invite you all to play 🎞️ and enjoy them.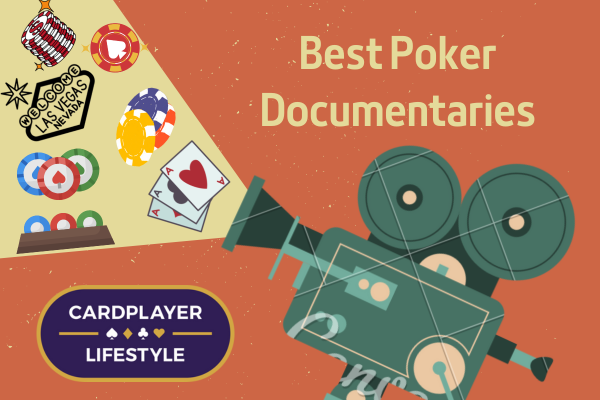 Top 10 Poker Documentaries
One of a Kind: The Rise and Fall of Stu Ungar
Stu Ungar is the only player to win the WSOP Main Event in its freezeout format. He was also the only one to make it to his final table without being present, as he was unconscious in his hotel room from his addictions. This excellent documentary features statements by Phil Ivey, Jason Mercier, Doyle Brunson, Phil Hellmuth, Maria Ho, Jennifer Harman, Antonio Esfandiari, Vanessa Selbst, John Duthie, James Hartigan, and his brother Mike, among others.
Kid Poker
The Canadian Daniel Negreanu is one of the favorites of the public and in his career he managed to win six bracelets. In this documentary he tells of his origins at the pool tables, his first live tournaments and we can learn about his brother and his parents.
Dreamers
This great documentary was released a month ago and follows a group of renowned players (Chris Moneymaker, Darren Elias, Rampage, Jeff Platt, Jamie Kerstetter and Matt Berkey, among others) at the WPT World Championship 2022 festival in Las Vegas. You can also check out our review and an interview with the producers.
Bet Raise Fold
Explores the evolution of online poker and examines the great confrontation between online poker players and US gambling authorities. Through a series of interviews with three professional players, Danielle Andersen, Tony Dunst and Martin Bradstreet, this documentary transports viewers to a historic moment for online poker: the Black Friday.
To Be Determined
The protagonist of this documentary is Oscar, a low-stakes poker player who has been pushed to the fringes of an increasingly difficult industry, confronts an uncertain future within a game that often takes more than it gives. Includes interviews with Erik Seidel, Nick Schulman, Phil Galfond, Andrew Lichtenberger, Maria Konnikova, Matt Berkey, Christian Soto and Vanessa Selbst, among others.
A $100,000 Journey To Becoming a Poker Champion
Synopsis: "The ACR Team Pros traveled to one of the most prestigious live poker events in Triton Vietnam to battle it out against some of the best players in the world. They say you should expect the unexpected, but what occurred took that saying to a whole new level. This is their story".
For Love or Money?
It shows the life of tournament players live as they play the WSOP. Interviewees include Scott Blumstein (2017 WSOP Main Event Champion), writer and coach Tommy Angelo, Chris Leong, Stanley Lee, Michael Rocco, Asher Conniff and Brynn Kenney.
10 for 10 – Martin Jacobson
It shows in detail how Martin Jacobson's preparation went before playing the final table of the 2014 WSOP Main Event. He showed a great level starting eighth in the chip count and finished champion, winning $10,000,000.
Chase The Dream
Last Call
In its first season of 4 episodes it shows the most popular players in Finland. The first chapter covers Jens "Jeans89" Kyllönen, from his freeroll beginnings to nosebleeds against Phil Ivey in just two years.
Poker Documentaries: The Rest of the Best
No Limit – A Search For The American Dream On The Poker Tournament Trail
This 2006 documentary shows two single parents trying to make it on the live tournament circuit at the height of the poker boom. There are interviews with Phil Hellmuth, Scotty Nguyen, Doyle Brunson, Lou Krieger, Layne Flack, Bobby Baldwin, Tom McEvoy, and Chris Moneymaker, among others.
The World of Sam Trickett
In a few minutes, the documentary shows the story of the English player Sam Trickett, who after getting injured changed the soccer ball for the cards.
Matt Salsberg
In this short documentary from Pokerlistings we can learn more about the life of screenwriter and poker player Matt Salsberg.
Grinders
Synopsis: "With a new baby and wife to support, out-of-work filmmaker Matt Gallagher tries his hand – and some would say "luck"- at playing poker for a living. This inside journey into the unconventional, often bizarre, underground world of illegal poker clubs finds a world populated by colorful characters, straight out of central casting. A world where the workday starts at midnight and runs strictly on cash and can change forever with the simple flip of a card. Playing poker to pay the bills means living side by side with risk. But, as Matt soon discovers, the real meaning of risk lies far outside the poker room and can strike in the most personal way".
Dan Cates
Another short documentary from Pokerlistings on the life and career of Daniel "Jungleman12" Cates.
Poker Queen – Jennifer Harman
In this short documentary we can learn more about the life of Jennifer Harman. Interviewees include Daniel Negreanu, Mike Matusow, Howard Lederer and Jen herself.
Nosebleed
Follows the story of Alex Luneau and Sebastien Sabic, two French poker players trying to win the biggest live poker tournament in the world. The documentary shows the journey of both players to the gaming capital and offers a glimpse of the other side of the WSOP from the players' perspective. In addition, it analyzes the style of the two players and the techniques they use at the game table.
My daddy is a card player, the story of Marcel Luske
In just 7 minutes Dutchman Marcel Luske, known as The Flying Dutchman, tells his story with poker.
All-In: The Poker Movie
Filmmaker Douglas Tirola examines the growing popularity of poker, and the crackdown on online gambling. Starring Chris Moneymaker, Phil Hellmuth, Daniel Negreranu, T.J. Cloutier, actor Matt Damon, musician Kenny Rogers, Nolan Dalla, Chris "Jesus" Ferguson and Erik Seidel, among others.
Shaun Deeb
New episode of Pokerlistings profiles with an interview with a young Shaun Deeb about his career.
The Million Dollar Deal
A documentary about the World Series Of Poker in Las Vegas. Featuring Andrew Black, Donnacha O'Dea, Mike Magee, Martyn Wilson, Mark Napolitano, Amarillo Slim, Scotty Nguyen, Dave "Devilfish" Ulliott and Matt Damon. Narrated by John Hurt.
A Kid's Game: the story of online poker
It shows youngsters Andrew Robl, Isaac "Ike" Haxton, Shaun Deeb, Peter Jetten and Alec Torelli discussing online poker.
Ultimatebeat
Talk about the case of fraud and scam of the Ultimatebet online room. The founders created tools to view player cards and stole millions of dollars. Among those interviewed is player Mike Matusow.
Inside Underground Poker
In this National Geographic documentary we can see interviews with an organizer of an illegal game in New York and some regular players.
If you also want to watch poker movies for free you can see which ones are available on YouTube.