The inaugural Cardplayer Lifestyle Mixed Game Festival continued to grow on Day 3 as a new batch of superstars from the poker world and more players looking for a good time and a break from No-Limit Hold'em joined the action.
As has been the case for the opening two days, two games of $4/$8 Dealers Choice were up and running before noon, with the likes of Poker Hall of Famer Linda Johnson, 2-time WSOP bracelet winner Nathan Gamble (fresh off his 7th place finish in the WSOP $1,500 Dealers Choice event), 2014 WSOP $10,000 HORSE champion Chris Wallace, and Women in Poker Hall of Famer Jan Fisher kicking off the day.
WSOP bracelet winner and PokerNews Executive Editor, USA Chad Holloway, and 2004 WSOP Main Event champion Greg Raymer were the next notables to join the mix with the room needing to open a third table to accommodate the growing field.
This sounded like some good fun! Plus, always want to support more mixed games!

RT @cardplayerlife: The champ is here.

Welcome, @FossilMan!

THREE $4/8 tables running now at the @PokerLifeMedia #MixedGameFestival

Come join us at @WestgateVegas 🎉 pic.twitter.com/G8eD5lguRd

— Greg Raymer (@FossilMan) October 6, 2021
At his table, with the expectation that his choice would slow the action down, Holloway called a game he just wanted to play for some fun, Limit Five Card Single Draw. Slow action wouldn't be the result, as on the first hand of the orbit, he got into a three-way three-bet pot pre-draw, with multiple bets also going in after the draw. Holloway then showed down the winner as he had been dealt three queens against three tens and aces up.
The games continued to be lively and friendly, as several curious poker players walking into the Westgate poker room joined the action, with some introducing new variations to the wide array of poker games that had already been played this week.
Cardplayer Lifestyle and mixed games fan 'Rodney from Chicago', who was here for the WSOP stopped by the Westgate to play some mixed games and try out an idea for a game that he'd never played before but described as "Three Card Hold'em Hi/Lo. You get three cards, you make a hi/lo hand out of it and it's played like hold'em".
Rodney further explained that any of a player's three cards could be used with the board to make a high hand, but two hole cards must be used to make a qualifying low hand.
I got the opportunity to sit in the game for its debut and it was an instant hit! Rodney called the game himself, and it was subsequently called by more players after Rodney's initial orbit. From my early impressions, a Stud 8 or Better style strategy seems to be most effective, as making a low hand seems to be the priority as it's the more difficult half of a pot to earn.
Throughout the day, more unique games like Omadugi, Chicago, and Action Razz were called. The "legend of Omajack" also continued to grow as multiple hands of the wild action game were called at various tables.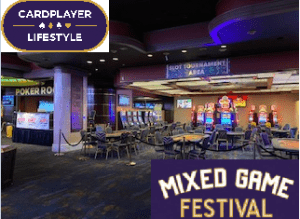 The multitude of giveaways continued throughout the day as well, with Dylan Linde's Mastering Mixed Games and Wallace's Short Stack Ninja books, two-deck setups from Faded Spade cards, swag bags from PokerStars, PokerNews, PokerGO, and BBO Poker Tables all awarded to lucky recipients in the room.
Thursday is the big day, as the $200 buy-in HORSE tournament that will award a $30,000 Platinum Pass to the winner takes place at noon local time.
Registration will be open for the first two hours of the tournament and as of publish time seats are still available, but they are very limited! If you intend to play, get down to the Westgate and lock up your seat early!
Stay tuned to Cardplayer Lifestyle for a full recap as we send someone to the 2022 PokerStars Player's Championship!
Mixed Game Festival Day 1 recap
Mixed Game Festival Day 2 recap