Day 2 of the Cardplayer Lifestyle Mixed Game Festival allowed me the opportunity to participate in the incredible game of Omajack. I now hope we get to see this game in some future year at the World Series of Poker.
Omajack involves elements of both Omaha and blackjack. Each player gets five hole cards, and the "Omaha" part of the game plays just like Big O. You must make your best possible Omaha Hi hand using exactly two of your hole cards, along with three community cards. The remaining three cards are used to make your best possible blackjack hand. After the river betting round, the best high hand splits the pot with the best blackjack hand. If some lucky player makes both the best poker hand and the best blackjack holding, that player scoops the pot.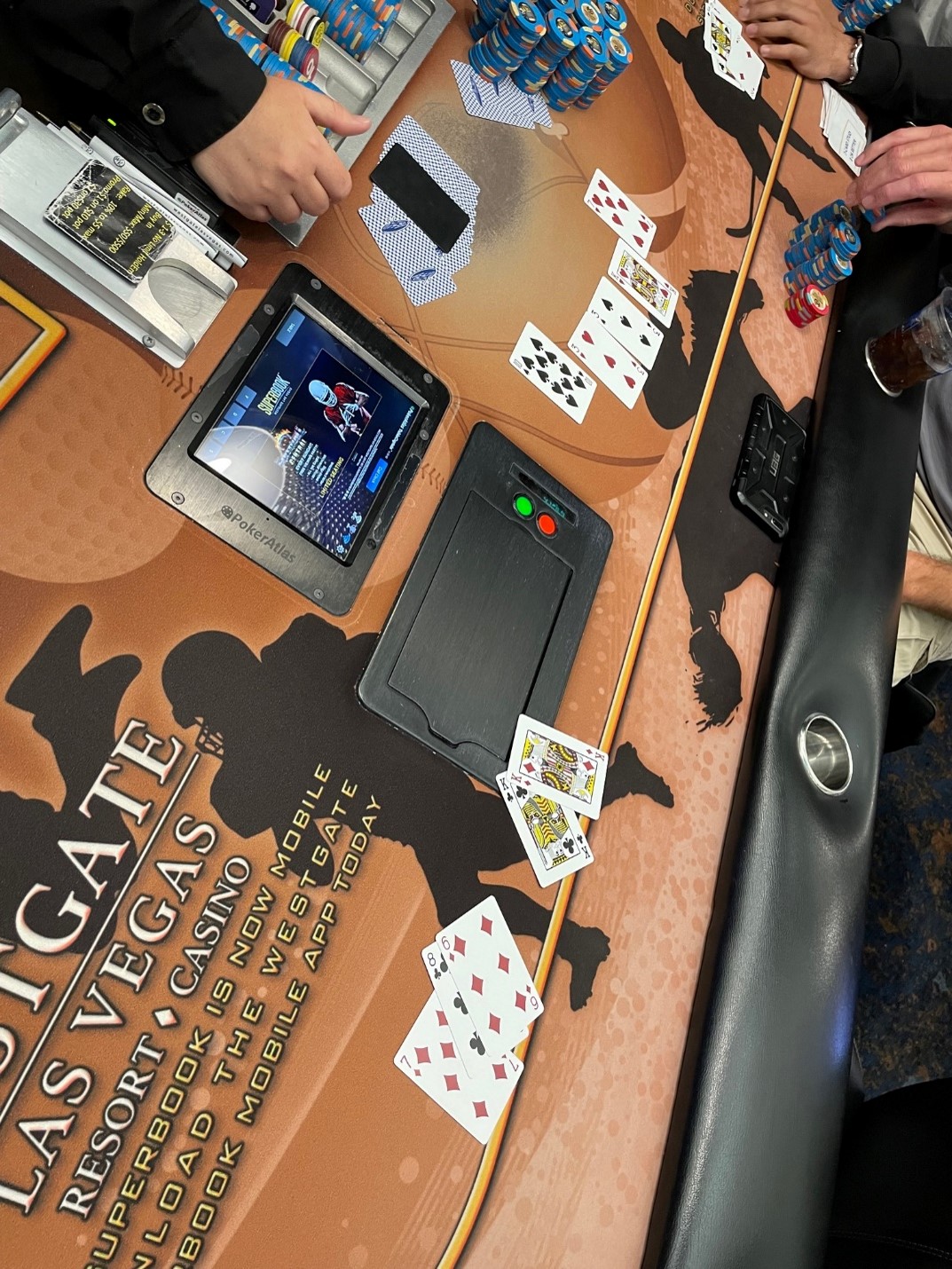 One such player accomplished that feat at my table on Tuesday afternoon. On a board of 7hKh3s3hTs, this player tabled KdKc8c7d6d. The pocket kings made a full house, while her other three cards made 21, on the dot.
I didn't come away a winner Tuesday, as per usual when I play mixed games. Cardplayer Lifestyle founder Robbie Strazynski's live poker festival drew two full $4/$8 cash game tables at just after 11 a.m. on Day 2, and the crowd grew as the day played on, with the day's final hand only being dealt 19 hours later at 6am!
Eli Elezra Stops By For a Book Signing
Eli Elezra's autobiography, Pulling the Trigger, features the life story of the Israeli poker legend in his own words. Robbie translated the book, which hit the public in January 2019, into English.
Elezra stopped by the Mixed Game Festival to sign copies of his book, with all $10 donations for an autographed copy going to charity. As Robbie and I went out to Elezra's car to bring in a couple of cases of Pulling the Trigger, Robbie told me that having Elezra at the festival brought the experience of translating the autobiography full circle.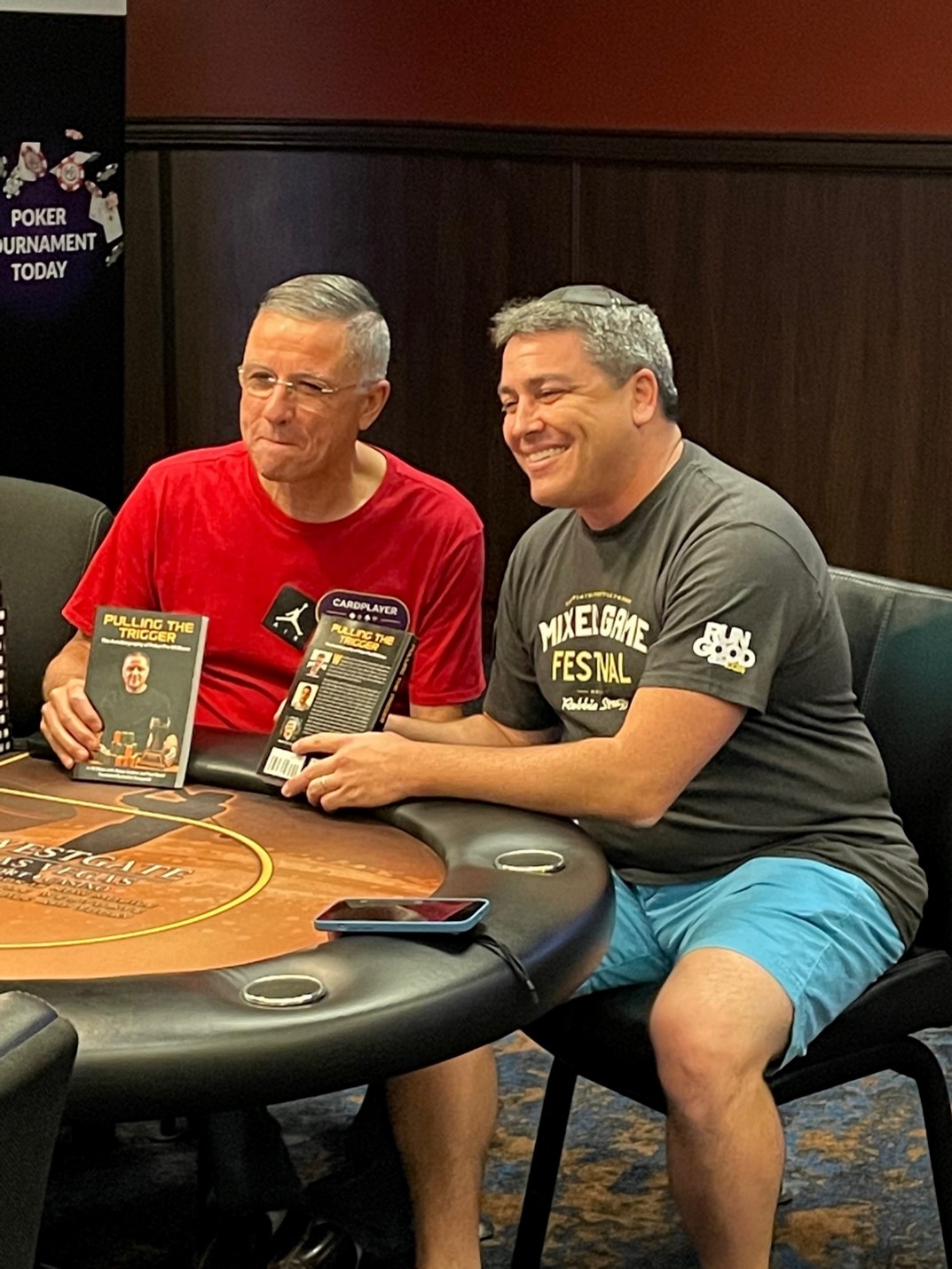 Elezra eventually went off to play the $300/$600 mixed game at Bellagio, but before that, he signed books, played a little bit of $4/$8 with the crowd at the Westgate Las Vegas Resort & Casino, and did a couple of interviews.
I happened to get one of those interviews with Elezra, who was impressed with what he saw as Day 2 of the Mixed Game Festival kicked off.
"I think that $4/$8, what Robbie is doing over here; it's amazing that you can bring $100 or $200, and just sit down," Elezra said. "And just have so much fun. Dealer's Choice, pick the game you like."
"And you don't have to put your glasses on, or your headphones. You don't have to look so miserable, like when you play no-limit."
"Festive" Atmosphere for Mixed Game Action
Elezra played a couple of orbits at $4/$8 before venturing off to his usual high-stakes action at Bellagio. Elezra and Strazynski were seated at one table, while the legendary Norman Chad took a seat at the other.
When Elezra left, his seat was taken by someone who has absolutely no idea what they're doing (me). Robbie eventually went over and joined Chad at the other table.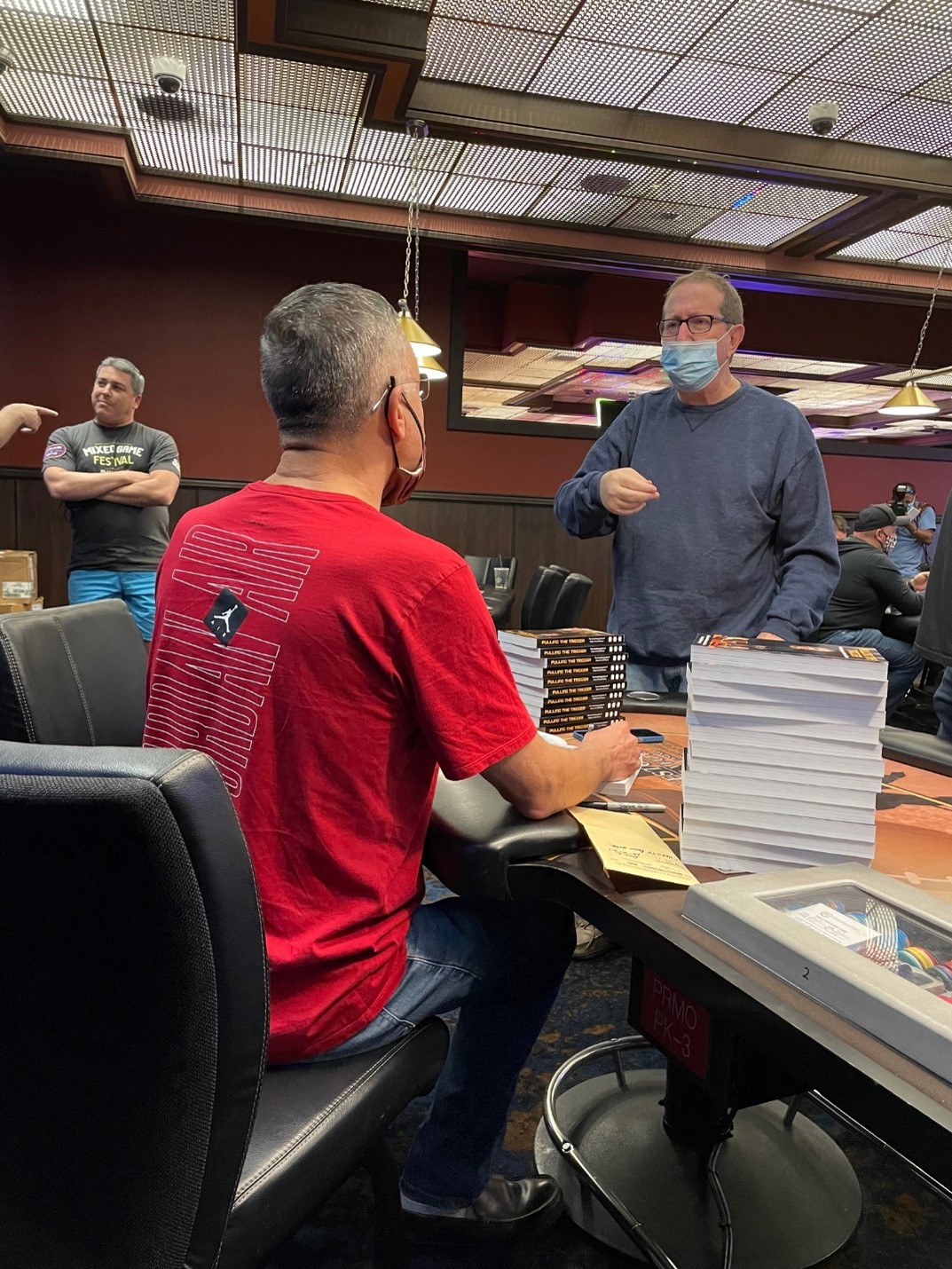 I didn't get to play with Chad, but it's easy to see that anyone that plays against the iconic WSOP commentator gets the true Norman Chad experience. He's always on and he's always funny, and just seeing the joy he brought to his fellow competitors' faces made the trip to the Westgate poker room well worth it.
Chad couldn't wait to get his hands on two copies of Elezra's autobiography. I overheard what I think were negotiations to get one signed copy each for Lon McEachern and Jamie Kerstetter, his cohorts in the WSOP booth.
Looking Ahead to $200 H.O.R.S.E. and a PSPC Platinum Pass Prize
Many of the players that filled the seats on Mixed Game Festival Day 2 seemed to already know each other. I guess that happens when a first-of-its-kind cash game event runs alongside the WSOP, and Day 1 runs into the early hours of the morning.
Robbie told me he started and ended a marathon session on Day 1 with exactly $200. Speaking of that number, the feature event from the Mixed Game Festival takes place on Thursday, in the form of a $200 H.O.R.S.E. tournament.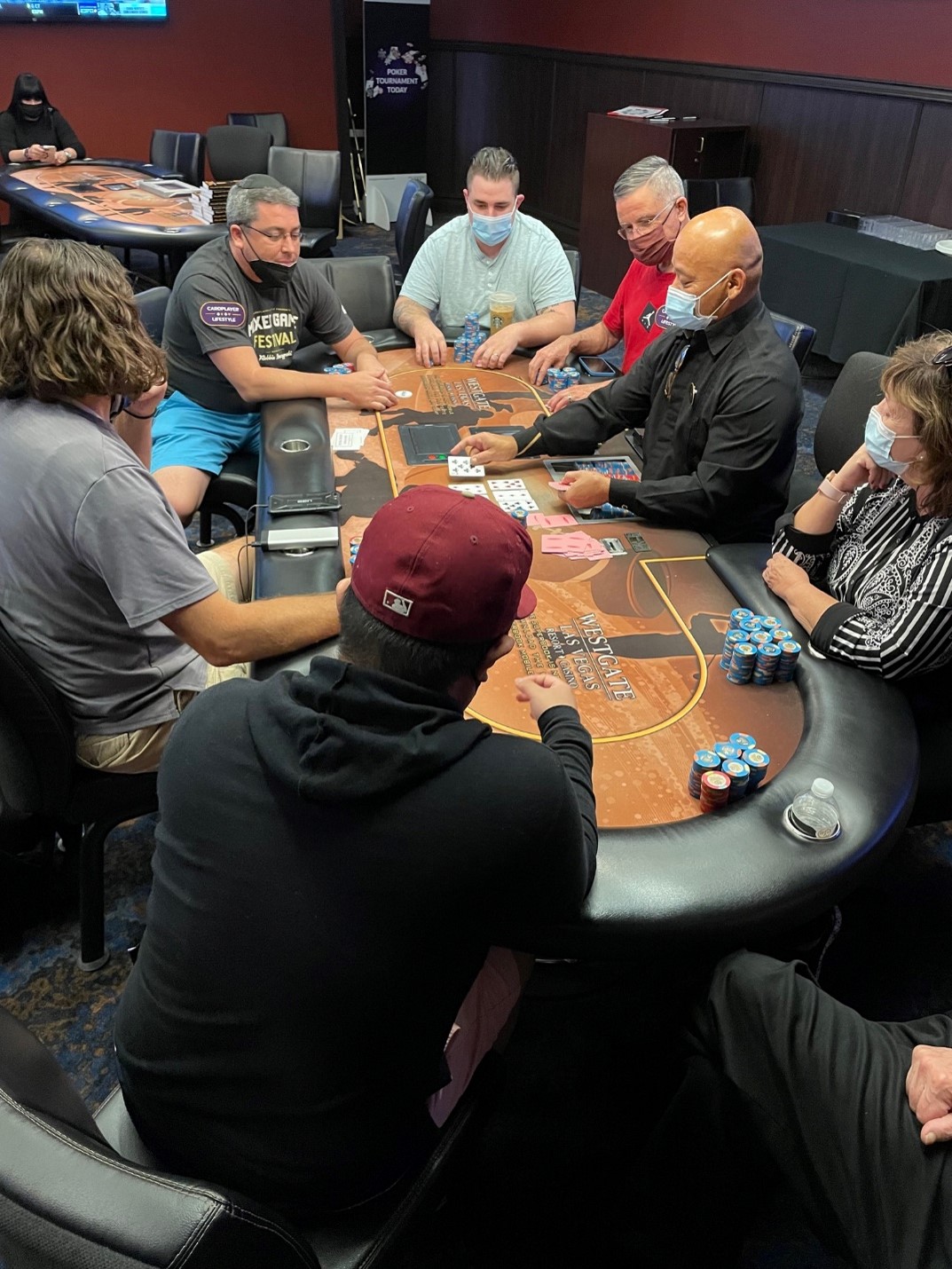 The eventual winner of that tournament takes home a Platinum Pass for the 2022 PokerStars Players Championship. You can tell that event is going to be a big deal, as the Westgate already has several tournament tables ready to go in the overflow section just outside of the room.
Hey @Bloodlow, @tRaMSt0p, and @jeffplatt… Welcome to the jungle 🤪

Really fun crowd right now on Day 2 of the @PokerLifeMedia #MixedGameFestival

Come join us at @WestgateVegas for some Dealer's Choice madness 😉 pic.twitter.com/72u4cW4s0e

— Robbie Strazynski (@cardplayerlife) October 6, 2021
My visit to Mixed Game Festival Day 2 came to an end in the early afternoon. I got a message from Robbie at 11:45 pm that night explaining that he was calling it quits a bit early for the day, relatively speaking.
The later hours of the night saw players like Jeff Platt and Tim Duckworth from PokerGO stop by, as well as Ben Ludlow and "TheMayorPete" Pete Dirksen.
A lot of fun happening at the @PokerLifeMedia Mixed Game Festival at the @WestgateVegas.

Games running all night, come join us!

Also, the H.O.R.S.E. tournament on Thursday is capped, so buy in early!#PokerLifeMedia pic.twitter.com/2hUzUXPwE0

— Cardplayer Lifestyle (@PokerLifeMedia) October 6, 2021
Two more days remain in the Mixed Game Festival. No matter what your skill level at limit poker mixed games, I can personally attest that this is a can't-miss event!
Mixed Game Festival Day 1 recap