UPDATE (January 13, 2014): We've just been informed by one of our fans that the Caesars group of hotels has decided to discontinue their Mega Beat Progressive Poker Jackpot promotion, effective 2 days ago. It seems to be being replaced  by traditional High Hand, Aces and Faces cracked, and Guaranteed tournament promotions that all the company's Las Vegas rooms had previously been running. Thus, after a one year run, one of Las Vegas' top poker room promotions has come to an end. You heard it here first. Sorry to be the bearer of bad news.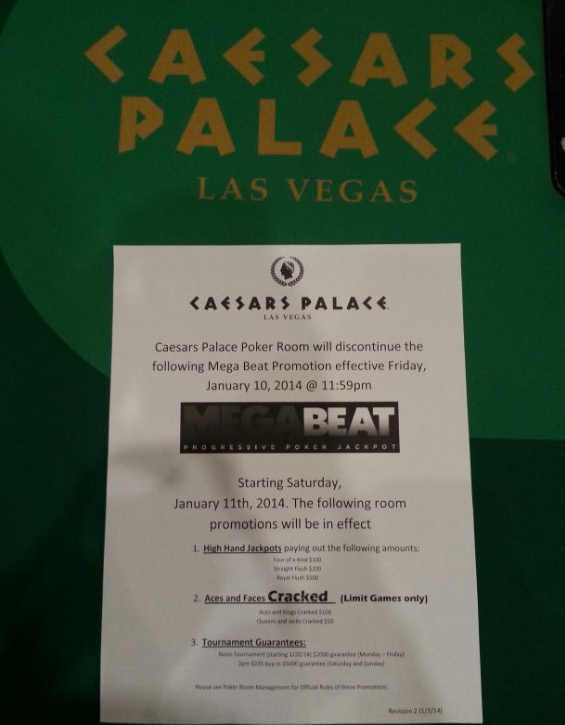 Caesars Entertainment has finally imported a highly successful concept from its 4 Atlantic City poker rooms to its 7 Las Vegas poker rooms, namely the idea of a linked bad beat jackpot. In Atlantic City they call it the Total Bad Beat, but the Las Vegas version, which debuted over the past week, has been dubbed the Mega Beat Progressive Poker Jackpot. Participating rooms include those at Caesars Palace, The Quad, Planet Hollywood, Flamingo, Bally's, Harrah's, and the Rio.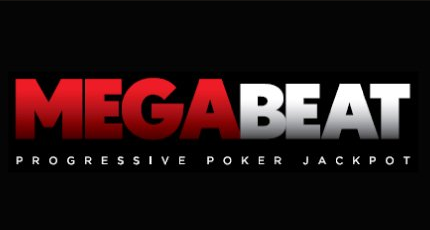 How Does It Work?
The Mega Beat Progressive Poker Jackpot pays out everyone playing in any of the 7 participating rooms when a qualifying bad beat takes place. This happens when quads or better are beaten, with both players using both of their hole cards. The jackpot debuted at $200,000, which is the sum it will reset to each time it's hit, and requires that four aces be beaten. For each $100,000 the jackpot grows by, the hand ranking needed to be beat gets lowered by one. So, if the jackpot hits $400,000, you'll "only" need to beat 4 queens.
How Much Money Does Everyone Get?
The player who loses with quads or better will receive the lion's share of the Mega Beat Progressive Poker Jackpot – 20% to be exact. Next, 10% of the jackpot will be given to the player who had the winning hand. The remaining monies will be evenly split among all players active at tables throughout all 7 Caesars Entertainment poker rooms in the city.
With over 120 poker tables spread across the 7 properties; i.e., potential for 1,200+ players to be actively contributing to a jackpot's growth simultaneously, the new jackpot easily has the potential to top $1 million before hitting, which would be a worldwide record. If the jackpot supersedes $1.4 million, the hand required to trigger a bad beat would be four 2s (losing in a showdown).
A Jackpot That's Getting Noticed
The highest ever progressive bad beat jackpot to hit until now was just under $800,000, at the 4 linked Caesars properties in Atlantic City in August of last year. With the Mega Beat Progressive Poker Jackpot slated to be an even bigger prize, the folks at Caesars Entertainment were kind enough to open up a Twitter account so that interested players can track how high the jackpot reaches at any given time.