Over the last few months, the most notable thing Phil Ivey has done, as far as poker was concerned, was NOT play at the World Series of Poker. Tied, at least in part to the huge Full Tilt Poker "Ponzi scandal", Ivey, arguably the world's best poker player, has been noticeably absent from the cash game and tournament scene ever since Black Friday. In fact, only recently did he finally re-emerge at the felt in Macau. As it turns out, apparently, Ivey had his hands full  all this time with matters of a somewhat more personal nature, namely battling his ex-wife, Luciaetta, in court.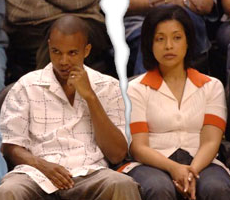 Phil and Luciaetta Ivey were married back in May 2002 and decided to call it quits after 7 years. Ever since then, it seems, according to the recent publications of the Las Vegas Review Journal, the two have been embroiled in legal tussles surrounding the details of their divorce settlement.
Now I Ain't Sayin' She A Gold Digger, But She Ain't Messin With No…
Indeed, Kanye West seems to sum up the Iveys' case rather well in his famous "Gold Digger" ditty. The details of the settlement could not possibly have favored Luciaetta any more. According to the Review Journal article, she got "her car, her life insurance policy, 40 percent of a stock account, a down payment for a new residence, half of the proceeds from the sale of the couple's home, and 40 percent of all business interests", save for Ivey's share of Tiltware, LLC. On top of that, until April of this year, she was also receiving $180,000 in monthly alimony payments, based on Phil's revenue from Tiltware, LLC. Poor Phil, on the other hand, was left with over $15 million(!) worth of gambling and credit card debts.
And yet, Luciaetta Ivey felt it necessary to rehash the terms of the settlement via filing claims in the Nevada Supreme Court?
It seems to this poker blogger that for all of Phil's world-renown poker talents, the only thing Luciaetta ever seemed to excel in has been spending money and making life hell for her ex-husband. Lawyers for Mr. Ivey echoed such sentiments, saying that Ms. Ivey "sought to reopen the divorce case because she wasted all her money."