Ed. Note: Updated May 2023
I've been visiting Las Vegas pretty frequently since 2016. As an observant Modern Orthodox Jew, I adhere to a strictly kosher diet. Whereas keeping kosher might be tough in far flung places like Sochi, Russia, it isn't particularly difficult in a sizable U.S. city like Las Vegas. As a matter of fact, the kosher Las Vegas dining scene is pretty awesome!
With that said, I've lost count of the number of times I've been asked over the years — both by Jews and non-Jews alike — "so, what do you do about kosher food when you're there?"
While you'd think that this question, like so many billions of others, could be easily answered with a little bit of Googling, I've never found a single online site that provides a full cache useful information. This, then, is meant to be a comprehensive guide to the kosher Las Vegas restaurant scene. Plus, I included some additional information on supermarkets around the city where you can obtain kosher food. Of course, it's applicable both during the World Series of Poker each summer, as well as throughout the rest of the year.
A final note, kosher products comprise a multi-billion-dollar industry in the United States, and they're most certainly not exclusively consumed by observant Jews. As such, I hope this guide, comprised of reviews of all kosher Las Vegas dining establishments as well as supermarket locations at which to purchase kosher foods, proves helpful.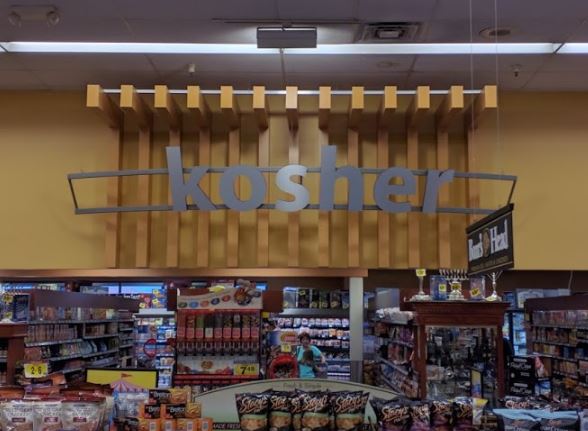 Kosher Las Vegas Restaurants – Meat
Kosher Chinglish
My favorite meat restaurant at which to eat out in Las Vegas, Kosher Chinglish is a true diner's delight. Authentic Cantonese cuisine, the menu is chock full of delicious dishes that'll make your mouth water. While, many of them are detailed in Tripping Kosher's video review below, my personal recommendations would be the Hong Kong-style crispy noodles, with beef & chicken or the sliced beef rib with green beans. The sweet and sour chicken also deserves honorable mention, and with steamed white rice on the side it definitely hits all the spots. If you're particularly inclined, the egg drop soup is also excellent.
Address: 8704 W Charleston Blvd Suite 103
Telephone: (702) 935-2055
Website: https://kosherchinglish.com/
Burnt Offerings
One of the newer kosher restaurants in Las Vegas, this is a dinner-only establishment. Boasting one of the most creative and unique menus of any kosher establishment I've ever been to, it's impossible to leave this place hungry. The portion sizes are fit for a king, and the prices are quite reasonable as well. I highly recommend the hamburger on a latke bun (yup, really!).
Be advised that you should absolutely make reservations, as the place fills up quickly each night. If for some reason you can't make it for the in-person dining experience, you can still enjoy their dishes via Uber Eats, Grub Hub and Door Dash.
Address: 3909 W Sahara Avenue, Suite 10
Telephone: (702) 848-2876
Website: https://www.burntofferingslv.com/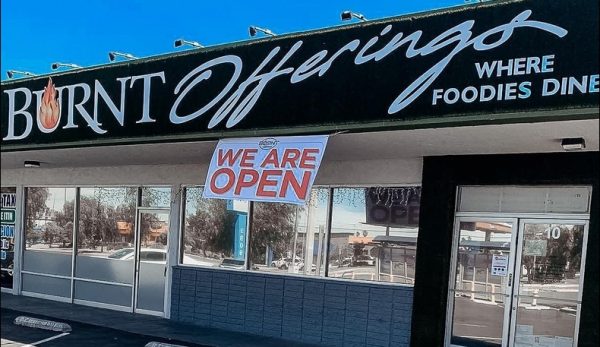 Jerusalem Mediterranean Chef's Table (formerly Jerusalem Grill)
Conveniently located just down the street on Flamingo from the Rio Hotel and Casino, this restaurant offers a slightly more upscale experience of Israeli cuisine and ambiance that will give you an authentic taste of Jerusalem's Old City. While the menu is rather pricey, the taste of the food will not disappoint.
Start your meal off right with some appetizers. Especially palatable are the Moroccan cigars and their smooth authentic Israeli humus. A hot vegetable soup also hits the spot, especially if you've spent all day playing in a cash game or tournament in a cold poker room. For main entrees, "Jerusalem" offers an assortment of savory meat dishes, including the Jerusalem Burger, beef shawarma, and my personal favorite, the crispy schnitzel on a pretzel bun. Be sure to order a hot basket of French fries on the side; they're to die for! Rumor has it this locale is Eli Elezra's favorite kosher spot in Vegas!
Address: 4825 West Flamingo Road Suite 10
Telephone: (702) 341-5555
Website: https://www.jerusalemgrillvegas.com/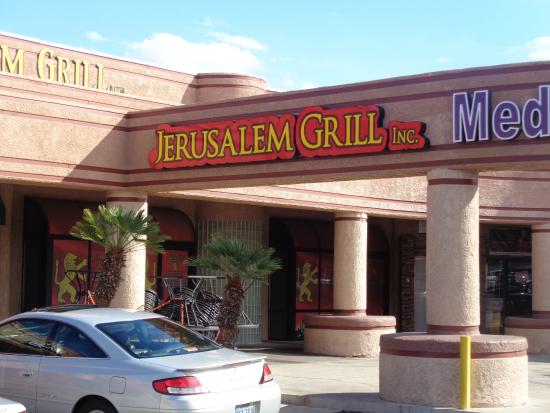 Patty Smash Go
Just having opened in Fall 2022, Patty Smash Go is one of the top selections on this list where you'll get the most bang for your buck. Very much a fast-food joint, the prices for all the burger and chicken dishes and combos on the menu are quite reasonable, but that doesn't come at the expense of the food quality.
The menu is limited, but each item on it is delectable. I highly recommend their "Classic" (with includes two beef patties) with a side of fries!
Address: 3720 West Tropicana Avenue Suite 1
Telephone: (725) 248-5556
Website: https://pattysmashgo.com/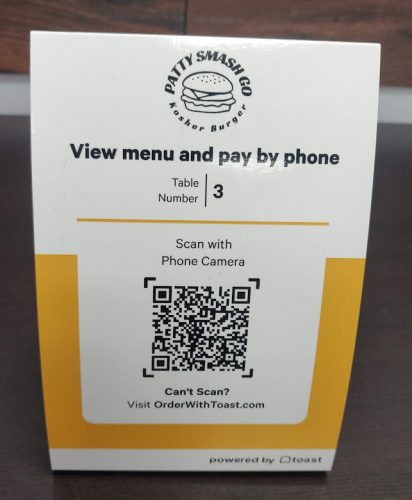 Mother Falafel
Vegas locals and frequent visitors to the city might be familiar with this restaurant, but only in the summer of 2022 did it come under new ownership and transition to being a kosher establishment.
It's by far the most affordable restaurant on this list, likely in part due to the heavy volume of diners it attracts beyond solely patrons who keep kosher.
Don't let the categorization of being a "meat" restaurant fool you either. While they have excellent shawarma and other meat dishes on the menu, they also boast a sizeable number of vegan options, as well as numerous combos to whet even the most discerning of palates.
Best of all, Mother Falafel is now a 24-hour dining establishment! Closing only for shabbat and Jewish holidays, you can grab a bite here at 3pm, 3am, or anytime in between.
Address: 6375 South Rainbow Boulevard Suite 101
Telephone: (702) 331-6048
Website: https://motherfalafel.com/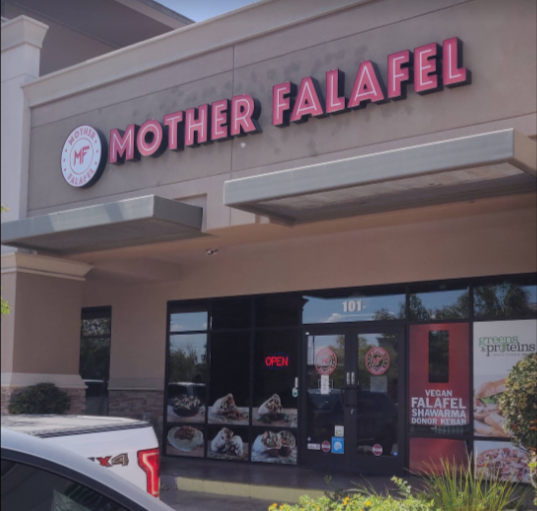 Sababa
Although Sababa is a bit of a trek off the Vegas Strip, you may find this Israeli joint well worth the 15-20 minute drive. Order and "build" your own pita or laffa wrap at the counter, where you'll have a vast assortment of options to fill your bread, starting with falafel, shawarma, grilled chicken or schnitzel, beef or chicken kabobs, and topped with hummus, techina, Israeli salad, pickles, French fries ("chips") … anything you choose! The owners are a little wacky but super friendly, in true Israeli fashion!
Address: 3220 South Durango Drive
Telephone: (702) 547-5556
Website: http://www.sababamediterranean.site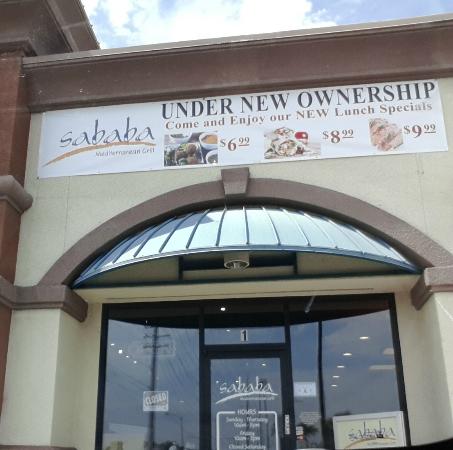 King Solomon's Table (formerly Bereshit/Genesis)
While King Solomon's Table offers a very diverse menu, it's a bit pricey. That said, it's a great place to have a fancy meal, say, after a great cash game session. "Solomon's" offers an assortment of Mediterranean, Chinese, steaks and burgers. Additionally, the ambiance is quite soothing, as they offer live piano music to enjoy while sipping from their wide array of kosher wines.
Often, the establishment's owner will visit your table in person to inquire if you're enjoying your meal. He may even offer you a free glass of wine (that's experience talking 😀).
Address: 4561 West Flamingo Road
Telephone: (725) 244-4034
Website: http://www.kingsolomonslv.com/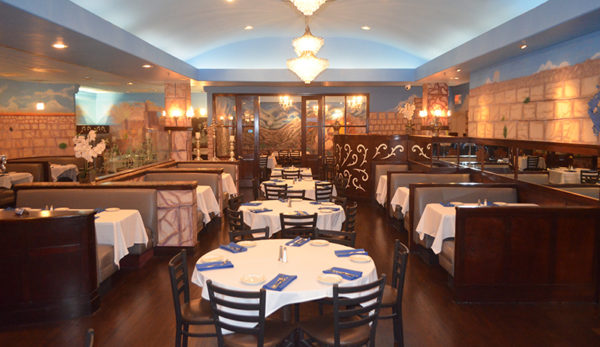 Hummus Vegas and Grill
This meat restaurant should get your taste buds working overtime. This restaurant is especially notable for their fresh baguettes, which greatly compliment shawarma, steak kabob, or crispy schnitzel. Also recommended are the fried, crispy eggplant chips. It's a relatively limited menu of options, but they're all tasty. Another plus is the price tag, fairly reasonable whatever you order. The location is pretty good, relatively close to the Strip; specifically the Westgate and Sahara resorts are nearby. With all of the above said, be advised that this restaurant is as "bare bones" as it gets. Plain white walls, no "atmosphere"; come to eat… or better yet, perhaps consider ordering take out.
Address: 318 West Sahara Avenue
Telephone: (702) 385-0006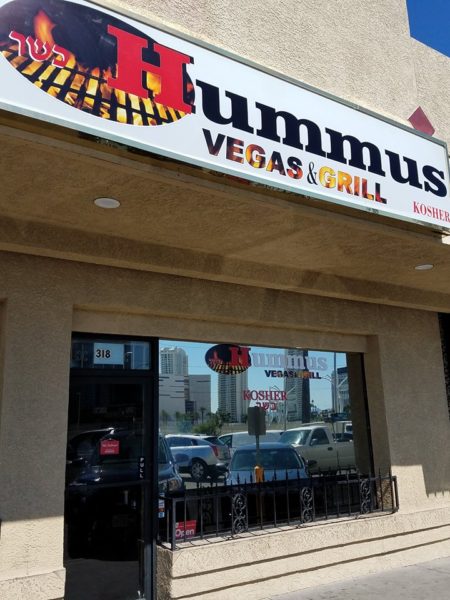 Shawarma Vegas
The food at this Israeli establishment is pretty decent and tasty, but not what would be called a "gourmet dining experience." It'll fill you up if you're hungry, and the staff is always happy to serve you with a smile. Moreover, this place definitely does not disappoint on their signature shawarma. They've also recently remodeled, which makes for a far more enjoyable ambiance when sitting down for a quick bite.
Other menu items include your typical Israeli cuisine available in a pita, laffa wrap (served hot out of the oven), or on a plate, including schnitzel, kabob, margez, and even rib eye steak. As mentioned, this place also has a reputation for friendly customer service, which is certainly refreshing, plus it's one of the more inexpensive restaurant options on this list.
Address: 2521 South Fort Apache Road
Telephone: (702) 703-7700
Website: https://shawarmavegasgrill.com/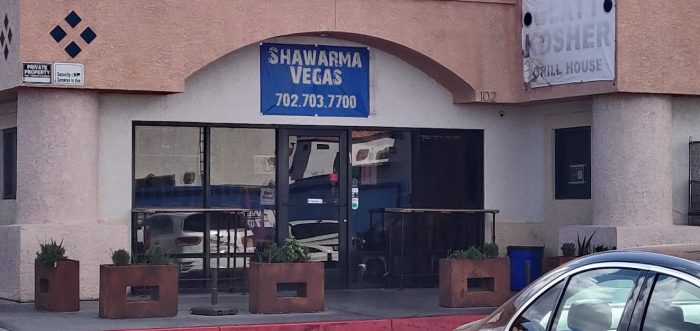 Kosher Las Vegas Restaurants – Dairy
Ariela's Pizza Kitchen
My favorite dairy restaurant in Las Vegas by a country mile, this is THE place to go for the best kosher pizza in the city. You'll have well over a dozen different types and styles of pizza to choose from as well as a number of salads, sandwiches, and side dishes. Other alternatives to pizza include the super cheesy baked ziti, plus if you still haven't ingested enough cheese into your system, you can't go wrong with the mozzarella sticks.
Drink-wise, the milkshakes are nothing short of legendary and are available in multiple flavors (do yourself a big favor and splurge for a large one; thank me later), and if you're just in the mood for a little snacking, their seasoned fries are absolutely fantastic.
Ariela's also works with Uber Eats, Grub Hub and Door Dash, so if you can't make it out to eat there in person, their awesome food can come to you!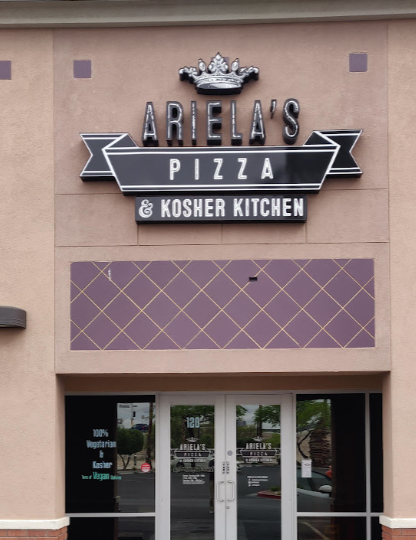 Address: 7595 West Washington Avenue
Telephone: (702) 944-4042
Website: https://www.arielaspizza.com/
Simon & Joe's
A family-friendly pizza joint just five-minutes west of the Strip on Tropicana, this restaurant offers a vast cultural variety of options off its dairy menu. You can't go wrong with their piping hot cheesy pizzas, with an assortment of optional toppings including eggplant, grilled onions, garlic, and even albacore tuna. If you're in the mood for Israeli cuisine, you can order up some falafel and humus, malawach, and shakshukah.
You can also take advantage of their breakfast menu any time of day, which includes items like eggs, breakfast burritos, and cheeses. Also on the menu are Italian (paninis, pasta) and Mexican (burritos, nachos) fare. The service could be improved, so while you may have to wait a while for your food to emerge from the kitchen, once it does you won't be disappointed.
Address: 3720 West Tropicana Avenue Suite 3
Telephone: (702) 759-0333
Website: https://www.simonandjoes.com/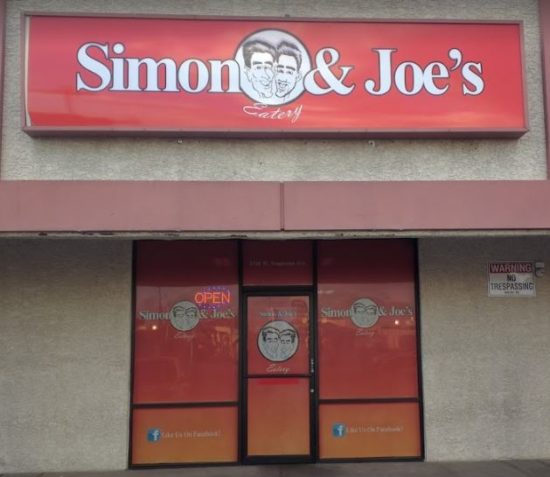 Kosher Las Vegas Supermarkets
Albertson's (Kosher Marketplace)
While their selection of kosher products isn't as extensive as what you can find at Smith's, Albertson's Kosher Marketplace has plenty to choose from as well as a far tastier variety of ready-made kugels on offer, including potato, broccoli, and onion flavors. Their bakery section is nothing to sneeze at, either; tons of tasty treats at your fingertips.
It makes for a great place to do your food shopping especially if you're first eating out at Shawarma Vegas, located just across the street.
Address: 2550 South Fort Apache Road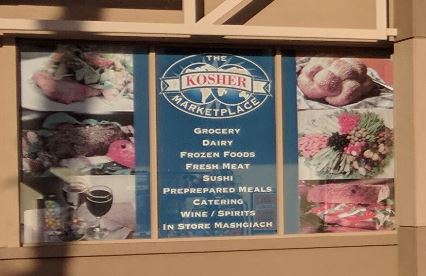 Smith's (Kosher Experience)
Like Albertson's, Smith's is a major grocery chain in Las Vegas. This specific location offers a vast "kosher experience" to serve the local Summerlin community. It's a true one-stop shop for fresh and frozen kosher meats and poultry, which are directly imported from Los Angeles. We're big fans of the ready-made sushi, plus they've got an excellent variety of other ready-made foods that gets even bigger on Thursdays and Fridays before shabbat.
You can also pick up kosher cheeses, fish, and deli sandwiches, as well as plenty of great side dishes. Additionally, you'll find some nice freshly baked goods at this store. For those interested, from Sunday-Thursday, you can also order yourself a freshly-made burger + fries meal to go directly at the deli counter.
Address: 2211 North Rampart Boulevard