I'm coming up on my fourth successive summer during which I'll be spending close to a month in Las Vegas for the World Series of Poker. This being the 50th annual WSOP, I recently released a list of 50 tips that has quickly become extremely popular. As would behoove a comprehensive listing of that nature, I dedicated almost half a dozen tips within that article to discussing food and beverages.
Beyond being a great way to save money, part of the reason I almost always brown bag my own food is because, as an observant Modern Orthodox Jew, I adhere to a strictly kosher diet. Whereas keeping kosher might be tough in far flung places like Sochi, Russia, it isn't particularly difficult in a sizable U.S. city like Las Vegas. With that said, I've lost count of the number of times I've been asked over the years — both by Jews and non-Jews alike — "so, what do you do about food when you're there?"
While you'd think that this question, like so many billions of others, could be easily answered with a little bit of Googling, I've never found a single online site that provides a full cache useful information. This, then, is meant to be a comprehensive guide to keeping kosher in Las Vegas. Of course, it's applicable both during the World Series of Poker each summer, as well as throughout the rest of the year.
A final note, kosher products comprise a multi-billion-dollar industry in the United States, and they're most certainly not exclusively consumed by observant Jews. As such, I hope this guide, comprised of reviews of all Las Vegas kosher dining establishments as well as supermarket locations at which to purchase kosher foods, proves helpful.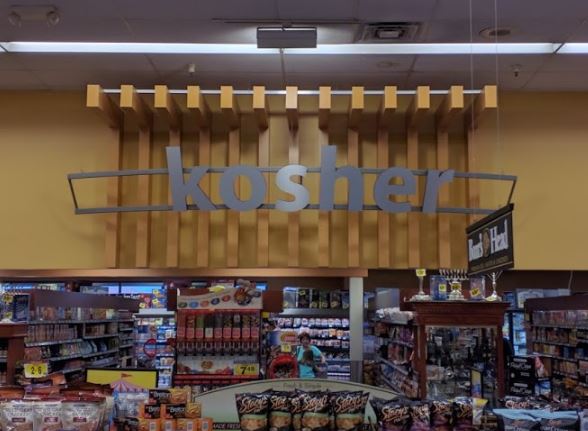 Las Vegas Kosher Restaurants (Meat)
Jerusalem Mediterranean Chef's Table (formerly Jerusalem Grill)
Conveniently located just down the street on Flamingo from the Rio Hotel and Casino, this restaurant offers a slightly more upscale experience of Israeli cuisine and ambiance that will give you an authentic taste of Jerusalem's Old City. While the menu is rather pricey, the taste of the food will not disappoint.
Start your meal off right with some appetizers. Especially palatable are the Moroccan cigars and their smooth authentic Israeli humus. A hot vegetable soup also hits the spot, especially if you've spent all day playing tournament poker in the frozen tundra of the Rio's ballrooms. For main entrees, "Jerusalem" offers an assortment of savory meat dishes, including the Jerusalem Burger, beef shawarma, and my personal favorite, the crispy schnitzel on a pretzel bun. Be sure to order a hot basket of French fries on the side; they're to die for! Rumor has it this locale is Eli Elezra's favorite kosher spot in Vegas!
Address: 4825 West Flamingo Road Suite 10
Telephone: (702) 341-5555
Website: https://www.jerusalemgrillvegas.com/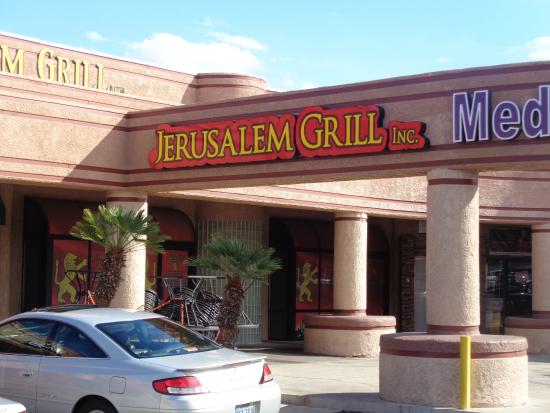 Sababa
Although Sababa is a bit of a trek off the Vegas Strip, you may find this Israeli joint well worth the 15-20 minute drive. Order and "build" your own pita or laffa wrap at the counter, where you'll have a vast assortment of options to fill your bread, starting with falafel, shawarma, grilled chicken or schnitzel, beef or chicken kabobs, and topped with hummus, techina, Israeli salad, pickles, French fries ("chips") … anything you choose! The owners are a little wacky but super friendly, in true Israeli fashion!
Address: 3220 South Durango Drive
Telephone: (702) 547-5556
Website: http://www.sababamediterranean.site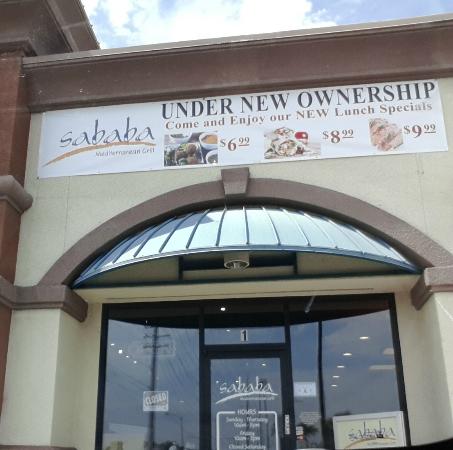 Anise Tapas and Grill/Shawarma Bar
Two restaurants combined in one spot! Anise has been a staple in the Las Vegas kosher world for a few years, and now they've added a Shawarma bar to their mix. Still present is the classic Anise menu: a vast tapas selection including moussaka sliders (lamp and beef), fish tacos, and the Ultimate Burger, which comes topped with grilled pastrami, an onion ring, and a fried egg. There's also their savory pastrami burger, which will not disappoint. Notably, those of the vegetarian and vegan persuasion also have plenty of menu items to choose from.
New to the scene is the shawarma bar, which offers classic Israeli cuisine such as humus, falafel, shawarma, beef and chicken kabob, schnitzel, merguez sausage, and rib eye steak.
Address: 3100 South Durango Drive
Telephone: 702-586-4088
Websites: https://www.anisetapas.com/ and https://shawarmabarvegas.com/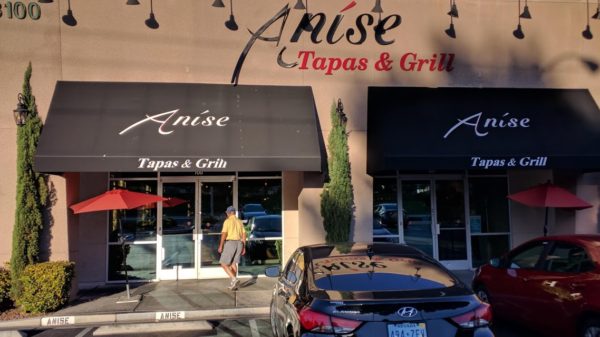 King Solomon's Table (formerly Bereshit/Genesis)
While King Solomon's Table offers a very diverse menu, it's a bit pricey. That said, it's a great place to have a fancy meal, say, after a great cash game session. "Solomon's" offers an assortment of Mediterranean, Chinese, steaks and burgers. Additionally, the ambiance is quite soothing, as they offer live piano music to enjoy while sipping from their wide array of kosher wines.
Often, the establishment's owner will visit your table in person to inquire if you're enjoying your meal. He may even offer you a free glass of wine (that's experience talking 😀).
Address: 4561 West Flamingo Road
Telephone: (725) 244-4034
Website: http://www.kingsolomonslv.com/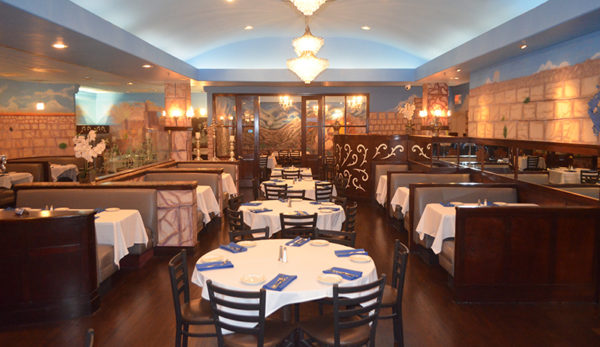 Hummus Vegas and Grill
Admittedly, this is one Vegas venue we haven't yet checked out, but we'll attempt to rectify that this summer. That said, we hear nothing but wonderful things about the place. Located in the former location of Adar Pizza (ah… memories 😀), this meat restaurant should get your taste buds working overtime. This restaurant is especially notable for their fresh baguettes, which greatly compliment shawarma, steak kabob, or crispy schnitzel. Also recommended are the fried, crispy eggplant chips.
Address: 318 West Sahara Avenue
Telephone: (702) 385-0006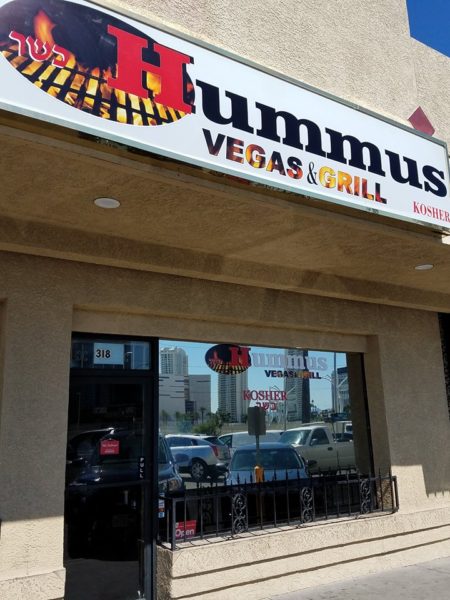 Ace of Steaks
Persian cuisine as well as great barbecue and, of course, steaks. A bit on the expensive side, the food at this establishment is quite good, but it will cost you a pretty penny. It's an excellent place to have a business lunch or, perhaps, celebrate a special occasion. In addition to the steak, we can give a solid recommendation for the sweet chili poppers, barbecue beef flatbread, and the ribs are "super delicious."  For dessert, the parve crème brulee comes highly recommended.
Address: 5825 West Sahara Avenue Unit M
Telephone: (702) 899-4223
Website: https://www.aceofsteakslv.com/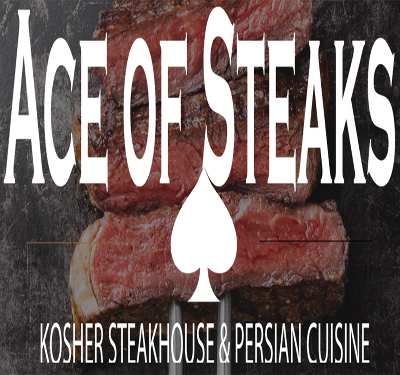 Haifa Restaurant
Having visited this restaurant upon the recommendation of a friend, good food was to be expected and it was certainly delivered. That said, the ambiance of the place has an unusual "straight out of a 70s disco vibe." Although this seems to be a popular kosher spot for tourists, the service is hit-or-miss. As such, we recommend heading here when you don't have too much on your schedule, rather than if you're pressed for time.
It's upscale Moroccan cuisine, and while there are plenty of menu items that won't break the bank, such as the chicken matza ball soup or the schnitzel with rice and fries on the side, there are certainly other menu items on the pricier side.
Popular appetizers include stuffed grape leaves, kibbe, and Moroccan cigars.  As for main dishes, Haifa offers a vast array of deli, burgers, and meat off the grill (notably pargyot, kebob, and rib steak).
For those with special dietary needs, Haifa offers both vegan (tofu, stir fry, fried rice) and gluten-free options (deli, burger sandwiches).
Address: 900 East Karen Avenue Suite H102
Telephone: (702) 940-8000
Website: http://www.haifarestaurant.com/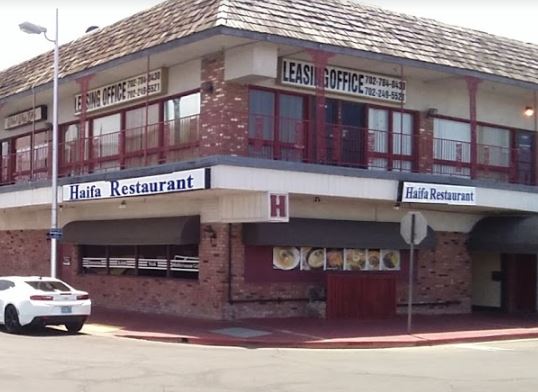 Shawarma Vegas
The food at this Israeli establishment is pretty decent, but nothing to write home about. It'll fill you up if you're hungry, and the staff is always happy to serve you with a smile. Located in the same shopping strip as the Panini Café, this place definitely does not disappoint on their signature shawarma.
Other menu items include your typical Israeli cuisine available in a pita, laffa wrap (served hot out of the oven), or on a plate, including schnitzel, kabob, margez, and even rib eye steak. As mentioned, this place also has a reputation for friendly customer service, which is certainly refreshing, plus it's one of the more inexpensive restaurant options on this list.
Address: 2521 South Fort Apache Road
Telephone: (702) 703-7700
Website: https://shawarma-vegas.com/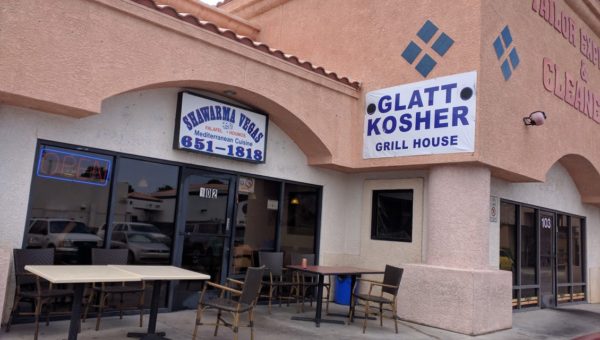 Las Vegas Kosher Restaurants (Dairy)
Simon & Joe's
A family-friendly pizza joint just five-minutes west of the Strip on Tropicana, this restaurant offers a vast cultural variety of options off its dairy menu. You can't go wrong with their piping hot cheesy pizzas, with an assortment of optional toppings including eggplant, grilled onions, garlic, and even albacore tuna. If you're in the mood for Israeli cuisine, you can order up some falafel and humus, malawach, and shakshukah.
You can also take advantage of their breakfast menu any time of day, which includes items like eggs, breakfast burritos, and cheeses. Also on the menu are Italian (paninis, pasta) and Mexican (burritos, nachos) fare. The service could be improved, so while you may have to wait a while for your food to emerge from the kitchen, once it does you won't be disappointed.
Address: 3720 West Tropicana Avenue Suite 3
Telephone: (702) 759-0333
Website: https://www.simonandjoes.com/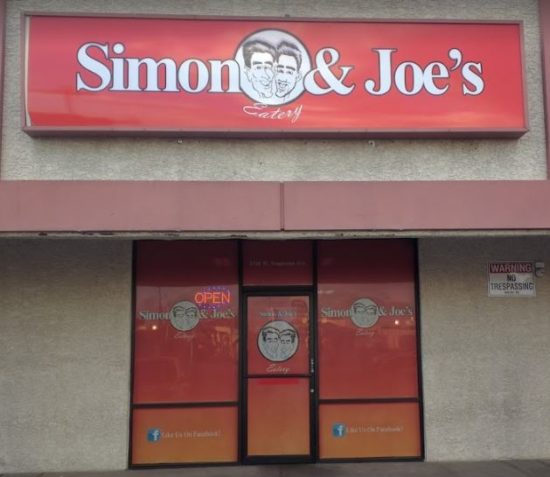 Panini Café
A quaint dairy spot open for  breakfast, lunch, and dinner, this restaurant is located just across the street from the "kosher" Albertson's supermarket. Enjoy eggs your way with a Panini (as their name suggests), while sipping a cappuccino. Panini also offers an assortment of Italian dishes, from creamy pastas to crispy pizzas, and deliciously stuffed raviolis.
There are also several fish options, from tuna to tilapia to salmon. In particular, we recommend the fettuccine Alfredo with salmon; it's divine! Also, while you won't want to fill up on them, it's hard not to love their mini rolls; served straight out of the oven (try one with butter!).
Address: 2550 South Fort Apache Road
Telephone: (702) 558-6555
Website: http://www.paninicafelv.com/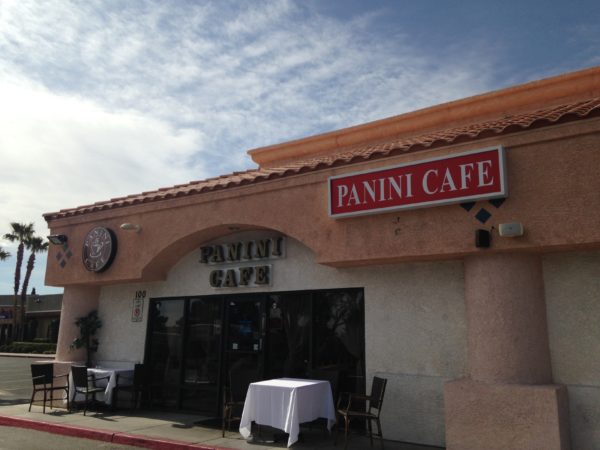 The Coffee Bean & Tea Leaf
Addresses: Venetian, Palazzo, Planet Hollywood
Those of the kosher keeping persuasion are all too thankful for this popular chain's several locations along the Las Vegas Strip, including:
two in the Venetian Canal Shoppes (one near the upstairs front entrance next to Fat Tuesday, the other near the bridge to the parking garage)
one at Palazzo (next to the guest elevators)
one inside Planet Hollywood's Miracle Mile shops
This L.A.-based chain rivals Starbucks coffee, but unlike its green-and-white counterpart, everything at these Coffee Bean locations is kosher! This includes the pastries, sandwiches, breakfast burritos (try the egg, cheese and potato), and of course the coffee products. You haven't tasted a divine coffee beverage until you'd had Coffee Bean's signature Ice Blended drink (comparable to a Starbucks Frappuccino). If you want to get a little frisky, try the Black Forest Ice Blended: a concoction of iced coffee, maraschino cherries, and chocolate-covered espresso beans.
Note to poker players who keep kosher: You can earn comps by playing at the Venetian poker room ($1/hour), which may ultimately be redeemed at any participating restaurant locations at the Venetian, including Coffee Bean. Finally, our food comps can go towards something worthwhile!
Las Vegas Kosher Supermarkets
Albertson's (Kosher Marketplace)
While their selection of kosher products isn't as extensive as what you can find at Smith's, Albertson's Kosher Marketplace has plenty to choose from as well as a far tastier variety of ready-made kugels on offer, including potato, broccoli, and onion flavors. Their bakery section is nothing to sneeze at, either; tons of tasty treats at your fingertips.
It makes for a great place to do your food shopping especially if you're first eating out at the Panini Café or Shawarma Vegas, located just across the street.
Address: 2550 South Fort Apache Road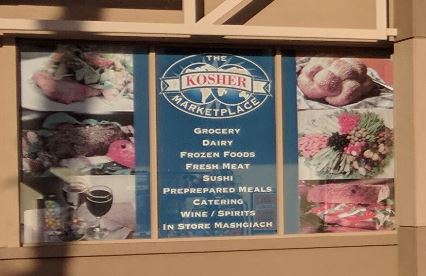 Smith's (Kosher Experience)
Like Albertson's, Smith's is a major grocery chain in Las Vegas. This specific location offers a vast "kosher experience" to serve the local Summerlin community. It's a true one-stop shop for fresh and frozen kosher meats and poultry, which are directly imported from Los Angeles. We're big fans of the ready-made sushi, plus they've got an excellent variety of other ready-made foods that gets even bigger on Thursdays and Fridays before shabbat.
You can also pick up kosher cheeses, fish, and deli sandwiches, as well as plenty of great side dishes. Additionally, you'll find some nice freshly baked goods at this store.
Address: 2211 North Rampart Boulevard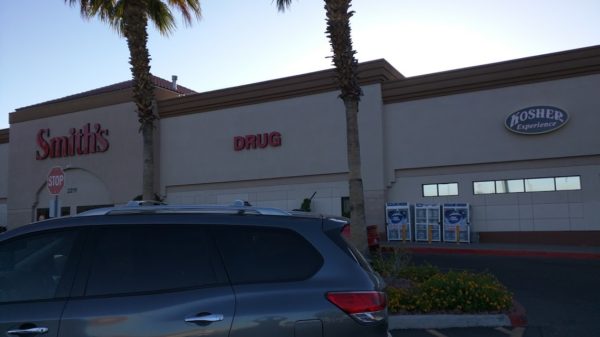 Thanks so much to my friend Mike Burgher for his tremendous assistance in putting this blog post together. Beyond knowing a lot about the Las Vegas kosher restaurant scene, Mike is also a great video editor and you can check out his work at http://www.mikemontage.com/.