The latest High Stakes Duel on PokerGO promises to be an absolute classic as Phil Hellmuth and Jason Koon go head-to-head with a massive $1.6 million on the line. This should be a fascinating display of Apex Predator mindset against GTO strategy as two friends from polar opposite worlds within the poker industry clash under the bright lights of the PokerGO Studio.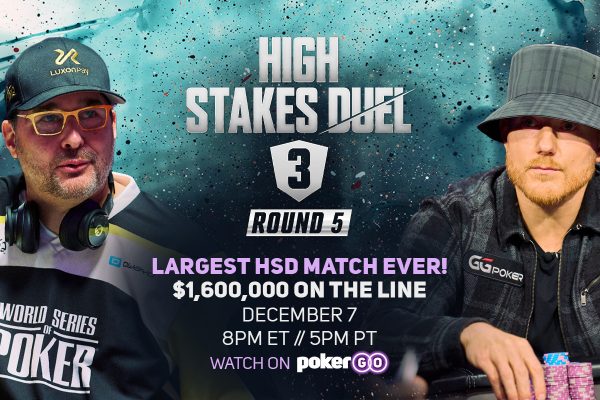 Taking on the Champ
Coming into the match, Phil Hellmuth and Jason Koon might seem easily matched, but while Koon will be shooting for a win in order to progress to the next round, this game is everything to the 'Poker Brat'. Hellmuth can essentialy cash out $1.6 million in profit from his efforts in the High Stakes Duel format if he wins, and that could be the driving factor in how the match plays out.
Hellmuth's record in this format is ludicrously good. Winning all three rounds against Antonio Esfandiari to kick off his streak, he did exactly the same to Daniel Negreanu before a one-off victory against Nick Wright saw him go 7-0. Against Tom Dwan, Hellmuth didn't get everything his own way, but after all was said and done he ended up ahead, with a current record of nine wins and only one loss to Dwan blotting his copybook. Even that saw an unfortunate play-out in the final hand deny his pocket aces as Dwan's nine-three made two pair.
After that loss to Dwan and subsequent recovery, Hellmuth took down Scott Seiver to put himself within one match of being able to walk away with a seven-figure score. Round 5 of the High Stakes Duel III match is therefore the biggest single heads-up match in the High Stakes Duel format to date, and one of the biggest single showdowns in poker history as a result.
The match takes place on Wednesday December 7th, with action kicking off in the PokerGO Studio at ARIA in Las Vegas from 8pm Eastern/5pm Pacific). The $1,600,000 match sees both men put up $800,000 apiece. If Hellmuth wins, then he can cash out $1.6 million.
Could Koon Be King?
A lot has been said about Phil Hellmuth in terms of this format and rightly so. Not only has the Poker Brat won nine out of 10 High Stakes Duel showdowns, but his 16 WSOP bracelets point to a superb knack that the 58-year-old has of seeing out the victory when he's down to the final two.
Jason Koon's heads-up record in ranking events is excellent, too. Plus, he has won so much in poker tournaments that he currently sits above Hellmuth on the all-time money list and in the top 10, with over $40 million in career  tournament earnings. At the 2021 World Series of Poker, Koon won Event #11, the $25,000-entry Heads-Up No-Limit Hold'em Championship. In doing so, he won his maiden WSOP bracelet, but beyond that he announced his prowess in the end game to the world.
If Hellmuth wins Round 5 of High Stakes Duel, the money likely goes with him. A victory for Jason Koon, however, and the latter will have the opportunity of starting a run that will be remembered as prominently as Hellmuth's as the stakes rise. Anyone taking on Koon after a potential win would have to put up $1.6 million of their own money. Hellmuth would have first refusal, but it seems unlikely he would take up that offer.
How Will the Match Be Won?
Every Phil Hellmuth High Stakes Duel match to date has followed a rhythm of the Poker Brat counter-punching his opponents, using their styles to inflict the most damage to their stacks. It's a tried and tested way of playing that has served the 16-time bracelet winner so well over a career spanning three decades at the top, so how can Jason Koon stop him?
Koon's own style is highly influenced by recent methods. Study, GTO (Game Theory Optimal) play, and table control are all areas in which the 37-year-old West Virginian has proved his poker chops. At 21 years younger than Hellmuth and immensely physically fit, Koon's stamina will be bulletproof on the night and a long match that goes on into the night will not faze him.
The same can be said of Hellmuth. When the stacks get shallow, Hellmuth's innate ability to know when to risk it all and mix it up serve him well. For that reason, Koon may press for an early advantage knowing that if he can apply more pressure to Hellmuth than he himself has to deal with, it will stand him in good stead for the win.
If you're a PokerGO subscriber already, you will be looking forward to battle commencing in seven days' time. If not, here's how you can get involved.
IT'S COMING!

On Dec. 7th at 8PM ET / 5PM PT, @phil_hellmuth will take on @JasonKoon for $1.6M in the largest High Stakes Duel match ever!

Watch it all on PokerGO!

Use the promo code "DUEL3R5" to get $20 off an annual subscription NOW.

🔗- Read More: https://t.co/bQULn8VXHq pic.twitter.com/1Ynb13Joo7

— PokerGO (@PokerGO) November 29, 2022