You may not know the name Traci Szymanski, but if you're a poker fan you probably recognize her face. She's appeared in stunning pictures together with many of poker's biggest stars over the years, including Daniel Negreanu, Vanessa Selbst, Maria Ho, Jason Mercier, Phil Hellmuth, and numerous others.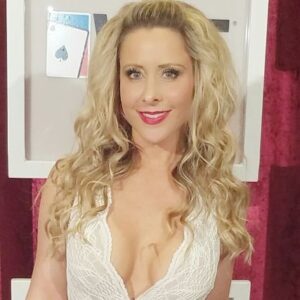 Those pictures have often been snapped at or near the felt at gala charity events in which numerous celebrities participated – and we're talking BIG celebrities – including Matt Damon, Tiger Woods, Brad Garrett, Jason Alexander, Aaron Paul, Boys II Men, Christian Slater, Carl Weathers, WWE Superstar "The Miz", UFC fighters Tito Ortiz, Randy Couture, and Chuck Liddell, Sean Astin, Don Cheadle, and many more.
Other than the fact that it's fun to do all that name dropping, you're probably wondering at this point what it is that connects all those people together. Plainly put, it's Traci; she's the glue. Szymanski has been working in the entertainment industry as a producer/agent/PR person for upwards of 15 years now and is the #1 liaison connecting celebrities to poker. It's very much because of her tireless efforts that poker is often able to gain mainstream media attention.
Plenty of fantastic, interesting pictures will appear as part of this feature. I've seen hundreds, if not thousands, of these poker/celebrity hybrid pictures over the years and have always been curious as to who "that woman" was. The more research I've done on Traci, the more it has made me want to learn about her and the unique role she plays in the poker world.
Celebrating #superbowl AZ @allinmag @MekhiPhifer @phil_hellmuth @TiffnyMichelle @SMPLonnie DaveStewart &ConnorJackson pic.twitter.com/IKdQvl4cob

— Traci Szymanski (@TraciSzy) February 2, 2015
It's about time Traci Szymanski's poker story gets told. If you're one of the poker celebrities or industry people who have worked with her over the years, I'm sure that after learning about all the work that goes into producing successful, celebrity-studded charity poker events, you'll have even more of an appreciation for her work. If you're "just another poker fan" like me, I'm sure you're curious to discover how Hollywood A-listers and world class athletes end up attending and playing in glamorous charity poker events and hobnobbing with poker's elite.
Even if you have just a passing interest in poker or celebrity culture, I know that Traci's story is one that you'll enjoy.
Let's start by you giving us a little bit of a personal background.
I was born and raised in West Hills, California, and still live in the Los Angeles area today.
You obtained a permit to work in TV and film when you were just 14 years old. Later on, you attended San Diego State University, where you graduated with a BS Degree in Television, Film and New Media Production. So, clearly, working with celebrities is something that always fit your personality. Can you tell us more about the aspirations you had growing up?
I am not sure that I ever knew exactly what I wanted to do other than that it was in the entertainment industry. No one in my family is the industry; it was always just an area I gravitated toward. In college I started leaning more toward wanting to produce film and television. My plan was to get experience in all areas of the industry so that I was well-rounded and understood all aspects.
So, I worked and interned at a talent agency, a production house, a radio station, a record label, a television network, on several television productions, sports shows, and many music award shows.  By the time I graduated college, the opportunities were already open for me and it was clear that I would be working with celebrities in some capacity.
How did you first get involved with the poker world? Did you like poker as a kid? Maybe you played in some home games after seeing Rounders or witnessing the Moneymaker Boom?
I never thought about poker. I had never had an interest and had never paid attention to anything or anyone in the poker world.  Until around 2008, the only connection I had to even mentioning the word "poker" was that my childhood best friend's brother (cash game specialist David Oppenheim) played when we were growing up. I didn't know anything about poker other than he was playing a lot.  I had not even seen Rounders until around 2011, after (former PokerStars co-founder/co-owner) Mark Scheinberg referenced it in a conversation and then I went and bought it.
My first celebrity poker tournament was in Las Vegas for Rolling Stone Magazine's 40th Anniversary Celebration in conjunction with the American Music Awards.  Following that event, my first charity poker event was with my partners – Hollywood Knights – to help California firefighters who have been injured in the line of duty.  At that time, I still knew nothing about poker.  We were just asked to book celebrities to come out. Shortly after that we were connected with PokerStars, and that's when I started getting into it and learning the game… and, law of attraction, poker inquiries started flooding in.
PIC: @LynnGilmartin David Chiu @MariaHo @KateLinds @Pliska007 Fri. #TigerJam rolls on w @Jason_Mraz concert tonight pic.twitter.com/EzN89Hk1Zx

— phil_hellmuth (@phil_hellmuth) April 30, 2016
What is it that you love most about the game of poker?
It's an even playing field and there is an opportunity to be good no matter what your background is or who you are, what you look like, etc.  I've always been really into sports.  I'm very competitive. But there's no chance I could ever play in the top baseball or basketball leagues. At this point, I can't even be really competitive in those sports for fun.  Poker is a game that anyone can learn to play and get into at any time in their lives.
The first couple of years working with PokerStars, I still didn't really know how to play. Then, around the time of Black Friday, I started playing on the Blackberry application to learn the game. I don't play much in tournaments. For me poker is a social event, but I've learned to play well enough to final table in 90% of the charity events I play and rarely lose money in home games.  Poker is a game where women can play with the best of them.
The biggest benefit is that poker can be used to raise money for worthy charitable causes. Giving back and helping others is a huge priority for me and I know it's also an element that has been important to PokerStars.  They have been very supportive of charitable causes I'm involved with even when they're not directly affiliated with them.
Anyone who is not supportive of that should take the time to get educated about how many people have been helped and lives have been saved because a charity poker game helped raised necessary funds or draw the necessary attention to a cause.
Thank U again @PokerStars 4 continuous support of LAPD Memorial Foundation @LAPDMF helping officers in time of need. pic.twitter.com/StZY3rc14q

— Traci Szymanski (@TraciSzy) June 20, 2014
Playing 4pink… Breast Cancer Awareness @PokerStars @PokerStarsEPT @SeanAstin @VanessaSelbst @Fatimademelo pic.twitter.com/mIaMTvnklu

— Traci Szymanski (@TraciSzy) May 2, 2015
Some of the causes that I have been involved in include:
Los Angeles Police Memorial Foundation – for families of officers killed in the line of duty
Tower Cancer Research Foundation and a Cancer Free Generation
Variety of Southern California Children's Charity
California Firefighters Memorial Association – for firefighters who have been injured in line of duty
amfAR
Ante Up for Africa
Autism Awareness
Angels for Animal Rescue
St. Jude's Children's Hospital
Boys and Girls Clubs
and many more….
What sort of work goes into organizing and producing a charity poker event? Could you outline the steps involved and how long it takes to put the average event together?
My preference is to have a minimum of 3 months to put on a good charity poker tournament, but have done it in 2 weeks before.  Once a charity contacts me to assist them we get started with:
Finding a location, finding sponsors for prizes, food & beverages, entertainment, promoting the event, etc.
Hiring tournament directors, dealers, security, lights, audio, red carpet, parking, permits, staff to handle check-in & re-buys.
Making sure every detail is taken care of so that it is a great experience for all who attend.
Inviting celebrities is a full time process just on its own… and then making sure they show up.
Inviting press is a whole other issue and then handling post-press. It's not easy and, to do it right, more goes into it than most people would realize.
There are several things that set my team's work apart from all the other charity poker events that take place out there.  For starters, there's the supremely professional quality of the event and its production; the sheer amount and diversity of talent that attends as well as the legitimacy of the tournament.  There is no shady business unlike many other events, and we have a genuine care and concern for the cause that we are behind.
I turn down about 90% of the business offered to me because I just can't do it all. A major part of my career has been about creating projects that make a positive difference in the world.  As much as I wish I could help every cause out there, it's impossible. So, I have to select ones that I feel I can contribute best to and which have the adequate resources to bring me in.
For the ones I do get involved with, it's a win-win for everyone involved; not only the charity, but it's important to show that poker gives back.  The poker community is charitable, cares about doing good and wants to make a positive difference. The charity poker tournaments are a great outlet for celebrities, poker pros, and the community to help out and give back in a fun environment.
How do you go about convincing celebrities to participate in charity poker events? Do you just cold call them or their agents?
I try to never contact agents for this. I rarely call representatives (with the exception of some who I'm close to). If you go through a representative, most of the time your message doesn't get to the celebrity.  Most of the celebrities I know reflect personal relationships that I have developed with them or through mutual friends over the years.
Even so, it's not easy.  People are busy and there are at least a dozen other events happening at the same time vying for a celebrity's attention.  Of course, I can't ask celebrity friends to skip out on their work or money making gigs even though I want them with me.
GreatNight! #ChadBrownMemorial @PHVegas @MariaHo @nickfradiani @Fatimademelo @LeoMargets @JenShahade @Jtillathekilla2 pic.twitter.com/iIbVcI8Hav

— Traci Szymanski (@TraciSzy) July 3, 2015
Are there any celebrities who always want to be notified when there's going to be a charity poker tournament coming up?
There are so many that are always want to be there to play and to support an important cause if their schedule permits, including Tito Ortiz, The Miz, AJ Mclean, Carl Weathers, Mekhi Phifer, Don Cheadle, Lou Diamond Phillips, Boyz II Men, Aaron Paul, Backstreet Boys, Corey Maggette, Randy Couture, Shawn Marion, John Salley, Verne Troyer, Joanna Krupa, etc.
Love this photo of rock legend @genesimmons & supermodel @joannakrupa at this weekend's #AnteUpforCFG @CancerFreeGen pic.twitter.com/ziHt6BLteR

— CancerRsrch Found (@TowerCancer) June 6, 2016
#POKERFACE @VarietySoCal @TiffnyMichelle @Torrie11 @jarronctwin @Corey_Maggette @phillipkeene @mrbelding @erikvaldez pic.twitter.com/IIyWKitI7N

— Traci Szymanski (@TraciSzy) July 26, 2015
What does your typical day consist of?
No day is typical for me because what I do is so diverse. Not only am I involved in poker but also my time gets divided between golf, basketball, baseball, softball, bowling, concerts, award shows, red carpet parties, ad campaigns, TV shows, films, press, music events and a wide variety of projects all over the world.
I wear many hats. Some days I'm a producer, some days I do the work of an agent, some days I'm an entrepreneur, and at times I handle public relations.
Fun times @PokerStars @PokerStars_PCA Bahamas @MariaHo @RealKidPoker @JasonMercier @TheSergioGarcia @cada99 pic.twitter.com/Zjeonr1UYc

— Traci Szymanski (@TraciSzy) January 8, 2015
You were instrumental in getting Aaron Paul to take part in the Global Poker League and get drafted by Maria Ho. Could you give us some more details on the whole process, maybe a timeline?
I've known Aaron a long time and he truly loves poker. He had just worked on another poker project with me in Madrid last year. Maria is also one of my closest friends. When Maria and GPL started thinking about including a celebrity, I thought Aaron was the perfect fit. The problem is Aaron is so busy; his schedule is non-stop and very hectic. He just has no time right now, which is great for him because there is a constant demand for him.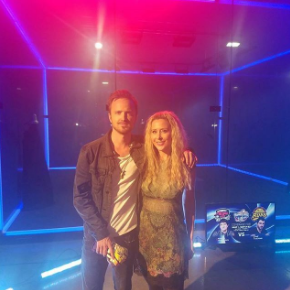 When Aaron and I first spoke about it, he told me "there was no way it was going to work". Yet, Aaron will tell you when asked about it, "but it's Traci, she'll find a way"… and we did but it wasn't easy! He was in Ohio for his brother's wedding. He flew into Vegas the next morning, played his GPL match (and won!), then he flew right out to NY to start filming the 2nd season of the Hulu original series "the Path".
Aaron's only played in a GPL match once thus far, but he has assured the poker world that he will try to participate more often. Do you feel additional celebrities would make a good match for the Global Poker League? If so, whom?
Aaron loves the game and loved playing GPL.  He will still be playing a few matches for LA Sunset this season online. I'm hoping his team makes it to the Playoffs and he'll be available for that, and that they go on to the Finals and he'll be available for that. Time will tell…
Excited to have won my first @gpl match, playing in #theCube
I love poker. Can't wait to play again. @GPLSunset! pic.twitter.com/bn7l5s2Hig

— Aaron Paul (@aaronpaul_8) June 9, 2016
I would love to see Aaron play another season. There are a few other celebrities who I think would be great for it – Kevin Hart, Michael Phelps, Tony Hawk, Michael B Jordan, Tito Ortiz… I had discussed it with Jason Derulo at one point. Of course, Matt Damon or Ben Affleck would be great as would Jason Alexander and Brad Garrett.
GPL is a great concept and I love sportifying poker!
A little #poker business and a big view with @MariaHo @alex_dreyfus #LosAngeles pic.twitter.com/L2BKk0iF3P

— Traci Szymanski (@TraciSzy) February 21, 2016
Referencing Maria Ho once again, you recently took a trip with her (and numerous other athletes and celebrities) to Israel under the auspices of the Omri Casspi Foundation. Can you tell us a little more about that?
I often bring celebrities out to Israel so they can see the country for themselves rather than rely on distorted media reporting, propaganda, stereotypes, etc. Education is so important. Two years ago NBA player Omri Casspi launched a Foundation that has a similar goal. Omri contacted me recently and asked if I wanted to join him for this one. So I joined in and brought Maria with me as well as actor Jeremy Piven and former NBA champion Shawn Marion who is a good friend of Maria's. I also invited Daniel Negreanu and Fatima Moreira de Melo but they weren't able to rearrange their schedules on short notice.
Everyone who came on this trip is already well travelled, and we travel to some of the greatest places in the world, but this was really something wonderful. We just returned a few days ago and it was one of the most memorable experiences of my life.
It wasn't just that 50 of us travelled together on a private plane consisting of 2 floors, 3 bedrooms, a living room, a couple lounge areas, and dozens of first class seats – although that was a huge perk 🙂 All that room gave us enough space to hold a poker game. For the first 5+ hours of the flight, Maria and I played with NBA players Amar'e Stoudemire, Shawn Marion, and Omri Casspi.  We played again on the return flight to Los Angeles, which helped the time pass by much faster!
There's always time for a lil' poker but I don't sleep on @Amareisreal, @matrix31, and @TraciSzy 'cuz they got game. pic.twitter.com/Fe4Z4uH6Xl

— Maria Ho (@MariaHo) August 12, 2016
I have been to Israel almost 30 times since 2003 and each trip has been memorable. The experience of traveling with a diverse group of people, so many different backgrounds – all very successful – and everyone got along well. No egos there. It was amazing.
We toured the country from Jerusalem to Tel Aviv, and beyond.  The players held several basketball clinics with the kids all over the country.  Jeremy Piven had a special 2nd Bar Mitzvah ceremony on a rooftop in Jerusalem overlooking the Western Wall; that was really special.
There are so many misconceptions about Israel. People need to see the country for themselves and understand the current situation before forming an opinion. Ignorance breeds hate and the world doesn't need any more of that.
My trip to Israel for the #OmriCasspiFoundation was truly remarkable. Big thanks to @Casspi18 and everyone involved! pic.twitter.com/cQ6JQbohNi

— Maria Ho (@MariaHo) August 11, 2016
What would you say your favorite moments of your career have been thus far as relates to poker?
In no particular order…
PokerStars Caribbean Adventure 2010 – It was the first time I had been to PCA and we had a really great group with us: Slash, Supermodel Joanna Krupa, Kenneth Cole, Nelly, Boris Becker, Montel Williams, and Adrian Grenier.
PokerStars NAPT Las Vegas – 1 night in Vegas to benefit Three Square with Slash, Donnie Wahlberg, Tony Hawk, Christian Slater, Racecar driver Ryan Hunter Reay, Joanna Krupa, Jason Alexander, Brad Garrett, Marlon Wayans, Tito Ortiz, and more.
The 1st Annual Los Angeles Police Memorial Foundation Celebrity Poker Tournament hosted by James Gandolfini. This event took place just a couple months before he passed away.
Filming Duel with The Force Awakens' John Boyega and Neymar Jr. in a castle outside Barcelona.
Working on a special project with Aaron Paul and Cristiano Ronaldo in Madrid.
James Gandolfini hosting the Los Angeles Police Memorial Foundation's Celebrity Poker Tournament 4/27/13 pic.twitter.com/DBEHPCVWjs

— Traci Szymanski (@TraciSzy) June 20, 2013
I've seen you pictured numerous times in the past with WWE Superstars Mike "The Miz" Mizanin and his wife Maryse Oulett. It's well documented that the Miz loves playing poker  and they've both played in many charity poker events before. John Cena has also publicly shared his longstanding affection for poker. Do you feel that other WWE Superstars could be persuaded to play at charity poker tournaments and promote the game?
Miz and Maryse are two of my best friends and will always be there if their schedule permits. WWE doesn't give them much free time though.  I would love to get John Cena out to an event and I definitely think others would play if they could.  It's all in the timing.  Maybe I need to throw a WWE tournament?  🙂
RealFriends, Even if don't see u all the time, its like no time apart @mikethemiz @maryse0uellet @vickymirisch & MM pic.twitter.com/HQyiZWBMcH

— Traci Szymanski (@TraciSzy) July 21, 2013
I've always been a fan of "rounders". Good luck to everyone grinding at the down under "rounders" #AussieMillions https://t.co/V5QjL6DA5y

— John Cena (@JohnCena) January 27, 2016
How do you unwind? Do you currently play in any poker home games or head out to the big LA card rooms once in a while?
I don't give myself much free time right now, but I enjoy what I do.  I travel around the world with great people doing great things so I can't complain. If I'm in Vegas I play a lot. In LA, I just stick to home games and love charity poker events. Outside of poke, I love going to baseball, basketball, and hockey games, as well as spas, travelling, shopping, working out, studying spirituality (specifically energy and the laws of the universe) and creating projects that are going to make a positive difference.
I sound like I'm writing my dating profile. 🙂
Who calls on you for help in producing charity poker events or to bring out celebrities to poker events?
A lot of people and organizations! Dozens of charities, most of the major poker companies, PokerStars, Global Poker League, 888, WPT, Hard Rock Seminole, and more. Some of the big pros have also asked for my help over the last few years including Daniel Negreanu, Maria Ho, and Vanessa Selbst, and celebrities also ask me all the time.
You mentioned that you do quite well, making the final table in many charity events you play in. What are some of the more interesting prizes you have won?
Last year at a tournament celebrating the ESPY Awards I won a home sauna. This year I won tires.
Having accomplished so much, what goals have you set for yourself to achieve in the future?
I promised myself that this year would be about making a film.  There are two specific ones that are my passion and my goal to make.  One is a true story about something that recently happened in Israel and the other is a great poker film. I am determined to make them both! Israel comes first and that is already in the works.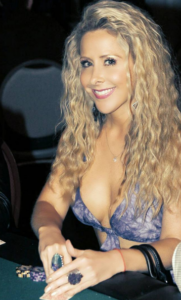 Anything else you want to add before we let you go?
I encourage those that play poker to continue to use it to make a positive difference in the world and help important causes.  And I would encourage more people to learn the game even if it's just for fun, to be social or to be able play for charity.