At first glance, to the unexperienced eye, many players could be forgiven for thinking there is little difference between video poker and slots machines. After all, they both have video screens, are coin operated, and single-player games initiated at the push of a button. Taking a stroll through the casino it's often assumed that both these games have a lot in common on the outside. You take a seat in front of the screen, insert your coins, push the buttons, and wait to see if you've won. That said, once you take a peek behind the scenes, things start to look quite a bit different.
In this article, we take a look at the similarities and differences between video poker and slots to give you a better idea of exactly what you're getting into when you decide to play one over the other.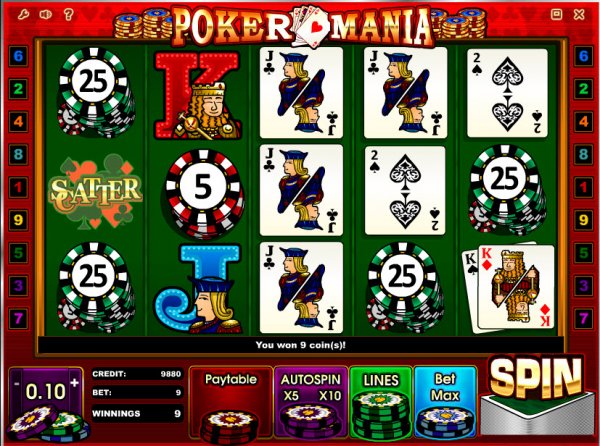 What slots and video poker have in common
First, let's list the similarities, which for the most part remain largely cosmetic. As mentioned above, both are single-player, coin operated video games. Both offer the opportunity to adjust your betting options, usually from one to five coins in video poker, and up to a certain max amount in slots, which varies depending on the individual slot machine.
Both can provide a good, relaxing alternative to more traditional table games like poker, blackjack, or roulette, as there's no dealer or other player interaction required.
The similarities, however, really end there.
Where slots and video poker differ
Video poker, while a far cry from the traditional poker table in terms of its sheer simplicity, is still a strategy game. Knowing which cards to hold and which to discard can make a huge difference in your overall winnings and dramatically reduce the house edge over time. If you're serious about winning at video poker, it's all about strategy. In fact, a good video poker strategy, when played right, can not only reduce the house edge, but it can even can push the payout rate, when properly combined with casino bonuses and comps, to over 100%, meaning that you can win at video poker over time if you know what you're doing and play your cards right.
Slots, on the other hand, require pretty much no strategy at all, outside of effective bankroll management, an element that applies to all games on the casino floor.
What's in a random number generator?
Today's video poker and slots machines both employ what is known as a random number generator, or RNG, to determine which cards or symbols appear on the screen.
For slots, the RNG is programmed so that the machine will pay out a certain percentage, anywhere between 83% to 98%, of the money that passes through the machine. This is known as the payout percentage. Finding the machine with the best payout percentage is what all slots players want, the problem being that it's almost impossible to determine the payout percentage on any given slot machine. You would literally have to play hundreds, if not thousands of hours to figure it out.
Video poker, however, while also using an RNG to determine which cards are dealt, replicates a deck of 52 cards, giving players the same odds as if a dealer were dealing from the deck. This gives players a chance of figuring out the odds of getting any given hand. As the payouts are determined by the hand and prominently displayed on screen at all times, with a bit of math you can get a good feel for the payout percentage of any given video poker machine, giving you the advantage when choosing which machine to play.
As a general rule, video poker will also offer a higher payback than the vast majority of slots, as the house edge is lower and can be reduced even further by intelligent video poker strategy.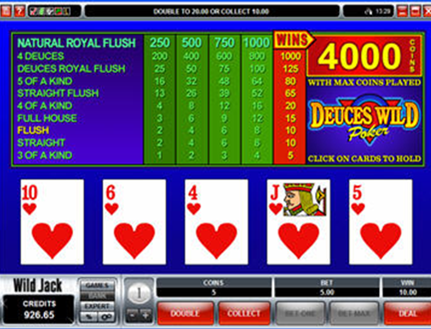 Video poker machines also show you the paytable upfront, making it easy to compare the paytables on different machines, whereas slots paytables are usually to be found in the help section and, especially with the more sophisticated 5-reel and 3D multi-featured, multi-payline slots, can be incredibly hard to understand, let alone easily compare.
Why play slots then?
So, while it's easier to reduce the house edge using solid video poker strategy, know where you stand in terms of the odds and compare the paytables on video poker machines, slots, despite their larger house edge and ambiguities, do have one significant advantage… bigger jackpots. This is thanks to the nature of what are called "progressive" slots jackpots.
Progressive jackpots take a percentage of each coin played and contribute it to the total jackpot, meaning, if nobody wins and lots of people play, an individual slots' jackpot can reach well into seven figures, sending you to the millionaires' club in a single lucky spin.
Conversely, to get the big win in video poker you have to get a royal flush and have played max coins. With max coin payouts at around 4,000 to 1, for example in Aces and Eights video poker, a progressive slots jackpot can easily reach 1,000,000 to 1 or more.
Slots are also more relaxing, as there's no need to think strategy. They are also notably more entertaining and if you're looking for some easy fun, you can just as well play online slots for free.
When it comes to game selection, slots have the advantage hands down. There are literally thousands of slots variants, from classic 3-reel machines, to advanced 5-reel machines to state-of-the-art 3D slots, all with different story lines and offering a wide selection of dazzling features including scatter symbols, bonus rounds, free spins and prize multipliers. Sure, there are a number of variants of video poker as well, such as Jacks or Better, Deuces Wild, and Joker Poker among others, but the selection truly pales in comparison to slots.
Conclusion
At the end of the day then, while they may look alike on the outside, slots and video poker are truly different animals, with both games offering players different advantages depending on what strikes your fancy.