World Series of Poker glory is a something all poker players have wished for once upon a time, whether that's someone just starting their poker journey or a veteran of the felt. For many of us winning a WSOP gold bracelet will only ever be a pipedream, but for Ethan Yau it became a reality after taking down WSOP Event #26 – $500 NLH Grand Finale on WSOP.com in the last week of July.
Ethan, who livestreamed his legendary run with an audience to several thousand viewers, has only been playing poker for two years and is just 22 years old, making his achievement even more of a feel-good story than it already was.  I've even called it, as have others, a Moneymaker-esque story. Not in the sense that I think it will cause another poker boom but, in the sense that a relatively unknown live low-stakes player captured a title in the most prestigious poker tournament series on the planet.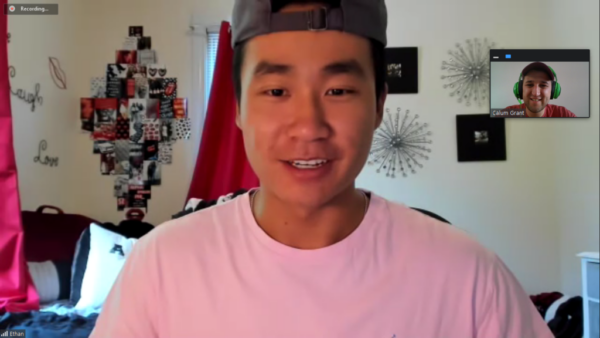 Truth be told I subscribe to Ethan's YouTube channel and have been following his poker journey for the better part of six months since seeing a thumbnail of his videos being recommended to me. In that time, I have become a big fan of his and actually watched the last three or so hours of his livestreamed bracelet win, thanks to being on the right side of the time-zone difference between the East Coast and the UK.
I wasn't sure exactly why I became a big fan or invested in a poker player who primarily plays the lower stakes games, but after speaking with Ethan it became clear why.
For me, it's his approach and love for the game. Without trying to infantilize Ethan, watching his run was like looking through the eyes of a baby, where everything is new and filled with wonder. You could see the excitement grow after each pot, the variation in emotion as he got closer to the final table, you could see in his eyes he was daring to dream. There was no ego, no foul-mouthed rants; it was just a young man at his computer trying his best and embodying everything that I love about poker. I'm not ashamed to say I punched the air in jubilation after seeing him win.
After his triumph, I just knew that I had to sit down with Ethan to help tell his story and thankfully, he obliged and indulged some of his time with me. So, after taking the poker world by storm and getting everyone chatting, let's get to know Ethan 'Rampage Poker' Yau a little better.
Hi Ethan, thanks for taking the time out your day to speak with me, to jump into the deep-end for those unfamiliar with you, who exactly is Ethan Yau?
I'm just a 22-year-old who's recently graduated college in Business Management; it really is just that.
How did the poker journey begin?
I started playing in the winter of 2018, I wanted to get better, so I started watching a lot of Brad Owen, Andrew Neeme, and Johnny Vibes. I saw those guys making videos and I thought I could do that. I have a bit of experience making videos and running a smaller YouTube channel, so I thought it was something I could do.
I started making more videos throughout college but ramped it up once I graduated.
How do you fare with the armchair poker players in the comments section?
I just took the comments for what they are, and boy did I get some criticism and feedback! Especially on my first video (see below) where I still didn't fully understand the rules still and how things worked like the button. Thankfully I've come a long way since then.
You're very honest in your videos. Is it fair to say the Ethan we see is the real Ethan?
Yeah, I try to be as transparent as possible and that's what the channel is based on. I'm very open about my game and journey and being very transparent in losses as well. This helped me see where my skill level was. I just play $1/3 and I take a lot of losses.
What were your goals pre-poker?
Before poker, I suppose, became my job, I had no idea what I wanted to do. I had a stable sales position in a normal office job and then got hired by a start-up that revolved around baseball, which I'm passionate about.
Working with a start-up, I realized early-on I'm the kind of person who can't do the 9-5 grind. I really like the instable lifestyle and that's what pushed me to jump into the YouTube and poker game more seriously and go all out on the instability lifestyle.
I think it'd be fair to say betting on yourself has paid off then?
Yeah, absolutely. I'm still in shock, as you can imagine.
So, are you primarily a tournament player or cash game player?
Cash game player, I've never really played poker tournaments and had never even won one until now!
Everyone has their poker heroes, and most would perhaps look to Phil Ivey, Daniel Negreanu, and the like when they first start playing. Was that the same for you?
No not at all! Like I said, my influences were the likes of Brad Owen and Andrew Neeme so they were my main introductions to poker. I've never followed or been familiar with the old school players and the guys who've just crushed for years.
It's funny; when I was streaming the tournament, people in the chat were writing comments on who was who at my tables. So, when I wasn't in a hand I quickly Googled some names and saw live earning of $500k, $600k and $1.8 million … and I'm there with like $2k in earnings. My fans really helped, and it was cool to see who I was playing against.
Many have commented that your win is a Chris Moneymaker-eque story. Can you see the comparison?
Hahaha, I've seen the comparison but he's in another league of his own and in his own god-tier. But yes, I have been told by some fans who said that my run has inspired them and that is amazing. This is really the dream for me; you dream about winning a bracelet and I never imagined this in a million years. I guess it's true anyone can run hot for 10 hours and go runner-runner for two final table eliminations. It's one of the reasons why I love poker. You don't need to be the best player at the table to win.
On the stream when you win, you said "How am I going to tell my mom about this win?" What's the story there?
Oh dear, haha! I told my mom I wasn't going to travel to New Jersey to play because she wouldn't have been happy with me if she found out I did travel with COVID going on. Luckily though, she's not familiar with US poker laws, so I think I'll be good.
Let's just finish on some quickfire poker questions. Everyone's got a favourite hand; what's yours?
Well I suppose it has to be pocket fours now, as that's the hand I won with and that'll hold some sentimental value.
In as few words as possible, describe the euphoria you had when you won.
I couldn't verbalise it. That scream of 'Let's Go!' at the end summed it all up. Pure happiness, and so surreal.
Favourite stakes to play?
$1/3 is really fun; it's my bread and butter. It's more social and fun and not as reg heavy as the higher stakes.
Favourite hero call?
I make a lot of light hero calls in cash games. Most of the time they don't work. I think it has to be calling with king high in an online tournament. It was a pretty wet board, but the line didn't make sense and it's no fun to fold, especially when the call button is so close to the fold button, too!
Where's your go-to poker spot?
I mostly play at Boston Billiards Club, but I'm planning on expanding my horizons in LA, Florida, Texas and now with this score, internationally. That's the dream.
And finally, Ethan, where can people find you online?
On YouTube I'm Rampage Poker, Instagram my handle is @rampaagepoker and Twitter's also @rampagepoker.