A couple weeks ago, for the first time in Israel's history, a Tel Aviv venue played host to a large-scale charity poker event. An initiative spearheaded by Israeli tennis legend and Grand Slam doubles champion Andy Ram, the event was put together to benefit special needs children through the Variety Fund. A total of 180 people showed up, ponying up $1,000 apiece for the opportunity to compete. The exclusive event was specifically geared towards the country's business and hi-tech sector, with seating available by invite only, and it successfully raised over 650,000 shekels to benefit the venerable charitable organization. The idea of holding large-scale charity poker tournaments is not a new one, so on the surface of things one might wonder why the event ought to be considered "newsworthy." As it happens, there was all manner of unique characteristics that made this self-entitled "All-In Variety FunRaiser" quite special, indeed.
Check out my video recap below.
Everything Gets Donated
As it is currently illegal under Israeli law to run poker tournaments (the main issues being profiting from such a venture and players winning money/prizes), it was pretty exceptional that such a spectacular event could even take place at all. Organizers "got around" the law not via a technicality, but rather via generosity, as the tournament offered no prizes other than bragging rights and simple trophies to the winner and those who made the final table.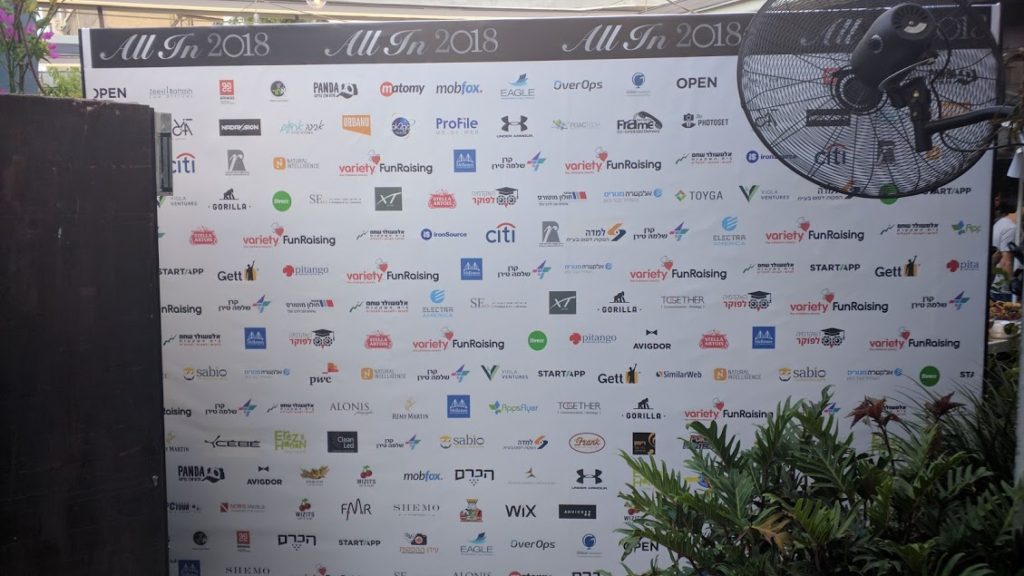 Moreover, neither the event planners nor the venue charged for hosting and organizing the event, and all food and drink served was sponsored by generous donors as well. Thus, the entirety of the event's proceeds – right down to the last shekel – could be funneled directly to the charitable cause.
While there was nothing at stake in the tournament, no participant left emptyhanded, as they each received a nice Jansport swag bag including two decks of event-branded cards, sunglasses, a coaster, participation trophy, air freshener, stress ball, keychain, hat, and breathable running jersey.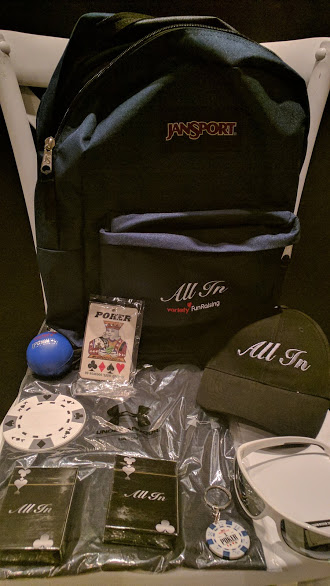 Big Names Show Up
Beyond individual donors, a litany of international financial and technology corporations headquartered in or with branches in Israel stepped up to support the cause. Some companies sent their CEOs and VPs to participate, while others purchased a number of seats in advance and held internal tournaments among their employees to determine who would get to represent them at the charity event.
Moreover, a number of local Israeli celebrities showed up to liven the festivities, including legendary comedian Eli Yatzpan and international soccer star Yossi Benayoun.
While unable to show up in person, numerous big-name poker personalities sent their warm regards from afar to the players and event organizers.  Just before the "shuffle up and deal" call, a video was played including dedications and well wishes from Daniel Negreanu, Eli Elezra, Maria Ho, Michael Mizrachi, Chris Moorman, Phil Hellmuth, Martin Jacobson, and Melanie Weisner. It was especially delightful to the crowd hearing Elezra and Mizrachi address them in Hebrew. Check out the clip, below.
Andy Ram Serves Up a Big Ace
As mentioned at the outset, Israeli tennis legend Andy Ram has long been a supporter of the Variety Fund, in the past organizing tennis and golf events to help fundraise for the organization. With a long history of using his local celebrity and status to help benefit charitable causes, this was by far Ram's most successful initiative to date, both in terms of number of participants as well as in terms of amount of funds raised.
The Israel Poker Academy Steps Up
Also figuring into the picture was the Israeli Poker Academy (IPA), which donated all of the equipment to facilitate the poker tournament. In addition, two dozen coaches and staff members from the IPA volunteered their time to take care of the event's "poker logistics" as well as deal at all of the tournament tables throughout the night.
In speaking with IPA co-founder Stas Tishkevich throughout the evening, it was clear that he was beside himself with joy, not only to be a part of a tremendous poker fundraiser, but also to finally have the chance to publicly showcase – on Israeli soil – the great positive force that poker can be. To him, the event represented another chapter in the long struggle to legalize poker in Israel. Such a high-profile, successful evening certainly serves to rebrand poker in a positive light in a country where the game still suffers from being viewed with dated stereotypes.
Incidentally, Tishkevich is also the co-creator of Poker Fighter training, which aims to teach people how to play better poker without having to risk any real money. Check out our review of the Poker Fighter software here.
Away From the Felt
While the poker festivities only began at 8pm, the event itself started with a red carpet welcome an hour prior. Food booths galore, open bar, pulsing music, sushi; it was a vibrant and dynamic atmosphere than no attendee would soon forget.
Organizers also brought out a big screen to display that evening's World Cup match outside so that non-player guests had an alternate activity beyond watching their colleagues compete at the felt.
Conclusion
All in all, one couldn't help but leave the event with a great feeling. Hobnobbing with local celebs, enjoying great food and music, a truly fun night of poker, and of course donating money to a good cause. That's a recipe for a stellar fundraiser; one that truly merits appreciation across the board, no matter where in the world you live.