Upswing Poker, one of the industry's premier poker training sites, is unique in that it's the only major poker training outlet that's created a dedicated course for studying mixed games. From Razz to Stud to Stud 8 of Better to Omaha 8 or Better to 2-7 Triple Draw, Jake Abdalla's Mixed Game Mastery course is by far the most comprehensive course you'll find that gives you all the tools you need to take your skills to the next level in multiple poker variants beyond Texas Hold'em.
About 3.5 years ago, we reviewed the well-regarded course and gave it high marks. The approximately 30 hours of content delivered over the course of 100+ videos certainly stands the test of time and remains fully applicable to today's mixed game play.

In most poker rooms, you'll usually only find hold'em (and perhaps PLO) being spread. It's the rare venue or poker tournament series in which you'll find mixed games being played, even more rarely for low stakes.
With the second Cardplayer Lifestyle Mixed Game Festival approaching (June 12-16 at Resorts World Las Vegas), it gives us great pleasure to offer mixed game fans and aficionados the opportunity and outlet to play all the different poker variants for stakes that won't break your bankroll.
Thus, in this lead-up period prior to our upcoming Mixed Game Festival, we've negotiated a special, limited-time discount from our friends at Upswing Poker on Abdalla's Mixed Game Mastery course. By using our exclusive promo code mixedgamefest, you'll get 25% off the retail price when purchasing the course. That's equivalent to Upswing Poker's biggest discount of the year, which they usually only offer on Black Friday weekend! This special offer will only be valid until the final day of our Mixed Game Festival, October 7, 2021.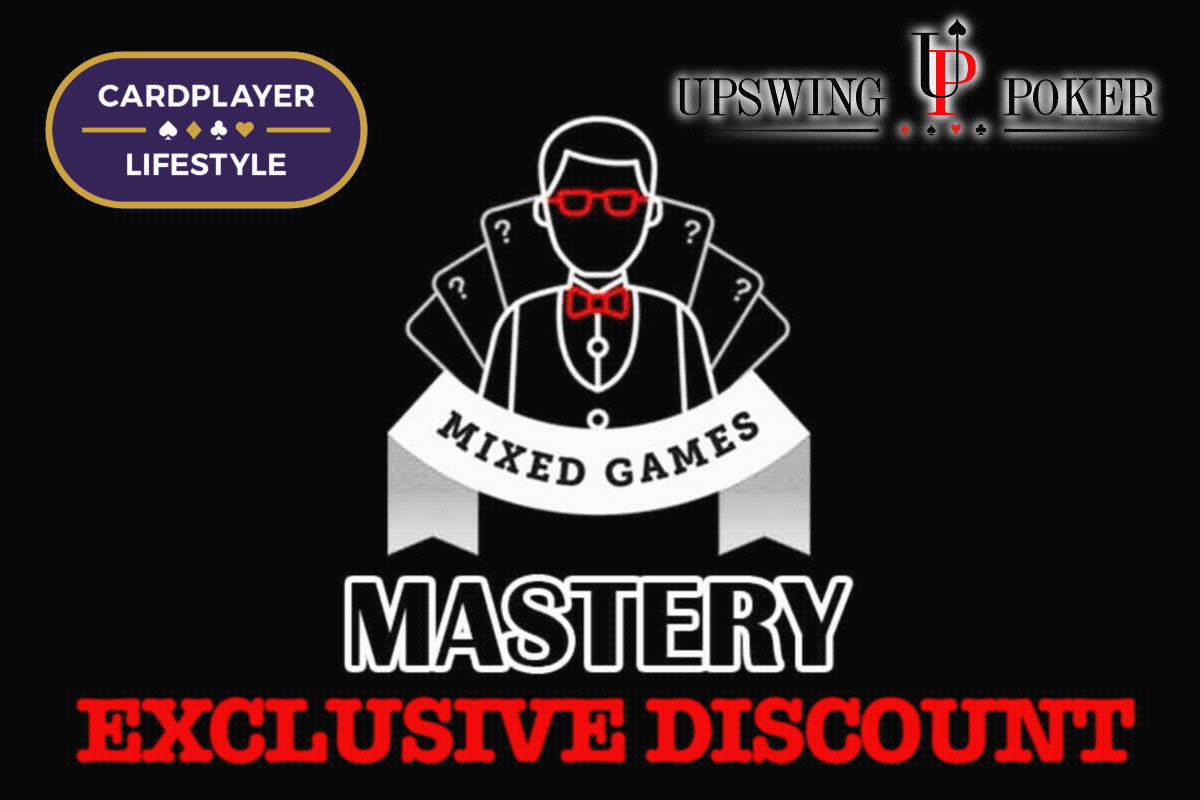 Have We Mentioned the Giveaway?
Beyond giving everyone the ability to capitalize with that exclusive 25% discount on the course, we're also offering one lucky individual the chance to win Upswing Poker's Mixed Games Mastery course for FREE!
How?
Simple.
Just show up to our Mixed Game Festival. 😃
At some point over the five day festival, I'll be picking a player at random to receive the course for free.
If you get selected as the lucky winner and you've already got Upswing Poker's Mixed Games Mastery course, we'll give you a different course for free instead.
What Are You Waiting For?
As a longtime fan, player, and promoter of mixed games, I've always loved saying that "there's never a better time to start learning how to play them!" Well, I was wrong. NOW is definitely the best time to start learning, so you can take advantage of our special discount offer!
While the course won't cover every possible Dealer's Choice poker variant that'll be called during our Mixed Game Festival, it'll give you a solid base of fundamentals with which to be competitive at the tables and likely a bit of a leg up on your competition as well.
P.S. Actually, our special mixedgamefest promo code will work on ANY Upswing Poker course priced at $999 or more. So now's your chance to REALLY boost all facets of your poker game! Enjoy!