When it comes to poker, Brazil is among the leading countries in the game and it's no different in the online poker universe. On Sunday night (June 12th), one of Brazil's top poker players, Bruno Foster, took first place in the WPT Global 'Influencers Tournament'.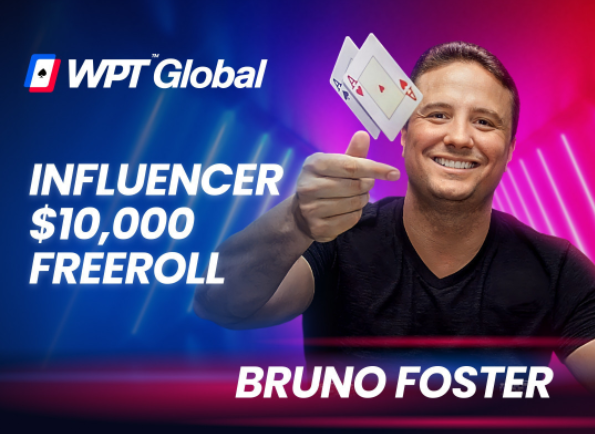 In a 4-hour-long tournament, Foster overcame a field of 34 competitors composed of poker influencers from around the world, as well as the winner of each one's qualifying freeroll leading up to the final. Foster was one of three Brazilians to take part. He was joined by the founder and presenter of RegLife, Mário Junior, and one of the leading names in women's poker in Brazil, Fernanda Lopes.
"It was surreal to win this tournament, I feel like I'm on cloud nine," said Foster after his victory. "I had a difficult moment at the beginning of the tournament where I had to bluff a lot to keep myself alive, but then everything started to get better for me. I kept trying to manage pressure and squeeze all my opponents and it worked.
"There was a moment when I managed to double through Tom Dwan, then he doubled through me and in the third clash I was able to eliminate him from the tournament. This moment was also very cool because I managed to eliminate a guy who I have always considered an idol in poker."
The second phase of the 'Influencer Tournament', a 'Winner-Takes-All' event, saw Foster cash for an incredible US$100,000; but he actually ended up taking home even more money. Foster collected an additional $25,000 for being the top-placed influencer in the tournament, plus a US$2,000 bounty for each fellow influencer he eliminated.
In addition to Foster, Fernanda Lopes, Mário Junior and Tom Dwan, other big names such as Phil Ivey, Damian Salas, Cristian Stival, DJ Steve Aoki, YouTuber Brad Owen and actress Lynn Gilmartin, among others, also took part in the 'Influencers Tournament'.
How the Tournament Worked
The Influencer Tournament was divided into two phases. In the first phase, held between May 30th and June 11th, 17 influencers hosted freerolls for their followers, with a guaranteed prize pool of $10,000. In addition to the cash prize, the winner of each tournament received an entry to the second phase, the 'Influencers Main Event'. To make the freerolls even more dynamic, each influencer had a bounty of $1,000 on their heads, which was won by whomever managed to eliminate them.
Phase two, played out on June 12th, saw all 17 influencers and the winners of the freerolls from phase one compete for the grand prize of $100,000; and Foster emerged victorious.
In the final, the bounty for eliminating each influencer was doubled to US$2,000. Additionally, the influencer to last the longest in the tournament earned $25,000.
Even with the 'Influencer Tournament' coming to an end, stay tuned to all up-coming events to be played on the WPT Global app, with different buy-ins suitable for all types of poker audiences.
Follow WPT Global social media
https://www.facebook.com/WPTGlobalSocial/
https://twitter.com/wpt_global
https://www.instagram.com/wptglobal/
Instagram: @wpt.brasil
Visit: https://wptglobal.com
Download the mobile or pc app here and be sure to sign up using the bonus code CPL