First PokerStars, Full Tilt Poker, and Absolute Poker/UB; and now DoylesRoom. Like a set of dominoes, online poker's biggest rooms continue to falter in the face of the US Department of Justice. DoylesRoom.com was among 10 additional domain names seized recently by the DOJ, which seems hell-bent on preventing Americans from playing poker or any other online casino games, even from the privacy of their own homes.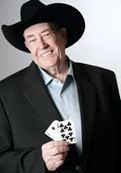 Seems like our good friend Texas Dolly (Doyle himself) knew when to fold 'em, having ironically severed ties with the site just in the nick of time, earlier this month. While it doesn't look like the DOJ's actions will land the poker Hall of Famer in any sort of trouble, the fact that the online poker room bearing his name is now closed to US residents simply doesn't resonate well with the greater poker playing community.
WSOP 2011
While the dust continues to settle in the online poker world, the good news for poker players and fans alike is that the World Series of Poker is starting tomorrow. For 6 weeks, Las Vegas (more specifically the Rio Hotel and Casino) will become a poker mecca. Over 50 WSOP bracelets will be awarded and both pros and amateurs are gearing up for a long grind throughout the summer. Whoever's attended the World Series in the past also knows that this means plenty of juicy cash games on the side!
Even poker's biggest land-based event series isn't immune to the happenings in the online poker world though. The fact is that the World Series got to be as big as it is partly due to the online poker satellite feeder system. Chris Moneymaker, the man "responsible for the poker boom" himself won his seat in the 2003 Main Event through an online satellite event on PokerStars. So, as star studded and glitzy as the World Series will be, organizers foresee a large drop in attendance. The online satellite system is dead, for all intents and purposes, at least for American players. The world economy being in the doldrums doesn't exactly help matters either, as recreational players are finding it harder to justify parting with a few thousand dollars to play in poker tournaments.
You could almost say that poker itself is in a slump these days, but we at the Cardplayer Lifestyle poker blog want to keep thinking positive. Even the longest of slumps has to end sometime… Here's hoping the 2011 WSOP will be the start of good things for poker – both land-based and online!
Over the course of the summer, we'll be covering the latest news as it happens at the World Series of Poker. Be sure to check back frequently here at the Cardplayer Lifestyle poker blog to keep up to date on the breaking stories.