Table Games: Play poker against the casino, enjoy fixed odds with manageable risk levels, and play live online with a real dealer!
The above table games marketing lingo pretty much says it all, right? While I write about poker here as my hobby for almost 7 years now, my full-time work has tasked me with writing hundreds of texts to promote online casino games. Even so, I'd posit that anyone who's ever enjoyed ring games or tournaments will usually turn their nose up at the fixed odds games available in land-based and online casinos that brand themselves as "poker" – and it's easy to see why this attitude persists.
When you've spent years honing your skills on different variants of Hold'em, Stud, Razz, and Omaha, you'll have accumulated and refined the same amount and caliber of techniques, understanding, and skill as the average professional chess player. Even someone with a passing interest in poker who's played online at some of the biggest poker rooms, like PokerStars and 888poker, and has seen some success will feel that they've moved way beyond playing games like Three Card Poker, Pai Gow, and Caribbean Stud. Nonetheless, writing these games off as strictly for Vegas tourists may not be as clever as it first seems.
Table Game Poker Helps Pay Casino Bills
For one, arrogance has been the driving factor behind many a bad beat. It's worth remembering, as you walk past the glammed-up once-a-month players enjoying a night out on the Roulette, Blackjack, and Baccarat tables, that they are the bread and butter clientele that keep casinos in business. Without their patronage, many land-based poker rooms simply wouldn't exist. Moreover, while many poker purists mock the tourists playing poker against the casino at table games while they head to the poker rooms, most of those same purists end up losers at the end of their sessions.
Accepting that many players just want a decent night out in a vibrant, exciting environment is only part of understanding the popularity of table poker, though. It's as big online as it is in land-based casinos, so it's by no means only about the casino visit experience.
They're Good for Simple Entertainment
Another key reason to try casino table games – and the one that appeals to plenty of serious ring game and tourney players – is that they simply provide enjoyable, downtime entertainment.
Admittedly slot games can offer this as well, but for the average career poker player a chilled casino session playing against the house is preferable to high octane, blinged-up visuals, repetitive soundtracks and seizure-inducing bonus rounds.
No disrespect to the slots industry – they do a great job of giving players exactly what they want – but for many career poker players a session against the casino with a pre-specified ROI when playing the games optimally is far more likely to appeal. It's a bit like coming home after a demanding, brain-busting week at the office to enjoy some well-earned alcoholic-based relaxation, junk food, and some undemanding reality TV. For that matter, the same applies to people who want to get their gamble on playing video poker.
If You Like Poker, You Usually Like ALL Forms of Poker
For poker players, the desire to play cards never really leaves them (I can attest to this personally, as I'm sure many of you readers can as well). That's precisely why sometimes a relaxing session against the dealer while engaging in a table game makes a great alternative to hitting the bars and takeaway joints.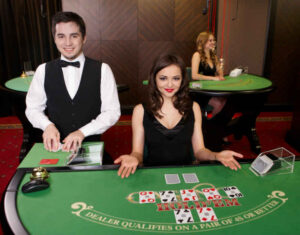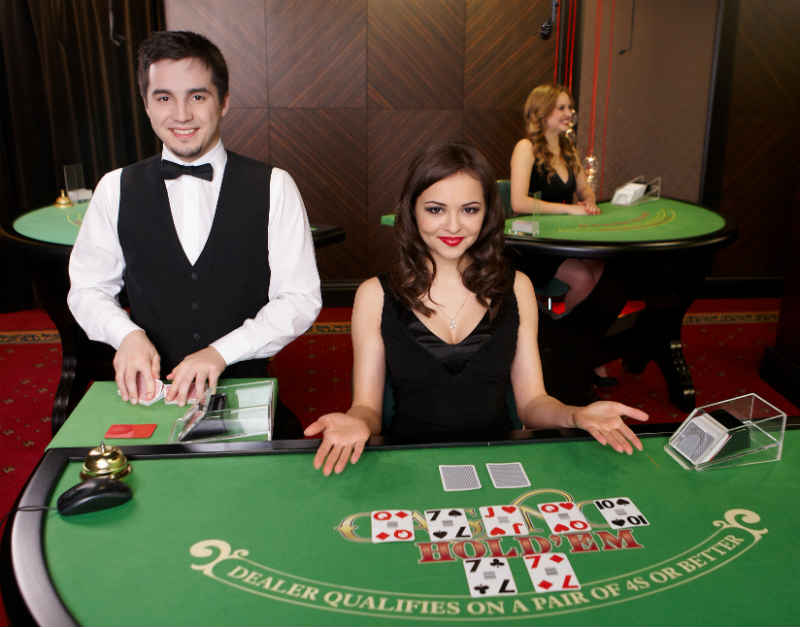 A great place to start is – as its name would suggest – Casino Hold'em. You'll bet to see if you can get dealt a better hand than the dealer, and there will still be community cards. There won't, though, be any pressure to get sucked into no limit betting rounds and have to watch your heart rate go through the roof. You just play your best and hope the cards cooperate to deal you a winning hand.
Three Card Poker is the other big name in this sector. You'll make an initial ante bet (and an optional Pair Plus Bonus bet if you so choose) before you and the dealer are dealt three cards. After examining your cards, you can choose whether of not to continue with an additional bet to equal the ante or to fold if you don't fancy your chances. The dealer then reveals their hand (which must be a 'Queen high' or better). If your hand is higher, you win. Plain and simple. Some establishments offer payout of up to $1 million for a royal flush if you've placed a Pair Plus Bonus bet, so that's always tempting.
There are other table poker games, of course, but these are the two most popular (both in land-based and online casinos). Numerous online casino platforms developed by industry leaders liike Evolution Gaming and Playtech, offer multiple different varieties of poker-themed card games you can play. When looking for the best online casinos at which to have those aforementioned relaxed "poker" sessions, it pays to check out sites www.bästbonuskod.se, which offer extras like free bonus cash when you sign up to play or make hefty deposits.