It's always great to see innovation in poker, and for a while now PokerGO has been at the forefront of new initiatives in the game. Whether its running high stakes festivals like the Poker Masters and the U.S. Poker Open, broadcasting high-stakes, entertaining cash games like Rob (Yong)'s Home, Dolly's Game, and Holidays with Hellmuth, or via its original programming, PokerGO is truly giving subscribers their money's worth.
One of the network's newest initiatives that has quickly caught the poker public's eye and is rapidly gaining legions of fans is their poker-themed quiz show, The Big Blind. Debuting to much fanfare last month and hosted by Jeff Platt, the game show features 18 well-known poker personalities vying for a share of $30,000 in prize money in a bracket-style competition.
The format is creative, the casting of characters/contestants is superb, and even without any poker being played, the show is practically guaranteed to entertain and stir emotions in poker fans the world over.
Naturally, a production of this nature doesn't just magically hit our screens. A lot of time and effort has been invested by a whole team of hardworking people to make The Big Bind happen. To learn more about how it all comes together for our viewing pleasure, I reached out to the PokerGO team with some questions. Many thanks to Sam Simmons, Brent Hanks, Jeff Platt, and John Bovenizer for kindly taking the time to put these answers together and share with the Cardplayer Lifestyle audience some fascinating behind the scenes information about The Big Blind.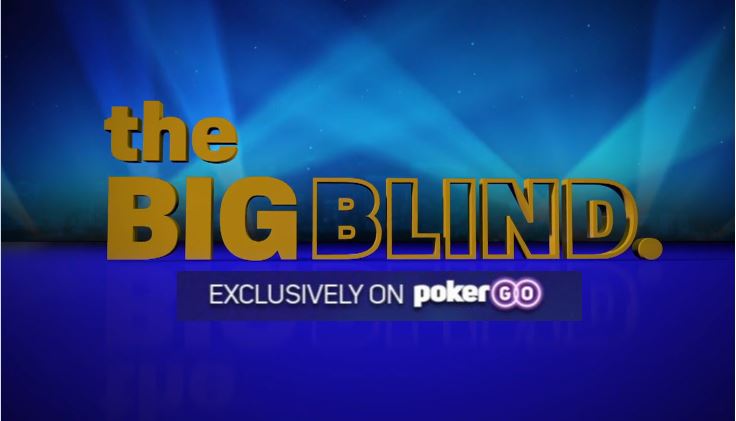 The concept for the show was thought up by John Bovenizer. That's a name I've never heard before. Who is he? What's his background and familiarity with poker? How did PokerGO come to work with him?
John has worked in video production for over 15 years and is the co-creator of reality TV show Killers of Comedy: on the Road that aired on Howard TV, Howard Stern's on-demand network. He's also been the producer and editor for sports book industry content for a number of years before joining Poker Central.
John's a product of the poker boom, having played poker for many years and working for Full Tilt Poker as a motion graphics and video editor back in 2009 until Black Friday.
Each show is approximately 45 minutes long in the final cut we see. Approximately how long did each episode take to film from start to finish, and how long does the editing process take?
The taping of each show ran anywhere from 60-90 minutes, and the only editing that was done to keep the pace of the show up as much as possible.
The first poker-themed game show with big money and bragging rights up for grabs! Watch your favorite players and personalities starting November 25: https://t.co/9wXJFDkzPP #thebigblind pic.twitter.com/T0pSJfkPW9

— PokerGO (@PokerGO) November 22, 2019
Who is in charge of thinking up the questions for each show?
John wrote the majority of the questions and Jeff and the team contributed and helped refine the catalog of questions that was built. Jeff was responsible for the bulk of the scripts used during the show.
Once you cast the 18 players for season 1, what sort of factors went into deciding who'd be going up against whom in the Round 1 matches?
We tried to balance the personalities and come up and with matchups that we'd like to watch ourselves. At the same time, we also wanted to keep things as competitive as possible by matching up people with similar skill sets and making for interesting rounds of play.
While it's only being released one episode at a time, the entire first season has already been filmed. From the beginning of recording the first episode until the final edit for the last episode, how long did the entire process take?
It was a full week of shooting. We'll use this space to mention our crew. The production crew's efficiency throughout this process allowed us the opportunity to condense the shooting timeline. We love each and every member, they're an absolute blast to work with.
How did you decide on the twice weekly release schedule, every Monday and Friday evening Eastern Time, rather than releasing the entire series at once for binge-watching purposes?
We felt that a consistent release schedule would help build an audience for the show.
Hosting a game show seems like a dream gig for you, Jeff, and your performance has been absolutely marvelous thus far. What sort of prep did you do for the role in general and heading into each show?
Thank you, Robbie, for the kind words. I've always wanted to host a game show. To find one that merges the traditional trivia element of a show with a poker tournament; how lucky am I? I wrote the scripts for the episodes, with the help of John and Brent. This allowed me to become extremely familiar with the material. I also studied the backgrounds of each of our contestants. I wanted to be prepared to work some nuggets into the mix on the fly, if the flow of the show dictated it. Before each show, I ran through the script to make sure I was comfortable and familiar with our contestants and the questions.
It never fails to get a laugh out of me when I see Jeff reveal the special prize you award to each match's first place finisher. Fondue sets, old-timey poker books, handheld video poker games. Where do you find all these treasures and why award them to the winner of each episode rather than the last-place finisher as a consolation prize?
Jeff and John went shopping at the Gamblers General Store and Spinettis Gaming Supplies and grabbed whatever we thought was funny and/or stupid… but mostly stupid. 😃
Producing any episodic show, including game shows, takes an army, and I'm sure there are tons of people who've put a lot of time and effort into making this production a success. Who were the main people involved and what roles did they play?
The Big Blind was written and created by John Bovenizer with help from Jeff Platt producing and hosting the show. Brent Hanks played a big role in putting together the lineups for the show and working with the players to get them set up to participate. These three guys together with the entire production team at the PokerGO Studio made this show possible and we're very proud of the final product.
As we know, poker is beloved worldwide. While the PokerGO headquarters is in Las Vegas and I imagine a majority of the viewing audience for The Big Blind is American, are you seeing a good response from "the rest of the world," too? In future seasons, can we expect to see some non-North Americans participate as contestants?
The majority of our audience is based in North America but we're obviously always looking out for the rest of the world. In 2019, we made a concerted effort to branch out to Europe with the British Poker Open, Super High Roller Bowl London and showing various other events on PokerGO such as World Series of Poker Europe in Rozvadov and the partypoker MILLIONS Bahamas event.
Going hand in hand with international expansion of our poker offerings we are also always looking for ways to incorporate international players and personalities into our content for 2020 and beyond. First up in 2020 are the partypoker MILLIONS UK event and both the Australian Poker Open and Super High Roller Bowl Australia, all of which are streaming live on PokerGO.