Highly decorated poker pro Ari Engel has been on a tear as of late, managing to win a World Series of Poker Circuit ring and WSOP bracelet in the span of just four days. In the wake of his success, he took the time to speak with Cardplayer Lifestyle about his successful career, his goals, his favorite places to play poker, tips for beginners, and — on a more personal note — his opinions on the current situation in Israel.
Ari won his 16th ring on the WSOP Circuit on October 9 in Chicago, gaining sole possession atop the all-time list of ring winners. Just as Phil Hellmuth is the king of poker bracelets, Ari is similarly the "lord of poker rings". His victory in Event #7, the $400 buy-in Limit Omaha 8 or Better tournament featuring 117 entries, earned Engel $10,749 in first place prize money.
We asked him what he felt after his victory and how many rings he would like to win in his career: "It felt good, winning a tournament is always a hard thing to do and rare, so was nice to win. I don't have a number of rings in mind that I want to win. I just want to be successful financially and in my personal life to allow me to have a healthy life. Having a successful career helps your personal wellbeing."
Undisputed! Ari Engel takes down the $400 Omaha 8 event at the @HorseshoeHammnd Circuit to earn the 16th gold ring of his career.

The win brings him to the top of the leaderboard for most rings in World Series of Poker history! pic.twitter.com/Gvja1qrq10

— WSOP – World Series of Poker (@WSOP) October 11, 2023
Although it may sound strange, Ari also has reasons to stop winning rings: "With the WSOP Circuit, if you are truly successful you can graduate from it to play other circuits with larger buy-ins. So ideally I wouldn't like to win too many more rings as it will mean I'm a better player. You don't see players like Alex Foxen, Stephen Chidwick and Jason Koon playing small stakes tournaments for a reason. But in the meantime I enjoy playing $400 tournaments and if I'm successful in them it works for me."
Just four days after winning his 16th ring, Engel won his third WSOP bracelet online. It was in WSOP.com's Event #28 $500 buy-in No-Limit Hold'em Turbo 6-Max. The tournament had 333 entries and featured a first place prize of $38K, which Engel added to his bankroll.
Regarding whether it feels different to win a World Series of Poker bracelet online versus his first two, which he won live in Las Vegas, Engel said "Yes, it feels different being online. My first two bracelets were in larger events and this being a smaller tournament I think is a lesser achievement. Even so, it does feel great to win another one and it gives me a sense of accomplishment. Online poker is tough, a $500 online tournament is harder than a $500 live tournament."
Won bracelet #3 in an online $500 6max turbo on https://t.co/sqzmTGbRxU nv/nj

— Ari Engel (@AriEngelPoker) October 15, 2023
Confidence at the Felt and Moving Up in Stakes
During 2023 Engel has won a total of 10 events. We asked him how well he felt he's been playing and whether his recent track record has helped boost his overall confidence at the felt: "Yes, winning gives me confidence. Many of my wins were in mixed games tournaments that have smaller fields than No-Limit Hold'em tournaments and the chances of winning are greater. It was a good year overall, especially lately with the ring and bracelet I was able to win."
We also asked Ari what advice he would give to someone who wants to start playing the WSOP Circuit on a regular basis: "The first thing I would tell you is not to quit your job to play poker, since it is much easier to play well when your income does not depend on your success in the felt. You'll make better decisions when you're not desperate to cash out or move up a ladder in the pay jumps."
Ari has won over $8.4 million in live poker tournaments, but regularly continues to play $200, $400 and $600 buy-in events as his bread and butter. We asked him when he'd feel ready to begin regularly competing in $25K and $50K High Roller tournaments: "I don't know what it takes to be a winner in the high stakes tournaments in 2023, but I am working on improving my game to be more comfortable when I play those types of tournaments. I think I can potentially be a winner there, but I could also be a losing player. In $50K events they usually feature between 70-80 players who are very good and you can't just be in the middle of the road and expect to win money after rake. No limit hold'em is so studied that you really have to polish and improve all aspects of your game to be a winner at those levels. I think I can play a little higher like I do and be a winner."
A Worldwide Winner
Over the course of his career, Ari has cashed in 16 countries. We asked him which are the three places that bring back the best memories for him: "Firstly, I choose Melbourne, Australia, where the Aussie Millions was played and where I lived for seven years. I still have friends and family there. That combination of success in poker and feeling good playing there makes it my favorite place above the others. Another place where I've always done well was in the Dominican Republic. I also really enjoyed playing the Prague and Barcelona legs of the European Poker Tour."
In 2016 Ari won the Aussie Millions Main Event along with the biggest prize of his career: $1.1 million. In the Dominican Republic he won the 2014 Punta Cana Poker Classic, cashing for $177K. And at the EPT in Prague he's cashed 19 times with 6 final tables.
What new flags would he like to add to his Hendon Mob profile? "There was a festival recently played in Estonia that had a variety of mixed games and I would have loved to attend, but I couldn't go due to family reasons. I also saw interesting series in Morocco and Taiwan that I would like to play sometime. More than countries, I am interested in festivals that have mixed games and that are not purely No-Limit Hold'em,"
Noticing that all of his 2023 cashes have been in the United States, we asked Ari is he's perhaps gotten a little tired of traveling abroad or if he just feel more comfortable playing on the WSOP Circuit, to which he replied: "I'm playing a lot of Mixed Games tournaments and luckily there are a lot of them at festivals in the United States. It's also a bit difficult for me to get out of my comfort zone and I tend to play where I have experience. I also like to play online and new states now regulate poker in the United States that were not available years ago."
Here's a rundown of some of Engel's numbers on the live circuit (as of this article's publication):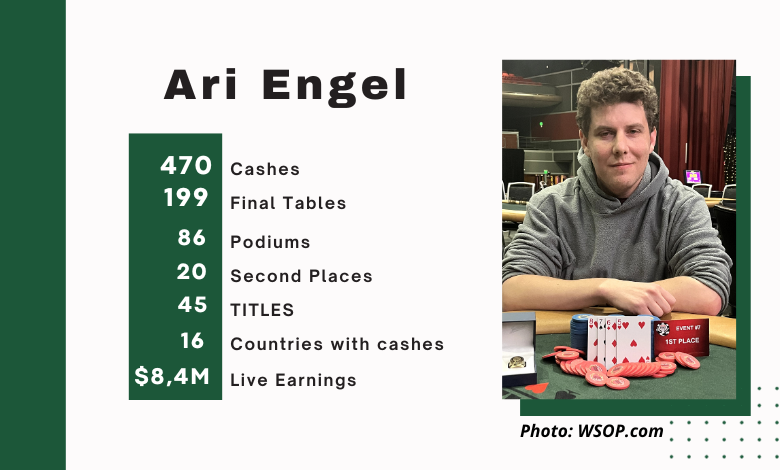 Bankroll Management, Ladder Climbing, and Longevity
Next, we asked Ari for some thoughts on bankroll management, and what inspired him to take shots at higher buy-in tournaments on occasion: "I think bankroll management is very important and it is easier to play well when you are risking money that you can afford to lose and that will not affect you financially in the short term. Regarding shot-taking, years ago I didn't have the confidence to take them, so I preferred to sell percentages to play tournaments that my bankroll didn't allow me to play. In 2017 I played a $111K buy-in tournament at the WSOP after selling percentages and felt comfortable playing, but I was lucky with table draws for the most part. I think shot-taking is highly underrated and it is not necessary to start playing a high buy-in event."
Ari currently ranks fifth in the world for most all-time tournament cashes with 470. We asked whether he could imagine passing "Miami" John Cernuto in a few years and what that would mean to him: "I love how John plays and I respect him a lot as a player. We played a couple of heads-up matches; one was in March during the Cardplayer Lifestyle Mixed Game Festival IV where he beat me and another was at the Wynn where we did a chop and he had a bigger stack. I would love to surpass him in the ranking in the future someday. As long as I have the desire to play and play a high volume of tournaments like now, I have a chance of achieving that."
Until what age does he imagine himself playing? "I just turned 40 and I still enjoy playing poker as my job. I imagine myself playing for many more years. What I like most about poker is that you are your own boss and that everyone can play it regardless of your country of origin, your sexual orientation, or your religion. It's simply about making better decisions than your opponents."
If I Forget Thee, Oh Jerusalem…
To end the interview, we asked Ari about a topic near and dear to his heart: the current conflict in Israel. After winning his record 16th ring he stated that he felt bittersweet, since his "heart was with Israel at this moment." What do Israel and Jerusalem mean to him?
So sad and upsetting seeing everything happening in Israel. My heart is torn up for my extended brothers and sisters and their suffering. It goes without saying I stand with Israel and pray for the best possible outcome for hostages and those injured

— Ari Engel (@AriEngelPoker) October 9, 2023
"My brother, my nephews, my cousins and my grandparents live in Israel. There are very few Jews in the world and I think we have a special connection with each other. It was very painful to see the images that came from Israel and so many bad things that happened. I pray and hope that things improve in the short term and that the hostages are released as soon as possible. And that in the long term there will be peace on the border and in the world. It is very sad to see how Jews were so mistreated throughout history and today not even in the United States are safe from violence. I hope the world has a better future without wars or terrorism."