On the morning of Friday June 16th, I was driving from Las Vegas to Los Angeles, where I'd be spending the weekend. With just a couple days left to go until I wrapped up my second WSOP trip, I was happy as a clam, having had such wonderful experiences, many of which I've shared with you here on Cardplayer Lifestyle. In my mind, I was already readying myself for the return home to Israel and "normal life". Right around the time I was passing the world's tallest thermometer, in Baker, CA, I got a message from my good friend Remko Rinkema, of Poker Central. While he knew that I was all set to be flying home, he nonetheless wanted to let me know about an opportunity he had become aware of: Poker PROductions (the company that produces the World Series of Poker Main Event broadcast for ESPN) was looking for a production assistant – someone to assist with the compilation of player bios who "knows poker" – from July 7-17.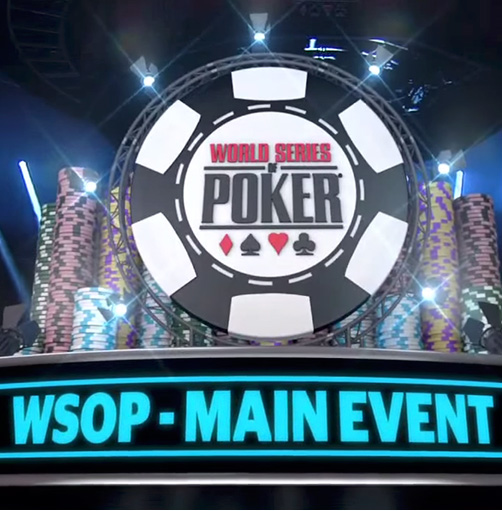 "Damnit", I said to myself. "There's no way I could possibly say 'yes'. I'll have been away from home for three weeks, with my wife Miriam shouldering the parenting responsibilities towards our three kids on her own. To turn right back around and spend another two weeks halfway across the world in Las Vegas would be crazy." While I had yet to experience my first WSOP Main Event and it would have been incredible to work for Mori Eskandani – his Poker PROductions company is also responsible for having brought us such legendary poker shows as Poker After Dark and High Stakes Poker, among others – I knew that I couldn't bring myself to ask Miriam to sacrifice further. Still… I was curious to know more.
LISTEN: Interview with Mori Eskandani
Having recommended me, Remko was kind enough to put me in touch with Poker PROductions Executive Producer Dan Gati, who I connected with a few days later on June 21st, the day before I was set to fly home. He told me all about the position's requirements. Basically, with no more November Nine, the production company was going to face a new challenge this year: the Main Event would now be live streamed daily (on a 30-minute delay as per gaming regulations), from Day 1A, on PokerGO, ESPN2, and ESPN. Instead of having months to put together storylines, they needed more hands on deck to assist with providing the broadcast teams with information about the players sitting at featured tables in real time.
"What a cool role", I said to myself. "I'll give you a final answer by tomorrow, after I speak with my wife", I told Dan, acutely aware that I was just delaying the inevitable "sorry, I can't" by 24 hours.
The Best Wife in the World Flips the Script on Me
That night, after I had finished packing up for the return trip home I called Miriam and told her everything. "See!" I said. "These are the amazing kinds of opportunities that can happen when you show up at the WSOP. You never know what might come your way. Shame I can't take them up on it though." I'll never forget her response: "Why not? It seems like a once-in-a-lifetime opportunity… one that's even worth flying halfway across the world for all over again."
I was speechless. Talk about your world being flipped upside down! I didn't even feel right asking in the first place and lo and behold Miriam was encouraging me to go for it. We spent the rest of the conversation figuring out the logistics from our end. I'd get home on June 23rd, "be Super Dad for the next two weeks" (her words, not mine), then head back to Vegas and work my butt off during the Main Event. "You never know if and when something like this will come along, Robbie. You HAVE to take it; how could you say 'no'?"
And that's precisely what happened. Somehow, I found myself writing these words:

Indeed, even before leaving Las Vegas, I already had a date for a return trip just a fortnight hence. I couldn't believe my good fortune. I knew that returning to work during the Main Event would be a far different trip than the previous one. After all, I'd now have a manager to be reporting to and all matters blog-related and otherwise would of course have to take a back seat to the main task at hand: doing my best work for Poker PROductions. My first Main Event was now on the horizon. How indescribably exciting!
I sit here now in my living room, back in Israel, reflecting upon it all. My WSOP Main Event trip is now in the rearview mirror and working for Poker PROductions was truly amazing; even more so than I thought it would be. I look forward to writing up another post in the very near future to give you all a behind-the-scenes look at how the company puts on poker's best show for us all to enjoy.
For now, I can relish the memory of having had the privilege to contribute to their impeccably well-run operation over the past couple of weeks. Moreover, I can be thankful. To Remko, to Dan, to Mori, and to all the great people who made my first Main Event experience so special, please know how grateful I am to you.
It was, as Miriam so perfectly put it, an opportunity worth traveling halfway across the world for all over again.
Loooooong travel time ahead… I'm going going, back back, to Vegas Vegas! When the @WSOP Main Event calls, you answer the phone. Yalla #LFG pic.twitter.com/EObQwnd25o

— Robbie Strazynski (@cardplayerlife) July 6, 2017