The Big One for One Drop is now in the history books. Forty-eight players bought in for $1 million apiece. Over $5 million was raised for charity. Six players recorded seven-figure paydays, while another two scooped eight-figure prize totals. The biggest winner after the dust settled: Antonio "the Magician" Esfandiari, who earned an astounding $18,346,673; the single largest prize in the history of sports.
Day 1 and Day 2 Eliminations
Over three days, one by one, they fell. Poker Player's Champion Michael the Grinder Mizrachi, eight-time WSOP bracelet winner Erik Seidel, former WSOP Main Event Champion Jonathan Duhamel – all gone by the end of Day 1, and each out a million bucks. Day 2 saw the demise of 2012 WSOP Player of the Year frontrunner Phil Ivey, fan favorite Daniel Negreanu, $25,000 Mega Satellite winner Gus Hansen, and a host of other pro poker players and billionaire businessmen, until a final table was reached. Russian tycoon Ilya Bulychev became the biggest "bubble boy" in tournament poker history when he busted in 10th place, leaving the tournament empty-handed. Pro player and WPT lead commentator Mike Sexton made the money, cashing for over $1.1 million, but finished in ninth place, just missing the official Day 3 final table.
The Final Table
Four poker pros and four businessmen assembled around the final table, each assured of at least $1.2 million in winnings. The payout structure, however, was incredibly skewed towards the winners, as fifth through eight places were all guaranteed under $2 million apiece, with about $2.6 million going to fourth,  $4.3 million for third, $10.1 million for second, and $18.3 million for first. With prize differentials like that, combat at the felt was assured to be intense until the very last hand.
Antonio Esfandiari held the chip lead going into Day 3, with Sam Trickett close behind. The two would control the table until heads up play, which Esfandiari entered with a 3:1 chip lead. It took just 16 hands for poker's magician to make Trickett disappear.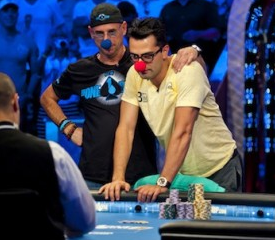 Charity is the Big Winner
Notable final tableists included Cirque du Soleil and One Drop Foundation founder Guy Laliberte, the fifth place finisher, who was eliminated by Esfandiari in a classic QQ vs AK race. According to Laliberte, Esfandiari told him "I really need this one; I need this more than you do," to which Laliberte replied "Listen, we'll see what the gods of cards decide.'" Esfandiari spiked a king on the river to take an overwhelming chip lead, and he never looked back.
For his part, Laliberte was given a standing ovation for his performance as well as for his tremendous efforts to make the event happen and raise millions of dollars for charity. Regarding whether the Big One for One Drop would ever take place again in the future, Laliberte was quoted as saying "So good for 'One Drop,' so good for poker … I think this is where poker is now. It's a question of working together as a community to make it happen."
The third place finisher, tops among the businessmen, was hedge fund manager David Einhorn, who at the tournament's outset made the incredible move of pledging to donate any winnings to City Year. The education-focused nonprofit organization will be receiving a huge check for $4,352,000!
As mentioned in our Big One for One Drop preview article, many of the top pros had to gather money from investors to be able to afford the buy-in. These included fourth-place finisher Phil Hellmuth, who acknowledged that he only put up 15% of the buy-in on his own.
Esfandiari Takes His Place in Poker History
With almost $5 million in career poker tournament earnings before the Big One for One Drop started, Antonio Esfandiari was already a top pro and household name among poker fans. After his monumental win, Esfandiari rocketed up to the top spot in career poker winnings (by a very large margin) and will forever be remembered in poker lore aside the game's all-time greats.