There are innumerable resources available to improve one's Texas Hold'em poker game. Books, videos, coaches, and courses are everywhere. Among these disparate options, Advanced Poker Training (APT) holds a unique position. APT is the only poker training option that allows you to learn how to play poker by actually playing the game. Their philosophy is founded on a simple, but critical, teaching precept: poker players learn faster and better through action and practice.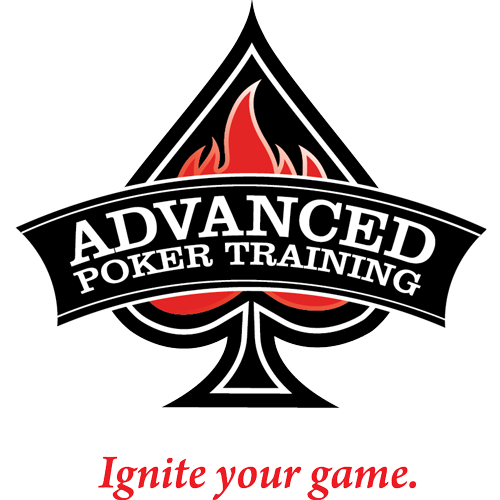 Advanced Poker Training: Play, Guidance, and Feedback
The central Advanced Poker Training tool is their No Limit simulation software. With this tool, you can play hundreds of hands per hour. This high volume practice allows you to play full sessions in a fraction of the time it would take to do so in a live card room.
Players can choose from 9-max or 6-max cash games, Sit-n-Gos, Multi-Table Tournaments, and even Heads Up Play. The wide range of tournament options allows players to customize their training to target their local Texas Hold'em home game, public card room, or even World Series of Poker bracelet events. Opponents can be selected for easy, moderate, or expert play in order to model training at a level that is right for your typical circumstances and who you're likely to be facing at the felt. For instance, if you're a member of an online community like BeastsOfPoker, you can probably up the level to "expert play". You can even set starting hands or positions that you find to be particularly troublesome.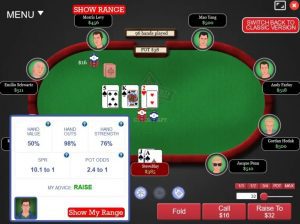 New in 2022, APT has added a suite of GTO-style bots that are a great complement to the human-like bots that APT has always offered. The new bots play a frequency-based approach, common in players using GTO techniques.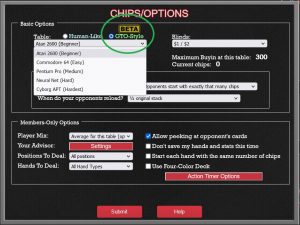 When playing the human-like bots, twenty-eight different computerized advisors, with a variety of styles, are available to provide suggestions if you wish to access them. You can just compare their decision with the top-line advice given or you can choose to dive much deeper into the situational and mathematical bases for this advice through the Brain button.
When the Brain button is accessed, an evaluation of your hand itself is shown: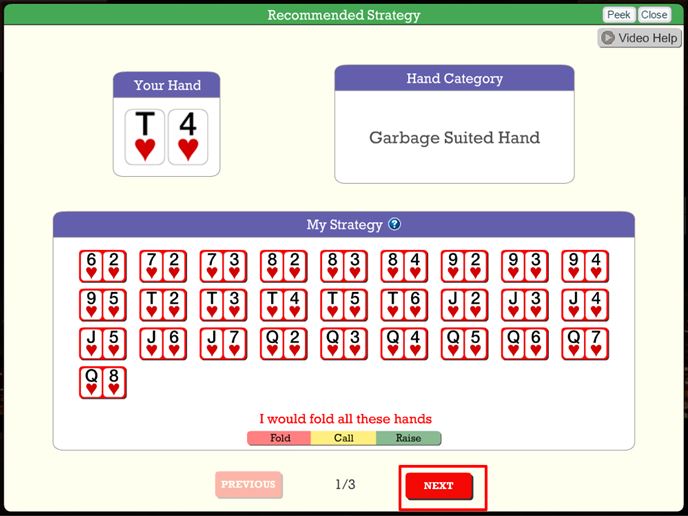 Then you will see a variety of other factors to consider as you make your decision: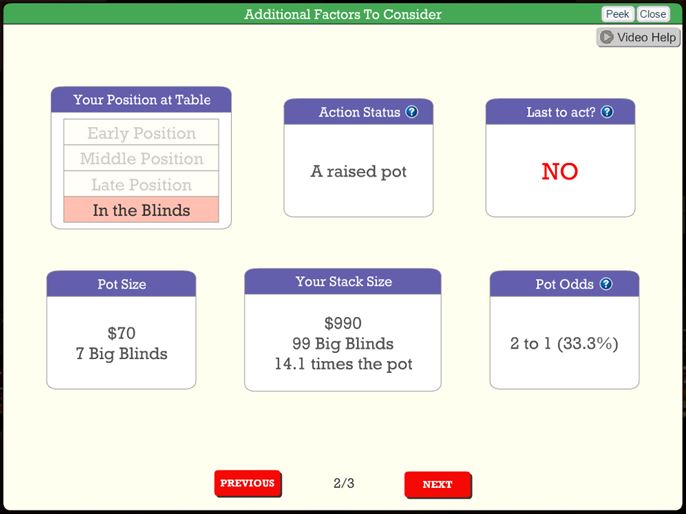 Finally, an analysis of the other players remaining in the hand is provided: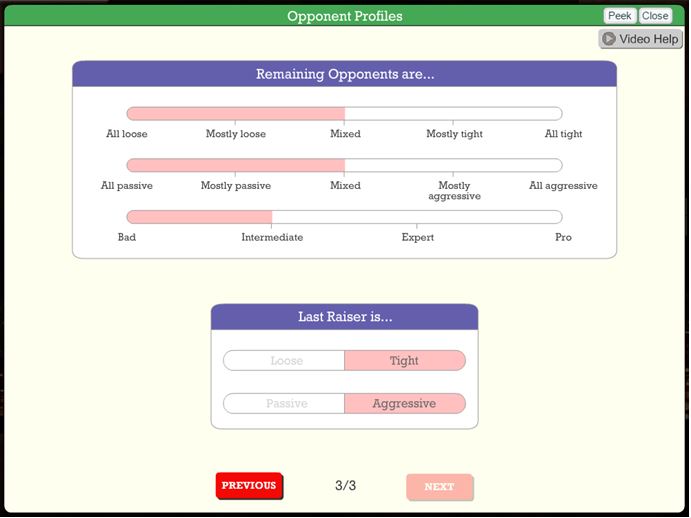 These resources offer the critical information needed to make good poker decisions at each phase of a hand.
The GTO Bot advisors are a little different than APT's classic advisors. You can see your hand value, which is a measure of how strong our hand is right now. The hand value is calculated as if there were no more cards to come. Also, when choosing to play against GTO bots, you have the opportunity to view your (and their) complete hand ranges at every decision point. You also have the opportunity to do a deeper dive into each recommendation by hovering over each hand option and seeing in which situations the GTO advisor recommends raising, calling, or folding.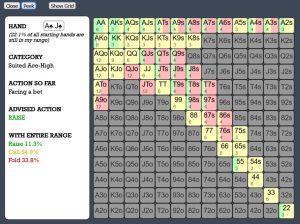 While this ought to be obvious to any true poker player, it's worth mentioning that APT's training is applicable for Texas Hold'em poker play pretty much exclusively. It's possible that the general concepts you'll learn will be applicable to other poker variants, like Pot Limit Omaha, or even poker games you play against the casino like Ultimate Texas Hold 'em or 3-card poker. That said, if you're trying to improve your three card poker strategy or perhaps get better at Caribbean Stud or other poker variants, you would best be served by other types of dedicated training materials. If you are interested in upping your PLO game, you may be interested in APT's sister training site, Omaha Poker Training.
In any event, at the end of each week, APT members receive a weekly training plan that analyzes their most critical areas of weakness. The weekly training plan identifies trouble spots, explains how they were determined, calculates the cost for that particular leak, and then assigns a set of practice hands so you can focus specifically on those issues.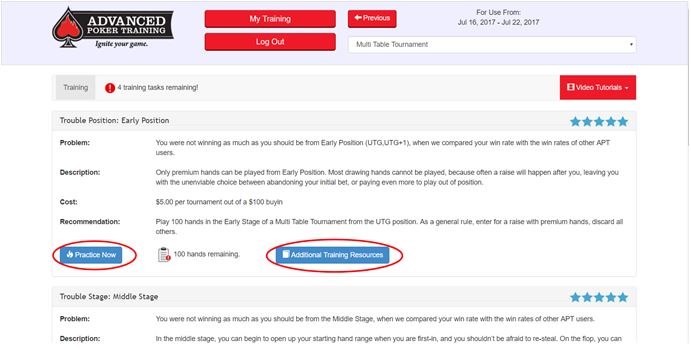 The Additional Training Resources button directs members to a wide variety of articles and videos related to the identified trouble spots. The Weekly Training Plan is a powerful tool that, if used regularly, will improve one's game rapidly.
In addition to the weekly training plan, members have access to APT's Reports and History Section, which offers a wealth of helpful information. Displays include performance on different starting hands and how your outcomes compare to those of other APT members. Performance can be selected across all hands played, or only within a certain time period, such as the past week or month. You can also see performance across all games or only for a certain type, such as 6-max or MTT.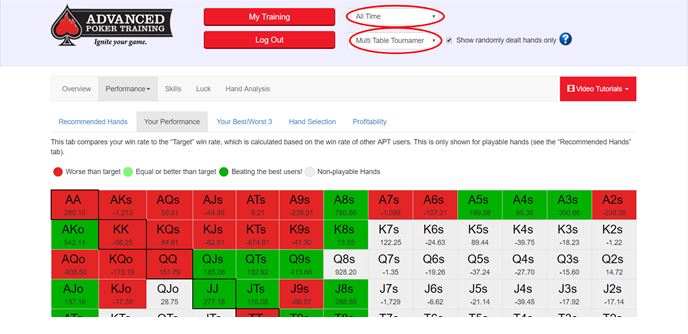 The Reports section also provides you with feedback on certain poker actions, such as raising pre-flop and continuation betting, the amount that luck has affected performance, and an analysis of best and most challenging hands. The hand analysis section allows for replay of hands that have been tagged as outstanding by APT and hands that the member has identified as problematic.
In addition to APT's basic play and analytic offerings, they also offer several focused training experiences. "Beat the Pro" Challenges allow you to compare their skills with poker pros like David Williams, Ed Miller, Scott Clements, and many more. After trying the Challenge yourself, you can listen to audio commentary from the pro as they play the same hands and explain their thought process.
APT also offers a Combat Trainer designed for intensive repeated play so that you evolve more sophisticated strategies in common difficult scenarios. While a specific tricky situation may not arise more than a couple of times over months of live play, with the Combat Trainer you can play a single scenario 100 times in less than 30 minutes!
Advanced Poker Training: Pricing
The image below pretty much speaks for itself. Rare are the Texas Hold'em poker training materials that offer players so much at such a low cost. Multiple different pricing plans are available so you can choose the one that fits you best in terms of the amount of time you've got available to study as well as how serious you wish to take your poker play.

Finally, APT offers a wide variety of resources and opportunities for community engagement. There is an odds tool, an ICM chop tool, and a shove/fold calculator available for members' use. There are also intense training games, which enable players to gain facility reading boards. APT offers platforms for you to interact through their daily live tournaments and through a  forum where hand analysis and other poker related discussions take place. APT also hosts webinars by pros and poker coaches including Alex Fitzgerald, Jonathan Little, Kenna James, and APT founder Steve Blay.
Advanced Poker Training adds resources and features on a weekly basis, and all are included with the basic APT membership. Whether you need to work on your play with pocket Jacks on the button or suited connectors in the small blind, APT can help you close your leaks and develop mastery over your Texas Hold'em game.
Simply put, you can't go wrong purchasing this excellent poker training product.