The minds behind Advanced Poker Training (APT), have launched Omaha Poker Training (OPT), the first and only way to learn Pot Limit Omaha by actually playing the game. APT is the world's leading poker training site, with over 60,000 members. OPT, only recently launched, is growing fast. The Founder of APT, Steve Blay spent over two years designing and programming OPT to ensure an excellent player experience.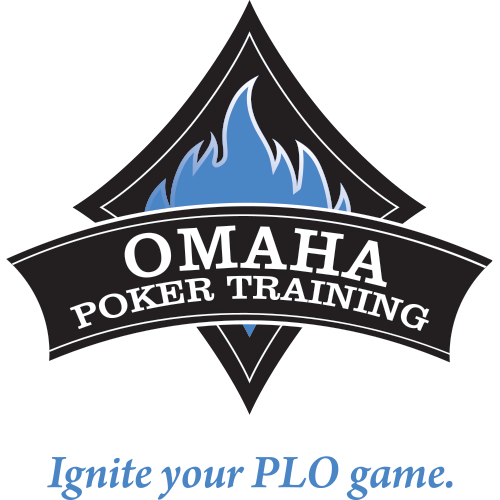 Omaha Poker Training: Grounded in GTO
As on Blay's other site, Advanced Poker Training, the magic (i.e., the "secret sauce") in OPT is the poker simulation software. In this tool, you can play hundreds of hands in an hour. Facilitating this kind of high-volume practice allows full sessions to be played — and learned from — in a fraction of the time it would take in a live card room.
OPT's poker bots are grounded in GTO (Game Theory Optimal) play. Blay consulted with PLO experts in the development of OPT and spent months simply working through the hand rankings derived via GTO theory. PLO expert John Beauprez has a whole team that has analyzed PLO since solvers were first developed who helped with the GTO aspect of the site.
With all of that said, GTO play is not for everyone. Most PLO players at your local casino or poker room will not have a GTO Omaha game. For players that do seek GTO training, the bots can be set to play at a very high level. By contrast, beginners and intermediate players can reduce their opponent difficulty levels substantially. They can train against more "lifelike" bots that are going to play much like the typical players you meet in a card room.
Omaha Poker Training: Practice PLO with Feedback
The magic of Omaha Poker Training is that it offers unlimited poker practice coupled with helpful and effective feedback on your game.
You can choose from 9-max or 6-max PLO cash games and multi-table tournaments. The wide range of tournament options allows you to customize training to target your home game, local card room, or even a $10,000 championship event at the World Series of Poker. Opponents can be selected from easy, moderate, or expert play in order to model training at a level that is right for the individual's typical circumstances. You can even set starting hand ranges that are particularly troublesome so as to focus and improve on the exact situations currently causing you difficulty at the tables.
Ten different computerized advisors, with a variety of styles, are available to provide suggestions. You can compare your decision with the top-line advice given or examine your and your opponent's ranges to determine the optimal strategic move.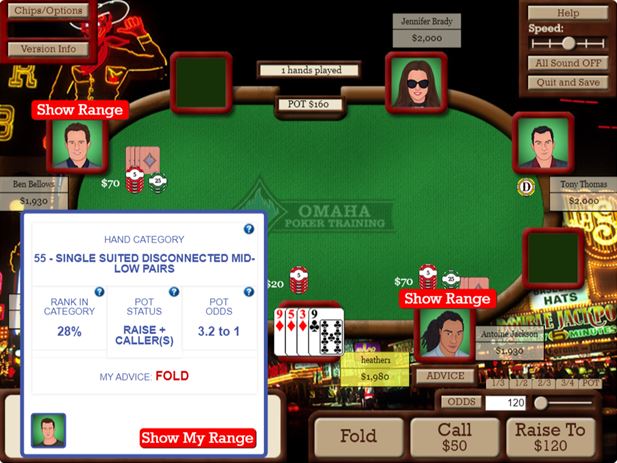 When the Show My Range button is accessed, an evaluation of your hand itself is shown: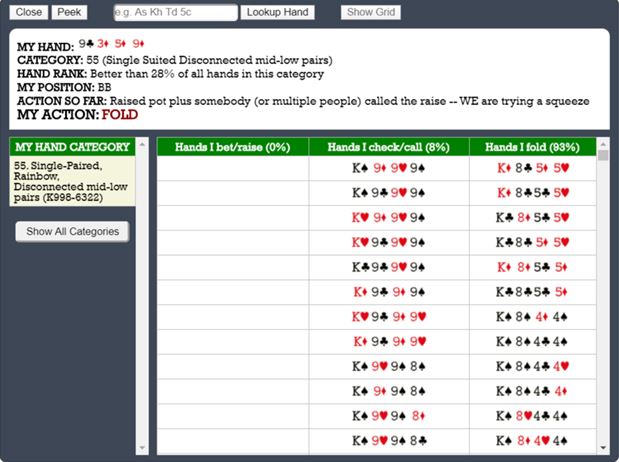 You can also peek at your opponents' ranges to get a little more insight into which starting hands they might be playing against you. These resources offer the critical information needed to make good poker decisions at each phase of a hand.
After you've spent some time at the table, OPT's Reports and History function comes into play. After each game, players receive a game report detailing their session stats. These include traditional HUD statistics, such as VPIP and PFR, as well as the identification of your most and least successful hands, and the percentage of the time moving to each street. You can revisit hands by watching an instant replay or by tagging hands to revisit later.
The beauty of Omaha Poker Training is that every hand you play is saved forever into your own online database. You can get detailed reports about your play filtered via a huge number of criteria, including dates, hand types, and position. After a while, you'll start to see trends in your reports. You can focus on your trouble areas by configuring the software to deal you specific kinds of hands.
For instance, you can freeze the button and only play out of the big blind. You can also choose to deal yourself only playable hands, or those in specific ranges. You can also dial up the aggressiveness of your opponents if those loose-aggressive types tend to give you trouble. You can even choose to practice hands from a certain range that you have identified as a trouble spot. It's focused practice that it really cuts down your training time.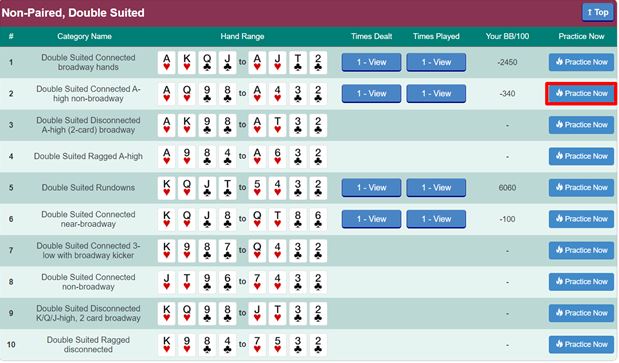 Omaha Poker Training: Pricing
Blay has continued his mission with OPT to keep poker training costs both affordable and flexible. As the graphic below illustrates, you can try a full-access package for a month or commit to a year at half the monthly rate (or choose the intermediate solution). At such affordable price points, getting a positive return on your investment, if you use the site well, is almost assured.

Omaha Poker Training Provides Access to a Continually Growing Set of Features and Resources
OPT isn't just a resource for seasoned PLO players looking to improve. It also offers several resources for those who are just learning the game, such as players with exclusively No Limit Hold'em poker backgrounds. There are instructional videos and articles, as well as a list of resources for Omaha information elsewhere online. There is even a blog for those interested in keeping up with current happenings in the world of PLO.
Omaha Poker Training continually offers new experiences with the basic OPT membership. For instance, the site has recently added live daily PLO tournaments, so when you want to try your skills against other live players, the opportunity is there for you. The developers of OPT have pledged to continue responding to the needs of their members in evolving the site to even greater heights in the coming years.
All in all, if you want to improve your Pot Limit Omaha game and decide to buy this excellent poker training product, we're pretty certain it'll be an investment that'll pay for itself many times over.