Over 10,000 hopeful poker players entered the 2023 WSOP Main Event, all putting $10,000 on the line to hoist the most coveted No Limit Hold'em bracelet along with over $12 million in prize money. Poker fans all over the world who couldn't attend in person were getting ready to tune in for Main Event coverage. While we eagerly searched online for a stream, we made a grave discovery: we had to pay for WSOP coverage.
PokerGO, the subscription-based poker media platform, is now the sole owner of the rights to air WSOP coverage, including the Main Event. They offer a monthly ($14.99), quarterly ($29.99), and annual ($99.99) subscription rates, and discount codes are often available for their annual plan for up to 30% off. They broadcast coverage of the WSOP Main Event, plenty of other bracelet events, quite a bit of original programming like High Stakes Poker and Poker After Dark, some archived footage of older poker events, and coverage of the Poker Masters, U.S. Poker Open, and Super High Roller Bowl as well.
While the amount of content available is essentially unparalleled in the poker world, and the bang you get for your buck at the discounted annual rate is pretty impressive, some people are still nonetheless hesitant to pay for the privilege of top-quality WSOP Main Event coverage.
And yet, there's plenty of stuff that most folks regularly pay more than $15 a month for without the slightest bit of hesitation. Below, we list seven such things in order to demonstrate just how "worth it" PokerGO coverage is considering what you get for your money, and especially considering it can work out to even less than $7/month with a discounted annual subscription.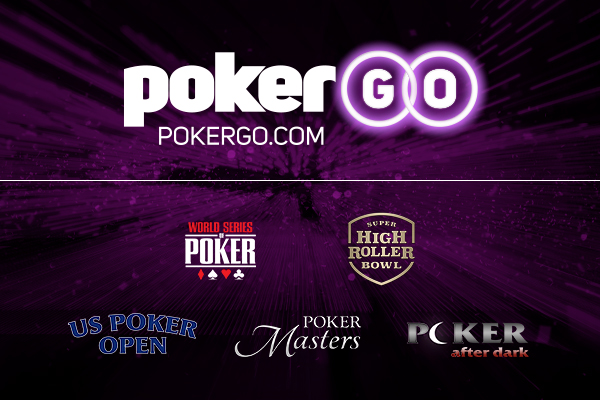 1. One Movie Ticket
Movie tickets these days typically cost anywhere from $11-$15, so that's just slightly less than or the same cost as a PokerGO subscription. Who doesn't love going to the movies? You get to see a new film on the big screen, experience the great sound system and even see some trailers for new movies coming out. But that's just 2-3 hours of entertainment. And that's if you go alone. And if you only go once a month. And if you don't buy snacks or drinks.
2. Buying Coffee
I am a serial coffee buyer. Despite having both a french press and conventional coffee maker, I find myself pulling up to the drive through on many occasions for a quick cup of coffee. This usually rings in around $4 so I could get three whole coffees a month and have it be cheaper than PokerGO. I'll just have to fire up that french press after I've had three so as to not go over the $15 mark. I imagine there are quite a few folks like me out there.
3. Premium Channel Subscriptions
If you decided to cut the cable cord like myself, you might find yourself with a network of premium channel subscriptions to get all your favorite shows. A lot of them cost $6-$10 per month. I usually subscribe to one if there is a specific show I want to watch, so for less than a PokerGO subscription I can watch just one show. It would seem like paying for a monthly poker subscription with regularly produced new poker content I know that I'll love might be a better bargain.
4. Casino ATM Fees
Sure, I could take the extra few minutes on my casino commute to go to the correct bank and take my money out, but for the low price of about $7 I can withdraw money right in the poker room! That's before my bank assesses their ATM fees, but those don't count. Think of all the minutes I've saved by heading right to the casino and giving them more of my money with the ATM rake! Totally worth it!
5. Fast Food
Who doesn't love the convenience of getting a hot meal without leaving your car? At the low cost of your health and less than $15 you could be getting a mediocre burger and fries plus a calorie-packed soda. It won't give me thousands of hours of content like PokerGO, but it will give me a stomachache… so there's that.
6. Two Drinks at a Bar
A night out with friends can be a great source of entertainment. Maybe you'll remember for years what a great time you had on just that one night… or, perhaps, you could consider that you'd get months and months worth of content on PokerGO.
So, for less than $15 I could get two, maybe even three drinks at a bar with friends! Or, just perhaps, its more worthwhile to buy a couple six-packs and lounge in your living room with those friends while watching some great poker.
7. Books
Most books, especially poker books, cost around $15, some a little less, some a little more depending on whether it's a hardcover or softcover. So it's fair to say you can find plenty of books for less than a PokerGO subscription. But you can only read a book for the first time once. Even if you re-read them a few times each you're capping your enjoyment and the hours of entertainment you can get. So you get less entertainment from the book, but at least it's less than a PokerGO subscription, well at least sometimes.
In Summary
As you can see, there are in fact plenty of things you can spend $15 or less on. I'm sure you've thought of more than the seven we've listed. At the end of the day however, the entertainment value may only be a few hours or minutes; i.e., far less than what a PokerGO subscription provides you with.
Of course, PokerGO does also host a lot of free streams on YouTube, so you don't always HAVE to pay. But that's besides the point. The fact of the matter is $15 per month — and, again, potentially under $7 with the right discount code for an annual subscription — for access to thousands of hours of poker content, years of WSOP coverage, and original shows and stress is pretty darn worthwhile in the grand scheme of things.