If you are looking for a good game of online poker, you can obviously fire up the software to launch your favorite room and start playing against a number of other opponents (assuming it's legal to do so in your jurisdiction). Alternatively, online casinos also have plenty of different poker variants to keep you entertained. Let's take a look at five of the best that are sure to provide you with some entertainment when you need to take a break from the "other", more popular kinds of poker tables.
Caribbean Stud Poker
In Caribbean Stud Poker, you'll be playing directly against the dealer. The game's rules are very similar to 5 card stud, aside from the fact that the dealer has to show one of his/her cards throughout the game. Each player is dealt 5 cards. First off, the dealer's hand must qualify (i.e., ace-king high, or better). If a player's hand beats a qualifying dealer's hand, they'll win 1:1 on the bet made. If the dealer doesn't qualify, you just get your bet back. Beyond that, there's usually a progressive jackpot element to this game, which makes it pretty exciting!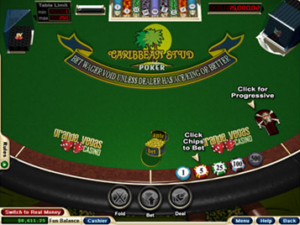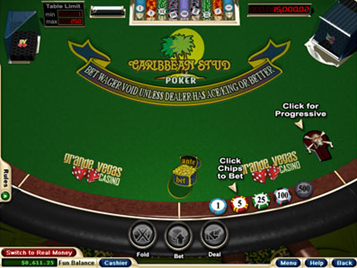 Video Poker
Video Poker is one of the more popular and simplest online versions of the game and there are plenty of different video poker options to pick from. There are standard versions as well as numerous bonus variants that offer extra in-play features such as deuces or jokers wild. Video poker is one of the online card games you can play at Royal Vegas (of course you can find it at pretty much every other online casino as well) which always prove popular.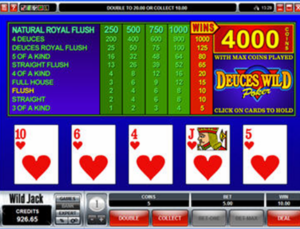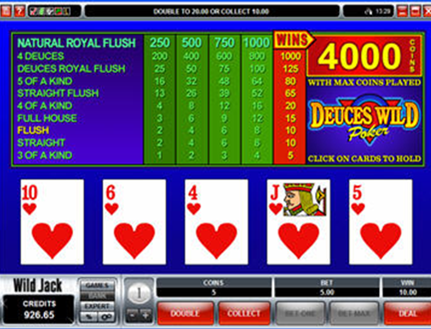 Casino Hold'em
Casino Hold'em is very similar to Caribbean Stud in that, once again, you'll be sitting across from the dealer and looking to make the best five-card hand you can. The difference is that in Casino Hold'em, like Texas Hold'em, you and the dealer will only be dealt two cards apiece. Once again, if your hand beats the dealer's hand, you'll win. And yes, once again, the dealer's hand must qualify, usually meaning he/she will have to have at least a pair of 4s.
Pai Gow Poker
The goal with Pai Gow Poker is to beat the banker, which can be represented by the casino/dealer or, alternatively, one of the other players at the table. Along with the 52 cards in the deck, there's a joker thrown in the mix, too. You're dealt 7 cards, which you need to split into a 5-card hand and a 2-card hand. Your 5-card hand needs to rank higher than your 2-card hand.  With regards to the joker, it can be used to fill in a straight or flush (for your 5-card hand). If not used for that purpose, it plays like an ace.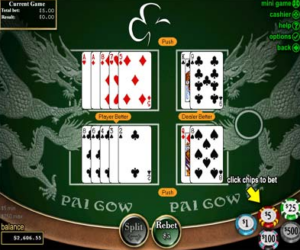 In order to win a hand of Pai Gow Poker, both a player's hands need to beat both the banker's hands. If both hands lose, the bet placed is lost. If one hand is won and the other lost, it's a push and the bet is reclaimed. Importantly, ties (e.g., both of you have QK as your 2-card hand) are decided in favor of the banker.
Let It Ride
In Let It Ride, players receive three cards. They'll then have two separate opportunities in which to lessen their bets dependent on the community cards that are subsequently revealed. Two community cards are revealed one at a time, allowing the player to withdraw one third of their original bet after the first card, and then the second. Alternatively, if you feel your hand is a likely winner, you can choose to "let it ride". In this game, payouts are made according to an odds table, often giving a player the chance to win 1,000:1 on the bet, or potentially even more! Side bets can also be made, which are paid out using a separate odds table.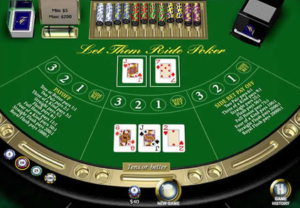 Conclusion
As the history of poker has proven, pretty much anyone who has ever played a hand would agree that there's nothing like the thrill of squaring off against a live opponent at a poker table. With that said, there's a reason so many other variants of the game have popped up over the years and have been developed and modified to be spread at online casinos. Lest you think these latter games are only for "suckers" not wise enough to stick to "pure" poker games, know that plenty of professional poker players try their hand at casino poker games. Notably, Allen Kessler (who we interviewed a few months back) is a known video poker aficionado! So why not go ahead and give one of those other poker variants a try?