Tradition dictates that prior to a major poker event where I'll be in attendance to provide in-person coverage, that I pen and publish my "5 things" article. The 2023 PokerStars Players Championship (PSPC) is no different, and the first huge event of the year will be one for the ages. With 400+ Platinum Pass winners set to add over $10 million to the prize pool before the tournament clock even starts, a massive turnout is guaranteed, and I'll have a front row seat to all the action at the felt.
Aside from witnessing the whittling down of the tournament to an eventual winner, however, there are a handful of specific things that I'm looking forward to — and no, there's no overlap whatsoever from the 5 things I was looking forward to at the first PSPC back in 2019.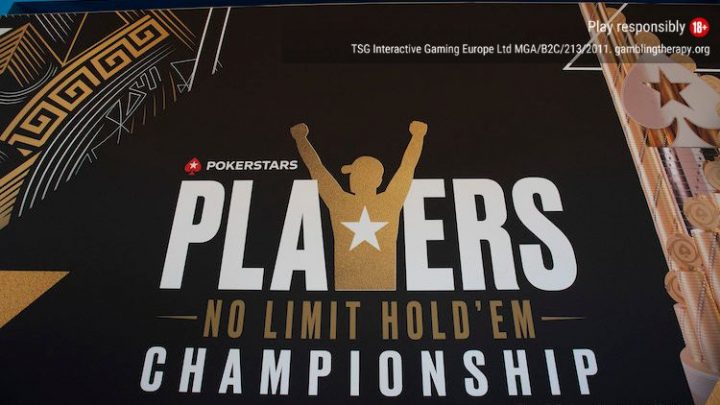 1. My First PokerStars Live Event in Almost Four Years
I've been fortunate to have been present at a number of PokerStars live events. In fact, the first live poker event I ever attended was the 2016 PCA (what a way to start!). Since then, I've had the privilege of covering PokerStars live events in Barcelona and Sochi, as well as the aforementioned 2019 PSPC. They're always fantastic affairs, giving me memories that last a lifetime, and providing special opportunities to cover poker festivals for the Cardplayer Lifestyle audience that would otherwise, plainly speaking, be out of reach.
With that said, because of various scheduling conflicts and a global pandemic, it's been quite a long time since I've been able to attend a PokerStars live event and I'm thrilled to "finally be back," as this event in particular is set to be spectacular.
Lives will be changed.

Friendships that last a lifetime will be forged.

400 Platinum Pass winners will attempt to follow in Ramon's footsteps.
#PSPC pic.twitter.com/O5eAYNWyOM

— PokerStars LIVE (@PokerStarsLIVE) January 28, 2023
2. New Venue — The Fabulous Baha Mar Resort
Poker players have been flocking to the Bahamas every January since the mid-2000s, when the PokerStars Caribbean Adventure (PCA) first debuted, and then subsequently became a staple of the yearly calendar. After 16 iterations from 2004-2019, the PCA — and now PSPC — has a new home, namely the Baha Mar Resort.
Just as it's important to shake things up at the felt, it's good for a marquee poker event to tweak things once in a while and PokerStars has clearly upgraded their longtime flagship with the move to the new location.
I've always maintained that it's important for players to carve out some time for themselves away from the felt during a poker festival, and it would seem that with the menu of attractions and activities available at Baha Mar, it would be a genuine shame to be anchored exclusively in the tournament ballroom.
Over the last week, my social media streams have been packed with pictures from Baha Mar taken by poker players, and the venue looks absolutely incredible. I can't wait to set foot on the property!
Views beyond your dreams. ☁️

Reserve your stay: https://t.co/qaUGjlUb8v pic.twitter.com/2aTK4Tll9D

— Baha Mar Resorts (@BahaMarResorts) January 22, 2023
3. Rooting on MY Platinum Pass Winner, Greg Raymer
Organizers are hoping that the 2023 PokerStars Players Championship will eclipse 2019's PSPC total field of 1,039 runners, and over 400 Platinum Pass winners will surely comprise a sizeable portion of the player pool.
Of those players, there's one in particular who I'll be rooting for, and that's Greg Raymer.
Because he's the 2004 WSOP Main Event Champion and it would be super cool to see him win this event, too? Because he's an all-around nice guy, and it's always great to see nice guys win?
Well, yes and yes, but that's not the primary reason I'll be rooting for Greg. See, he won his Platinum Pass at the first live poker event I ever hosted, our inaugural Cardplayer Lifestyle Mixed Game Festival, back in October 2021.
It would be absolutely surreal for Greg to have a deep run knowing that we "helped play a role" in the fact that he's even competing in the 2023 PSPC to begin with. Good luck, Greg!
Also, just giving a special shout out to Cardplayer Lifestyle's Social Media Director, Chad McVean, who's another Platinum Pass holder with a chance to win life-changing money. You've trained really hard and we'll be rooting for you, too, buddy!
4. Having My Wife, Miriam, with Me
As mentioned, I've had the good fortune to have visited the Bahamas twice in the past, in 2016 and 2019. While I enjoyed every moment of both trips — work hard, play hard! — I couldn't help but simultaneously wish that my wife, Miriam, was there with me. Perhaps if we lived closer or had no dependents, we'd have been able to make arrangements for that at the time. But we live in Israel and we have three kids.
Well, those kids are a lot older and more independent now (ages 15, 13, and 10), and I just-so-happen to have accrued a lot of airline mileage over the last couple years. I'm supremely grateful to be putting them to good use, and that Miriam is joining me for what will surely be the work-ation of a lifetime!
5. Playing in My First PokerStars Live Tournament
This will be the first time that I've been in the Bahamas that media members will be allowed to actually play in the PokerStars live tournaments. After looking at the schedule of events, there's just one that stood out, and the timing couldn't possibly be more perfect.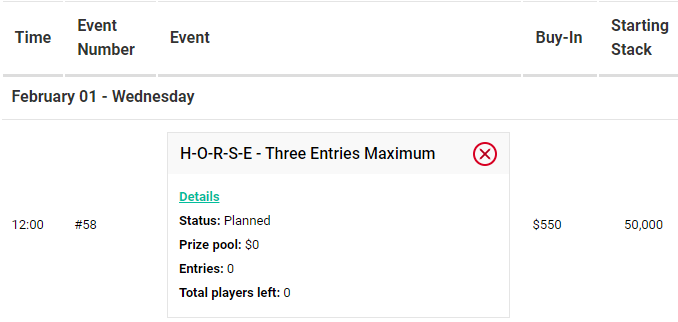 In my first newsletter of the year, I made it clear that 2023 HAS to be the year in which I somehow finally find the time to play in more live poker tournaments (I'm 41 years old and have played in 0-2 per year at most, for a total of about a dozen since turning 21).
The (Poker)Stars have aligned perfectly, and I simply cannot wait to play in the $550 H.O.R.S.E. event. To me, just getting the chance to play quite genuinely gives me just as much joy as having a Platinum Pass of my own, and I promise you that's no exaggeration. However I end up faring, I'm grateful to have the chance to sit at the felt, and for whatever stories I'll get the chance to tell.