Every year, millions of people tune in to follow coverage of the World Series of Poker, the oldest and most prestigious poker tournament series in the world. It was first held in 1970, at Binion's Horseshoe in Downtown Las Vegas. The competition looked very different back in the 70s, with just a few dozen regular participants. By 2006, the poker boom was in full swing, and Main Event attendance had reached 8,773 players. The WSOP brand has also since been expanded internationally, with the WSOP Europe, WSOP APAC, and WSOP International Circuit.
There's been a resurgence in live poker, and nowadays the WSOP is the biggest live poker event in the world, attracting tens of thousands of players, many of whom who attempt to win satellite seats via online qualifiers. Whether it's recreational or professional players who are competing for the satellite entries, what they all have in common — besides their desire to win big — is that they've likely worked hard to develop their techniques and poker strategies that they use in competition at the felt.
I've been fortunate to have been able to attend and do media coverage at the World Series of Poker since 2016, and the fact that this summer's series has been postponed is a big bummer (to say the least). In particular, there are a number of pros that I specifically miss observing at the tables. Their skills, antics, and larger-than-life personalities always make them fascinating to watch, and I really hope it isn't too long before I get to fly back to Las Vegas to spectate in person once again.

While a number of popular poker professionals fall into that "I love watching them" category, here are five of my favorites.
Antonio Esfandiari
A former professional magician, Antonio Esfandiari has the highest total earnings from the WSOP, although he's "only" won three bracelets. Of the $22.3 million he's made from the WSOP, $18.3 million came from his 2012 win in the $1 million buy-in Big One for One Drop.
One of the most popular "TV poker" personalities, watching him in person is an even bigger treat. He's made multiple deep runs in the WSOP in particular and plenty of entertaining hi-jinks and antics are on display even when the cameras are off.
Back in 2016, my Dad accompanied me to the WSOP and I snapped the picture below while we railed Antonio, who was enjoying a massage at the tables.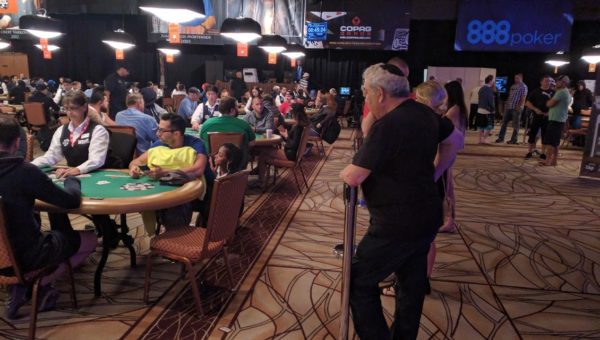 Chris Moneymaker
"The man responsible for the poker boom", 2003 WSOP Main Event Champion Chris Moneymaker is always a hoot to interact with. We've seen each other at numerous poker events around the world, but there's something just a little extra special about saying hello to Chris at the World Series of Poker itself.
Watching him engage and "do the ambassador thing" so effortlessly at the tables is a real treat, and it makes you appreciate that this Poker Hall of Famer continues to give back to the game that has given him so much. While observing him play in each year's Main Event, you can't help but wonder in the back of your mind "what if somehow he could catch lightning in a bottle again?" That would truly be incredible to witness should it ever happen.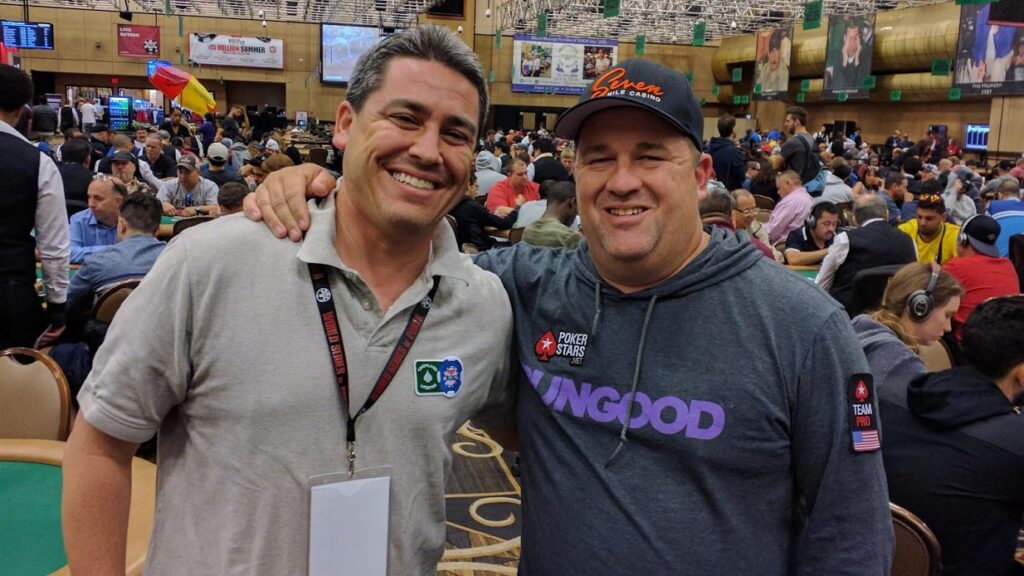 Phil Hellmuth
Phil Hellmuth began competing in the WSOP back in 1988. He's earned more than $23 million from playing in live tournaments, $15 million of which have come from the WSOP.
While Hellmuth doesn't have the highest earnings from the WSOP, he holds the record for most cashes and bracelets won. With 15 bracelets in his grasp, he's picked up five more than second, third and fourth place players: Phil Ivey, Johnny Chan, and Doyle Brunson. All but two of these have come in Texas Hold 'em events, although he's also had success playing seven-card stud, razz, H.O.R.S.E., and Omaha hi-lo.
In 1989, Hellmuth won the WSOP Main Event when he was just 24 years old. His continued success into his 50s is the stuff of legends. Watching him win bracelet #15 a couple summers ago was quite the spectacle to behold.
Jeff Lisandro
I don't know what it is about Jeff Lisandro, but something about the personality I first witnessed on display at the WSOP on TV years ago immediately made me take to him. Perhaps it's his incredible success at stud games (my favorite poker variants)? The Aussie is a mainstay throughout the WSOP each year and poses a solid threat, especially in mixed game tournaments, to everyone in his path.
He first reached a WSOP final table in 1997 and has six bracelets to his name, which has helped earn him north of $4.4 million from the WSOP and $5.7 million overall in his career.
A past WSOP Player of the Year, it was a personal highlight of mine to play at a table with Lisandro in my first ever bracelet event last year (the $1,500 Dealer's Choice tournament). Though neither of us cashed, to have outlasted him even just by an hour felt pretty good.
Eli Elezra
Anyone who has been a Cardplayer Lifestyle fan for any length of time surely knows of my love for Eli Elezra, having had the privilege to translate his autobiography from Hebrew into English. The former IDF elite unit commander has experienced plenty of success at the WSOP, to the tune of four bracelet wins and over $2 million in winnings. His first win came in 2007 and his latest came just last year in 2019. One of the ultra-rare players who has maintained his winning ways well into his late 50s, watching him ply his craft at the WSOP tables is quite enjoyable.
All smiles away from the tables, Eli's all business at the felt, and I've railed him enough times to learn plenty from his style of play and integrate some tricks and moves into my own mixed game play.