The 2022 WPT World Championship live poker tournament series at the Wynn Las Vegas is quickly closing in on the Main Event final table, which will guarantee a seven-figure payday to the top six finishers of the $10,400 buy-in No Limit Hold'em championship.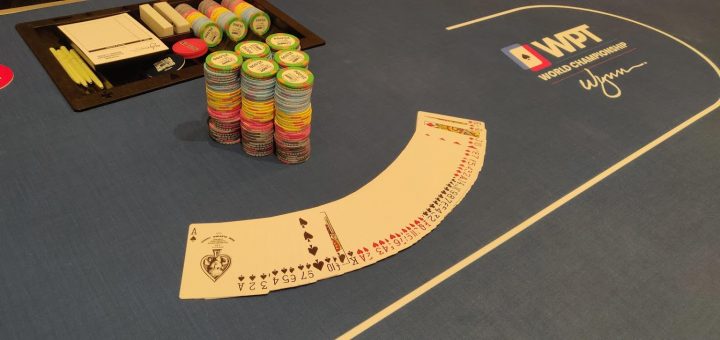 Day 5 of the WPT World Championship Main Event begins today and will play all the way down to the six-handed final table. The surviving guaranteed millionaires will then be afforded a day of rest before returning to the championship table on Tuesday, December 20th.
By the time the dust settles on Tuesday (or early Wednesday morning), this year's WPT Championship final will have awarded a Main Event prize pool of more than $29 million, with $4.13 million awarded to the eventual winner.
The Final Numbers @WPT @WynnLasVegas
2,960 Entries
$29,008,000 Prize Pool
Televised Final Table Payouts
1st $4,136,000 + $10,400 Seat to 2023 WC
2nd $2,830,000
3rd $2,095,000
4th $1,608,000
5th $1,301,000
6th $1,001,050

370 Players In The Money
370th $17,400#WPTWCWynn pic.twitter.com/ZgePI86dXd

— Matt Savage (@SavagePoker) December 15, 2022
Four-time World Series of Poker bracelet winner, poker coach, and "full-time human" Benny Glaser spent most of Day 4 adding to his massive stack, and will be one of the players to watch this afternoon.
Play has concluded on Day 4 of our #WPTWorldChampionship and just 37/2960 remain with @BennyGlaser leading the way!

Top 3 in Chips:
1. Benny Glaser – 28,800,000
2. Krasimir Yankov – 26,100,000
3. Alexander Farahi – 15,450,000

End of Day 4: https://t.co/Bf8Vi6v0vB pic.twitter.com/Y1GV0gtZlN

— World Poker Tour (@WPT) December 18, 2022
Glaser was able to show down a winning Full House (Fours over Nines) versus a rivered King-High Flush early into Level 5 on Saturday to catapult himself into the overall tournament chip lead and make the WPT highlight reel.
Other big names still in the hunt, hoping to see themselves in the winner's circle, include WPT Ambassador Brad Owen, who has guaranteed himself his largest-ever tournament cash, and Poker Hall of Famer Daniel Negreanu who is "100% dialed in".
WPT Global Creative Producer Jamie Kerstetter is among eight women poker players who will be competing Sunday for the top prize in the 2022 WPT Ladies Championship. The 2022 women's event drew nearly 600 entries and easily more than doubled its original guaranteed prize pool of $200,000.
Made the FT of the @WPT Ladies World Championship with a little more than avg stack@loufrancoeur @pokerkat @jjliu9065 still in the mix. I haven't slept in two weeks wish me luck https://t.co/pdw4HqyCt8

— Jamie Kerstetter (@JamieKerstetter) December 18, 2022

Poker legends Kathy Liebert and JJ Liu will also be seated at the final table to compete for the championship, along with Canadian live poker veteran Louise Francoeur.
We've reached the Official Final Table of our #WPTLadiesChampionship and Lina Niu leads the final six @WynnLasVegas @WynnPoker!

Top 3 in chips:
1. Lina Niu – 5,565,000 (139 bb)
2. Olga Iermolcheva – 5,065,000 (127 bb)
3. @pokerkat – 2,340,000 (59 bb) pic.twitter.com/uvE0sS2EoU

— World Poker Tour (@WPT) December 18, 2022
Following a one week hiatus, the $1,100 buy-in WPT Prime Championship final table is likewise on tap for Monday afternoon, December 19th, with Dr. Lara Eisenberg leading the way and looking to add a WPT title to her trophy case that already includes a WSOP bracelet.
WPT Winter Poker Festival 2022: Updated Preliminary Tournament Results
While thousands of poker fans throughout the world will be focusing on and tuning in to Day 5 of the Main Event on Sunday, the Wynn Las Vegas Poker Room has already witnessed millions of dollars in tournament prizes awarded in WPT Winter Poker Festival preliminary events over the past week.
Popular YouTube poker stream Ethan 'Rampage' Yau doubled his previous career live tournament winnings when he took first place in the $25,700 buy-in High Roller event for $894,240.
Congratulations to @rampagepoker for taking down the #WPTWCWynn $25k High Roller!

Ethan bested the 108 entry field and battled @KRabichow heads-up for $894,240 and the trophy!

Read the recap: https://t.co/ewpBVjFSqL pic.twitter.com/lfw9fZme5j

— World Poker Tour (@WPT) December 13, 2022
Oregon mixed-game specialist Tyler Willse overcame a field that included 272 entries in the $1,100 buy-in HORSE event, collecting a $63,967 reward for the win.
Tyler Willse earned the victory in the @WPT $1,100 HORSE on December 13. Congratulations Tyler on the win for $63,967! pic.twitter.com/OW1PrbPwyN

— Wynn Poker Room (@WynnPoker) December 14, 2022
Longtime Las Vegas poker pro Allen Kessler, who has been competing in sanctioned Omaha Hi/Lo tournaments since at least 2001, took home his first-ever Wynn Poker trophy upon winning the $1,100 buy-in Omaha 8 event for a cash prize of $52,104.
#NewProfilePic pic.twitter.com/zpVJrtPwgE

— Allen Kessler (@AllenKessler) December 15, 2022
Early Thursday morning, Kessler – who is affectionately referred to by his fans as Chainsaw – shared with his Twitter followers that he had regretted allowing himself to be bought out of a Wynn Poker Omaha 8 trophy back in 2009. Now, Chainsaw has his very own miniature replica of the Wynn Hotel to accompany his $4.1 million in career live tournament cashes.
German poker rounder Christopher Puetz won his first WPT event on Thursday when he outlasted a field of 367 competitors in the $1,600 buy-in No Limit Hold'em Turbo tournament for $79,576.
Congratulations Christopher Puetz, winner of the $1,600 Turbo Bounty on December 14. Chris topped the field of 368 players, earning $79,576 on top of his bounties! pic.twitter.com/x7gjsrlJY7

— Wynn Poker Room (@WynnPoker) December 15, 2022
Californian Peter Cross III walked away with the largest live poker tournament cash of his career on Friday when won the $3k No Limit Hold'em event for $429,406.
Peter Cross III won $429,406 for his first place finish in the @WPT $3K NLH $500K GTD. Congratulations Peter on the victory! pic.twitter.com/EJMzOHNd6v

— Wynn Poker Room (@WynnPoker) December 17, 2022
That was followed up by a $3k NLHE 6-max victory by Rodney Turvin , who made the trip to Vegas from his home state of Georgia.
On December 16, Rodney Turvin won the @WPT $3K 6 Max Event for $234,868. Congratulations Rodney on the win! pic.twitter.com/VjNmwqt9ui

— Wynn Poker Room (@WynnPoker) December 17, 2022
Turvin's $234,868 award put him over $1 million in career live poker tournament winnings.
WPT Televised Event Schedule For December 18th-19th
There are three televised WPT World Championship events that are scheduled to be broadcast (on a short delay) from the Wynn Las Vegas today and tomorrow. Following is a list of start times for each event (all times Pacific).
Sunday, 12:00 Noon — WPT World Championship Main Event (Day 5)
Sunday, 4:00 PM — WPT Ladies Championship (Final Table)
Monday, 4:00 PM — WPT Prime Championship (Final Table)
Final tables are open to the public, and are located in the Latour Ballroom #6 inside the Wynn Las Vegas property.
We're getting ready to crown our next #WPTChampion at the #WPTWorldChampionship @WynnLasVegas!

In addition to having their name engraved on the #MikeSextonChampionsCup and receiving over $4,136,000, they'll receive a one-of-a-kind trophy and art by renowned artist @DanielArsham! pic.twitter.com/MXZMzyLWjU

— World Poker Tour (@WPT) December 17, 2022
Who will be the 2022 WPT World Championship winner?