Usually when the World Series of Poker ends, it rings in "low season" for poker and folks take their foot off the gas pedal for a well deserved end of summer break. This year, however, things are different, and hot on the heels of the just-completed WSOP, the holiday season is now in full swing.
For the sixth consecutive year, Cardplayer Lifestyle is proud to offer our readers this Holiday Gift Guide for Poker Players. In much of the developed world, things seem to finally be heading back towards what we knew as normal, and there's a lot to give thanks for. Thus, it's important to try and focus on things that can make us happy and bring us smiles.
As always, we've put together a wide variety of gift giving ideas for you to consider this holiday season, including a number of new, creative entries on our list as well as some annual stalwarts.
Moreover, many of our featured vendors are offering exclusive holiday discounts to Cardplayer Lifestyle readers, so whether you're looking for the perfect gift for your poker-loving partner or, alternatively, just want to treat yourself to something nice, be sure to take advantage!
We hope you enjoy this year's guide!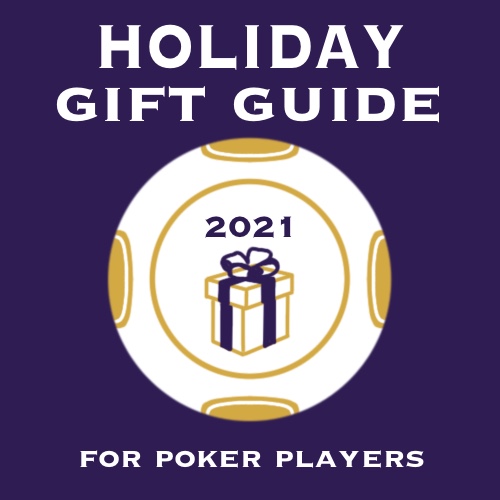 SKIP TO: 1. DIGITAL POKER TABLES | 2. THE GTO+ SOLVER BUNDLE BY RED CHIP POKER | 3. THE MENTAL GAME TUNE UP FOR TOURNAMENT POKER | 4. RUN IT ONCE TRAINING | 5. FADED SPADE PLAYING CARDS | 6. CAESARS PALACE POKER ROOM | 7. SHUFFLE TECH MDS-6 MULTI-DECK SHUFFLER | 8. D&B POKER BOOKS | 9. POKERCOACHING PREMIUM | 10. THE POKER FORGE | 11. FLOPZILLA PRO CUSTOM SPLITSUIT EDITION | 12. RUNGOODGEAR APPAREL |
---
DIGITAL POKER TABLES
Take your home game to the next level with your very own Digital Poker Table. This holiday season is the perfect time to purchase your very own electronic gaming table, where you can play up to 18 different poker variants at the touch of a button.
No cards or chips necessary! Just an outlet, WiFi, and you're ready to play poker with your buddies!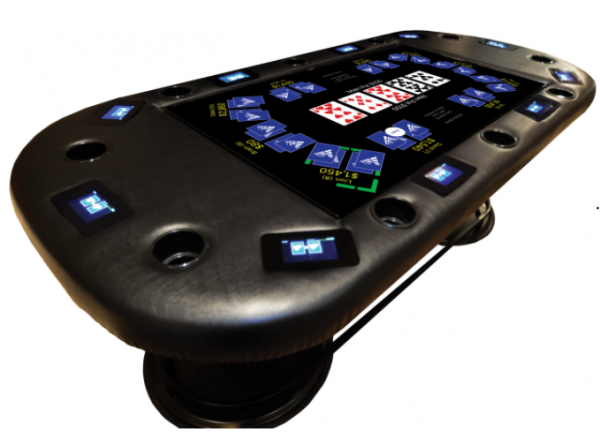 Whether you opt for the 2-, 4-, 6-, 8-, or 10-seat Digital Poker Table, you'll always have access to the latest software updates and upgrades.
Choose to play limit, pot limit, or no-limit, whether in cash game or tournament format.
Best of all, the Digital Poker Table doubles as a family gaming table! You can play popular favorites like Rummikub, Trivia, and more with your kids, neighbors, and even invite the grandparents over for game night.
Don't have room in your home for a table? No problem — for just $25/month you can purchase a premium subscription to the Digital Poker Table software and play on your iOS devices, even broadcasting the game onto your Apple TV!
Visit DigitalPokerTable.com or call (702) 628-1900 to order in time for the holidays, and be sure to mention Cardplayer Lifestyle!
---
THE GTO+ SOLVER BUNDLE BY RED CHIP POKER
Red Chip Poker has officially partnered up with GTO+ to offer you the best introduction to GTO. As game theory optimal (GTO) poker continues to increase in popularity and importance, now is the time to invest in a quality solver and training. So their new GTO+ Bundle includes a lifetime license to the GTO+ solver AND a complete course so you know exactly how to set up the tool, explore the trees, and analyze solves like a pro.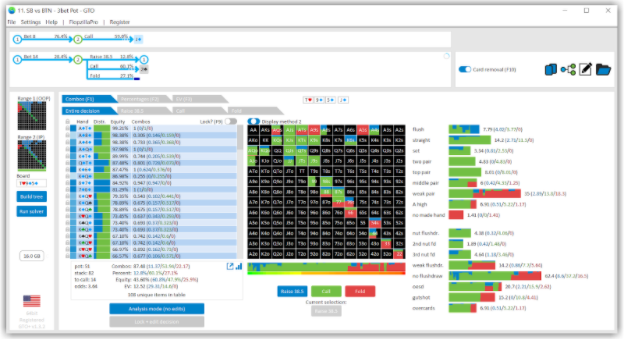 GTO+ allows you to do everything from simple solves to complex bet sizing exploration. Plus, you can "play against the solver" to test your skills between sessions. And for the more advanced players, this solver allows for node locking, various display methods, and even scripting.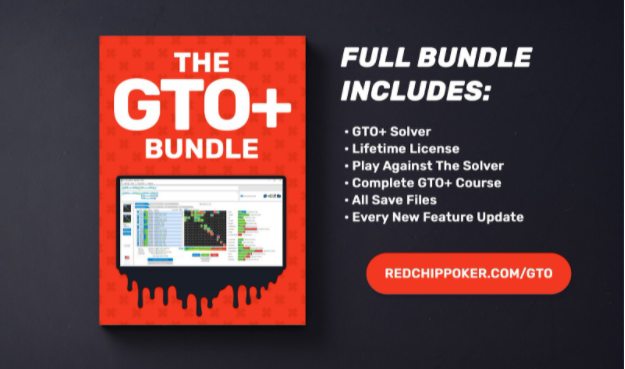 Buy the GTO+ bundle for the poker player in your life (or as a nice holiday gift for yourself!) to start seeing GTO poker more clearly.
---
THE MENTAL GAME TUNE UP FOR TOURNAMENT POKER
The Mental Game Tune Up for Tournament Poker is a video-based course that walks players through the same steps that Jared Tendler takes his clients through to prepare for tournament play. Comprehensive yet simple, it consists of eight modules covering key topics, such as tilt, handling swings in variance, burnout, and distractions.
The most popular feature of the course are the unscripted coaching sessions called "Coaching the Pros" featuring two notable professional poker players: Diego Ventura and Matt Affleck. Go inside to see how top online and live professionals think and prepare for WCOOP and the WSOP. Now is the time to get yourself ready for 2022. Don't wait until the next series to get started. Invest in your game and let Jared guide you through the steps to get it in shape.
"I can't recommend the Mental Game Tune Up course and Jared's work highly enough. I really found it valuable to work through leading up to my last WSOP trip which was my most successful trip by far. Thanks for another amazing product Jared!"
Lara Eiesenberg, 2021 WSOP Ladies Champion
Claim your special $125 discount this Holiday Season by using promo code CPL125 when you enroll in Jared's course.
---
RUN IT ONCE TRAINING
If you want to start taking your game seriously in 2022 you'll find everything you need to back up your commitment at Run It Once Training. Launched in 2012 by high stakes legend Phil Galfond, Run It Once has always been the place for dedicated poker players to advance to the next level and stay ahead of their opponents.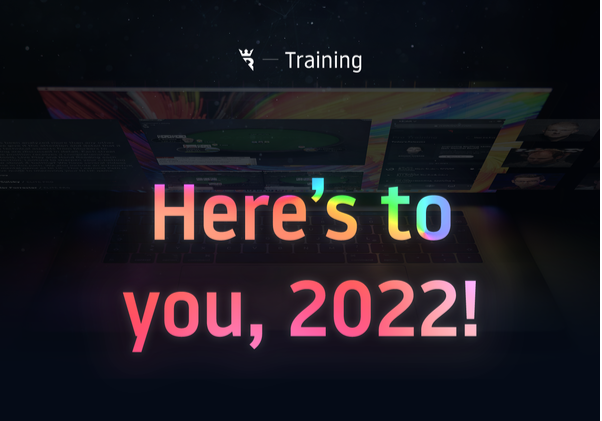 The slogan 'Train With the Best' doesn't only reflect that you'll learn from the highest tier coaches like Dan 'Jungleman' Cates, Kevin Rabichow, or Phil Galfond himself. It also means you'll benefit from a community of students that have the highest aspirations in poker and are often professional players themselves.
Members of Run It Once Training Plans get access to an expansive library of over 6,500 training videos, with two brand new videos every single day to make sure you're always learning the newest strategies. No matter which form of poker you play or which area of your game you need to work on, Run It Once has you covered.
Just starting out in poker or want to transition to a new game format? Run It Once Courses were specifically designed for new players who want to start learning poker from the beginning, the right way. The courses follow a carefully crafted learning journey until you have the proper foundation you need to expand your game to the highest levels.
If you need help planning the perfect poker gift for your loved ones, reach out to Run It Once Support and we'll assist you every step of the way.
---
FADED SPADE PLAYING CARDS
As the preferred playing cards of the World Poker Tour, Faded Spade has fast become the most popular playing card brand for poker players across the globe.
Poker players in many countries and continents have switched to Faded Spade playing cards for their poker home games. The cards are known for their modern face card designs and high quality 100% plastic that has an intentional balance of strength and flexibility. Two-deck sets are available in Poker Size 2.0 (Wide), Bridge Size 2.0 (Narrow), and 4-Color 2.0.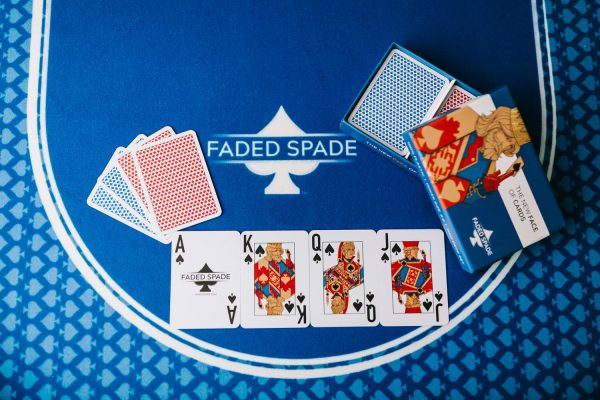 Beyond WPT programming, you might have also played with Faded Spade cards at your local poker room! Plus, you may have seen Faded Spade poker playing cards on many popular poker live stream shows or in play on NBC Sports, PokerGO, and more during poker programs like Poker After Dark, Super High Roller Bowl, Poker Masters, and the U.S. Poker Open.
The best poker players and highest stakes poker games in the world choose Faded Spade cards. So can you this holiday season, by using the promo code CPL for 20% off at fadedspade.com!
---
CAESARS PALACE POKER ROOM
There's perhaps no more enjoyable time to take a poker trip than the Holiday season, and similarly there's perhaps no more enjoyable poker room to play in than the one at Caesars Palace! Once you hit Las Vegas, head straight to the center of the famed Las Vegas Strip to the one-of-a-kind Caesars Palace Poker Room.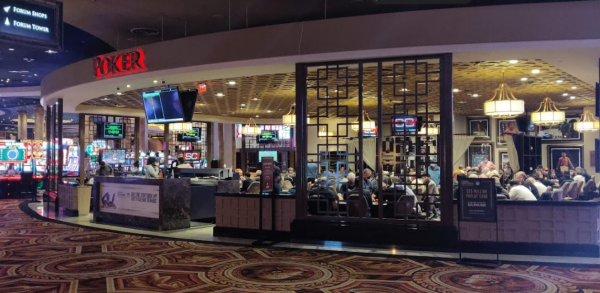 With 18 tables, and located right next to the casino's sportsbook, the 4,500-square-foot poker room offers all the action you can handle at limits ranging from $1-3 right up to the nosebleeds. Comps are offered at $2 per hour, with Caesars Rewards Members also earning 34 tier points/hour.
Beyond cash games, the room also offers multiple tournaments each day and is staffed by some of the most professional, friendly dealers and floorpeople you'll find in the city.
Staff are happy to speak with you anytime, so feel free to call (866) 227-5938 and get your name on the waiting lists this holiday season at Caesars Palace, home of champions!
---
SHUFFLE TECH MDS-6 MULTI-DECK SHUFFLER
The new Shuffle Tech MDS-6 is perfect for this upcoming Holiday Season. As you gather with friends and family to spend time together and play games, this makes a perfect addition to your game night.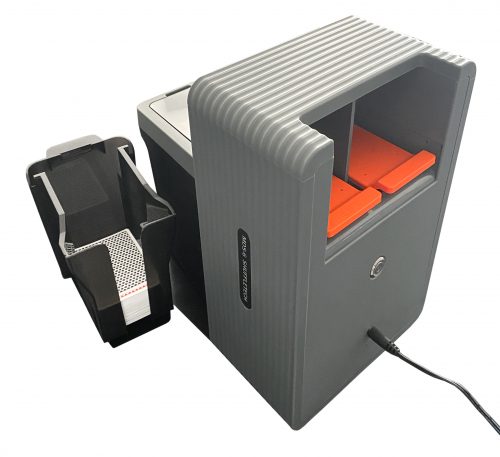 This multi-deck card shuffler can shuffle up to 6 full decks of playing cards. Whether you play canasta, blackjack, or any other multi-deck card game, this will streamline your hand shuffling. Paper cards will shuffle, but not as well as with 100% plastic playing cards. So, quality playing cards are always recommended. And as always, our products come with a 1-year warranty.
The MDS-6 runs both on direct power or battery operated (4 x D-sized). Plus, as with all Shuffle Tech products, you also get a 1-year warranty!
We ship worldwide! For more information, visit www.shuffletech.com.
---
D&B POKER BOOKS
D&B Poker produces the best poker books out there and their latest publication from the highly successful coach and author Jonathan Little is no exception. Secrets of Professional Tournament Poker: The Essential Guide can rightly claim to be the definitive guide to tournament poker. As per our own review, "The poker world was ready for an age-defining poker book in a period of global flux; it has found it in this book."
This holiday season, you can get your hands on either the beautiful hardcover edition, the ebook, or the audiobook (recorded by Jonathan), all of which can be found HERE.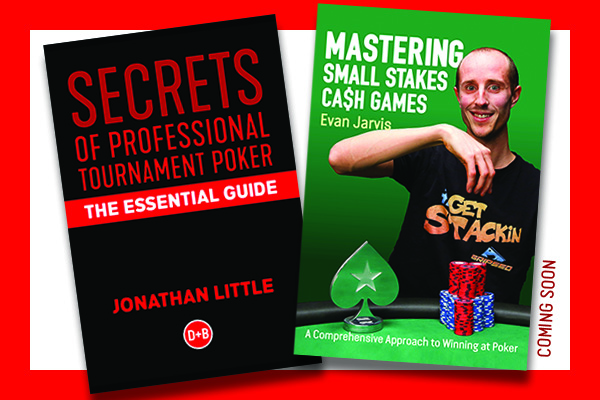 Also due out in the coming weeks is an addition to D&B's Mastering Small Stakes series, Evan Jarvis' Mastering Small Stakes Cash Games. Evan's reputation as a top notch coach at Gripsed.com is well established and in this book he brings his full arsenal of knowledge and skills to help players master cash game play. Evan takes a holistic approach, recognizing that being able to master people and master yourself are equally important in order to achieve poker success.
This book makes for an excellent stocking stuffer, as the paperback edition will be publishing in December in UK/Europe and January in the US, with the ebook due out in January.
---
POKERCOACHING PREMIUM
This holiday season PokerCoaching.com is rolling out the red carpet and giving you up to 61% off on PREMIUM memberships!
Beyond their already massive suite of training materials, you'll also get FREE access to two of Jonathan Little's exclusive courses — the all-new Cash Game Masterclass and his Tournament Masterclass — PLUS his vast library of 1-on-1 coaching videos!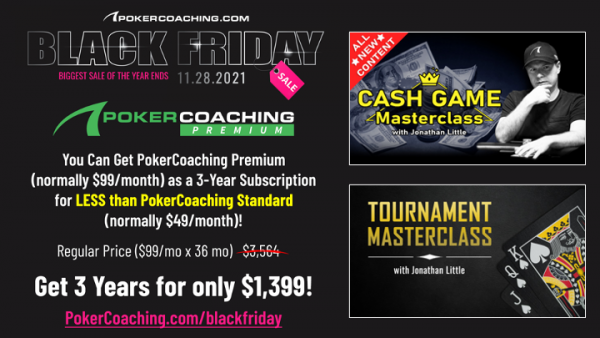 Cash Game Masterclass
In this completely new course, Little teaches you everything you need to know to crush small and medium stakes cash games. Via numerous hand examples and quizzes, you'll internalize how to consistently win in both online and live cash games, with starting stacks of 100 and 200 big blinds.
Tournament Masterclass
In this highly regarded course, Little teaches you everything you need to know to play every stage of a poker tournament optimally, maximally exploit your opponents, and maximize your tournament equity.
1-on-1 Coaching Videos
Best of all, if you act now and join PokerCoaching Premium, you'll get FREE ACCESS to 240+ hours Jonathan Little's 1-on-1 coaching videos!
Ring in the holidays by joining the 120,000+ poker players who are using PokerCoaching.com to increase their win rate through active learning!
---
THE POKER FORGE
The Poker Forge helps online small-stakes players build valuable skills for a fun and profitable journey. You will go through 9 Masterclass courses that teach foundational and advanced poker strategies in a logical progression. This will build you up as a player with useful skills one upon the other, while helping you avoid poker overwhelm: That feeling of having too much to study and not enough time. The Poker Forge helps you learn where you must focus your efforts and guides you in that direction.

You can start booking wins right away with course #1, the Quick Wins Gameplans, which help you earn quick profits with easy-to-use strategies. Or, you can bounce around from course to course. Maybe start with the Hand Reading Course (to learn poker's #1 skill) or the Finding the Fold Course (to plug that costly leak of poor post-flop calling). The journey is up to you, but along the way the Poker Forge gives you checklists, calendars and study guides to keep you on track.
All Poker Forge training is built upon the idea of "learn then apply". Each video teaches you important strategies to use in-game or during your study time. Plus, every video gives you action steps to take that force you to practice what you just learned because… action is the greatest teacher.
Give yourself or the poker player in your life the gift of a profitable and fun online poker journey with The Poker Forge.
---
FLOPZILLA PRO CUSTOM SPLITSUIT EDITION
One of the best tools for poker study is Flopzilla Pro. Flopzilla can do everything from analyzing single hands to complex ranges, break down post-flop situations statistically, and even do advanced range-vs.-range analysis.
If you've never used this app before, here's an example of using Flopzilla Pro to study a common $2/$5 hand:
To make things even better, the SPLITSUIT EDITION of Flopzilla Pro not only includes a lifetime license for the software, but it also includes custom range presets and additional training videos. This bundle sets every poker player up for success to make off-table time easier and on-table time more profitable.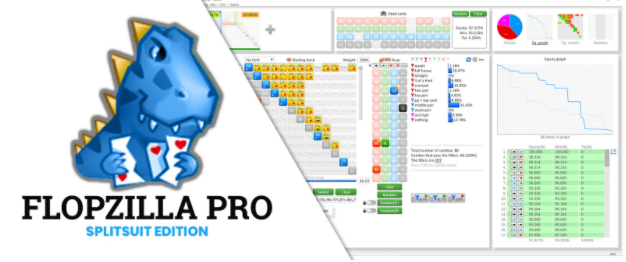 Get the SplitSuit Edition of Flopzilla Pro today and book yourself a winning holiday season!
---
RUNGOODGEAR APPAREL
This holiday season it's time to scroll past the parody shirts send your favorite poker player something they want to wear both at and away from the tables.
Since 2012, poker players have been gearing up with RunGood, the industry's leading apparel company. Focused on producing clothing with an emphasis on comfort and style, the RunGoodGear brand is a popular sight in poker rooms around the United States, with a wide variety of hats, hoodies, and shirts available online.
"As a poker player, we don't make anything we wouldn't wear ourselves on or off the table." says Tana Karn, Founder of RunGoodGear. There is a reason items become out of stock, don't delay and pick up an item today.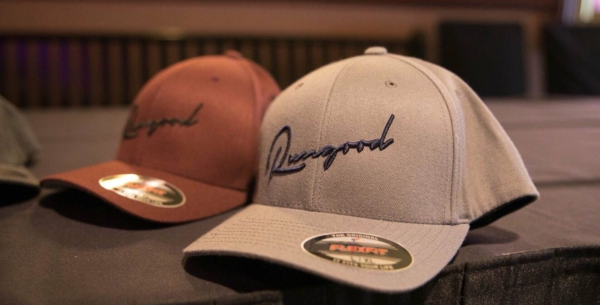 Also, be sure to visit www.RunGoodGear.com to see what's happening next with the multi-time GPI Award-Winning Mid-Major Tour, the RunGood Poker Series, while picking up your next hat or hoodie.
---
Wishing all of our readers here at Cardplayer Lifestyle a happy holiday season!