With a worldwide recession in full force and jobs hard to come by, here's some great news from the World Series of Poker: they're hiring! Whether you're a fan of the game interested to see what it's like on the other side of the felt or just looking for work in a tough economy, you could train to become a poker dealer for the world's premier poker brand.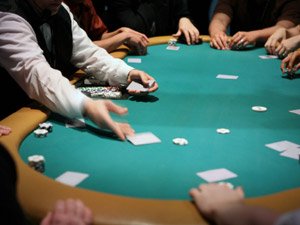 What Are the Prerequisites?
There are some prerequisites job applicants must meet, including:
Being at least 21 years old
Having a neat, professional appearance with good personal hygiene
Having good math skills
Though not officially listed as a requirement on the job listing, if you're hoping to become a WSOP poker dealer it probably also pays to have a good amount of intestinal fortitude. You'll need it when dealing with poker players who experience bad beats and otherwise tend to blame you for everything that doesn't go their way at the felt.
Also, just to note, you'll be assigned to tournament tables so, unfortunately, don't expect any of the players to tip you.
There's Training Involved
Naturally, you can't just expect to start shuffling up and dealing without the proper training. The WSOP will put new trainees through one of three 5-week sessions in which you'll dedicate 25 hours per week to learning the ropes of every poker discipline spread at the WSOP's tournament tables in bracelet events. Dealer school tuition will set you back $200 and the three training sessions take place on the following dates:
January 14–February 15
February 25–March 29
April 8–May 10
It should be noted that, even if you're accepted to be a WSOP dealer, this is a temporary position. On the other hand, it's safe to assume that the best of the new crop of dealers might be offered more permanent positions at any of the dozens of WSOP-affiliated poker rooms around the U.S.
The Best WSOP Poker Dealer
A few weeks back we interviewed Shaun "the Dealer" Harris, a top WSOP dealer. Read his story to find out what it takes to become one of the best card handlers in the business. Who knows? This job opening may be the start of your path to the top of the poker dealing world.