Talk about a title that creates controversy! Especially if you're a poker dealer yourself and came across this headline, you might think that we here at Cardplayer Lifestyle are a bunch of ungrateful, stingy lowlifes. Before you come to the wrong conclusions, however, keep in mind that we also published a list of the Top 10 Reasons for Tipping Poker Dealers. Indeed, tipping dealers is so common in live poker play that many players simply wouldn't even consider not tipping.
(Ed. Note December 24, 2012: To clarify, I personally always tip dealers.)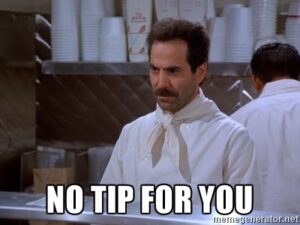 Nonetheless, we've compiled a solid list of 10 reasons why it would be justified to keep your money and not tip.
1. They Do a Poor Job
If the pace of your game is insufferably slow, if the dealer is making frequent procedural errors that prevent the game from flowing, or if the floor needs to be called often to make rulings, these are all signs of an unprofessional poker dealer.
2. They Have a Bad or Sour Attitude
Yes, we know you're working, but would it be so difficult to crack a smile once in a while?
3. They Made a Mistake that Cost you a Pot You Were Supposed to Win
If your dealer accidentally mucked your card or created a misdeal when you were the favorite to win the hand (here's a famous example), we can understand why you probably wouldn't want to give them any of your money.
4. They Make Uncalled-for Remarks
If your dealer has made negative comments about your style of play or "how lucky you've been" to win hands, why tip them? If they can't appreciate it, they shouldn't be privileged to share in your good fortune.
5. They Call the Clock on You
I know this sounds crazy but I've seen this a couple times with my own eyes. The dealer is sitting at the table solely in order to be the game's facilitator. In other words, only players should be able to call the clock on you (to make a decision). If you ask me, a dealer calling the clock on a player without being prompted should be singled out for disciplinary action, not a tip.
Yesterday a dealer called the clock on me in a big hand.
"Welcome to WSOP"

— Fedor Holz (@CrownUpGuy) June 9, 2016
Check out our exclusive interview with top WSOP dealer, Shaun "the Dealer" Harris
6. They're Unappreciative
If you've tipped your poker dealer but they don't say thank you, be sure that's the last dollar of yours they'll see.
7. Too Much Tipping Hurts Your Bottom Line
Tips can add up to a lot of money over time, and we know that it's hard enough just to "beat the rake" consistently and turn a profit at a casino. Especially if you're a grinder and play dozens of hours of poker each week, not tipping every time you win a hand is understandable. Perhaps once per dealer shift is more reasonable.
8. You're a Member of "the 1%" and Think Poker Dealers Should "Get A Real Job"
You think we're joking? This actually happened. If you're not the kind of person to tip a waitress, then why tip a poker dealer? (Shame on you by the way!)
Ed. Note: This incident was subsequently proven to be a hoax; but the point stands.
9. You're Playing in a Tournament and Don't Cash
Each hand of cash game action at a poker table can be thought of as an isolated event. A tournament poker player, however, will usually see dozens of hands just for posting the buy-in one time. If you end up busting without making the money, know that part of the buy-in includes a portion to toke the dealers. If you win a tournament or make a big score, however, it couldn't hurt to spread your newfound wealth just a little among the dealers.
10. You Know of Others Who Need the Money More
As mentioned earlier, tips can add up over time. A typical session might see you give $10–$20 in tips to your poker dealers. While they'll probably be appreciative, think of the good your $10–$20 could've done if it was donated to charity instead.
This rationale is all the more applicable to players lucky enough to be a part of a bad beat jackpot. Many players we've polled had said they'd give dealers "the standard 3%" if they won progressive jackpot money at the poker table. Think about that for a minute. You'd score a 5- or 6-figure payday and you'd give a dealer a tip ranging from $1,000–$3,000?
Really?!
Think about how long it regularly takes you personally to make $1,000–$3,000 or win that money grinding at poker. Talk about getting carried away!
If you're hell-bent on giving away that much money, we at Cardplayer Lifestyle humbly suggest that you tip the dealer a couple hundred and donate the rest to charity. Dealers do indeed work hard and don't get paid much, but at least they have jobs and are capable of supporting themselves. There are plenty of unfortunate people out there for whom your generosity would in all likelihood do a lot more good.
We contend that even the poker dealers themselves, though they might be disappointed, wouldn't be able to argue with that kind of rationale.
Can you think of another good reason for not tipping dealers at the poker table? Do you think any of our top 10 reasons are unjustified? Sound off in the comments section below or on our Facebook page!