One of the world's most iconic and best known poker players, the man often referred to as "The Godfather of Poker," Doyle Brunson, is the latest player to join the rapidly growing team of World Poker Tour ambassadors. As part of his new role, the "living legend" will visit various WPT events and will work with the team to promote the brand.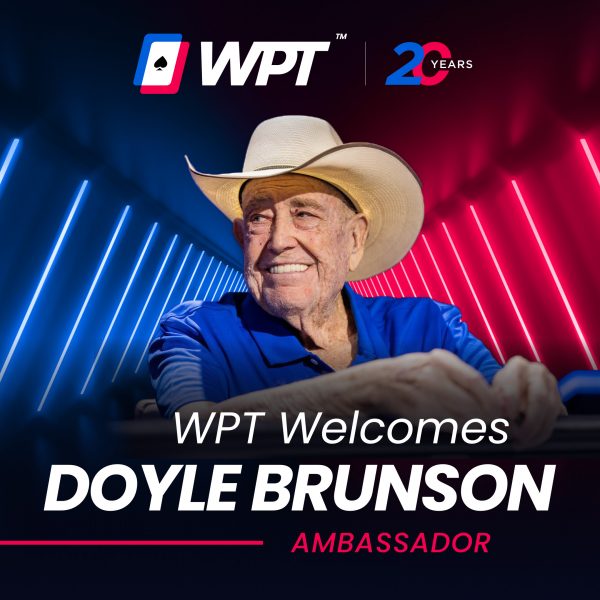 Thanks to this partnership, fans will have an opportunity to meet the 10-time WSOP bracelet winner and a Poker Hall of Fame member at live tournaments organized by the World Poker Tour. Brunson will work alongside other members of the ambassador team, which recently expanded to include well-known poker vloggers Andrew Neeme, Brad Owen, as well as world-renown DJ Steve Aoki.
A Surprising but Natural Partnership
It's been a while since Doyle Brunson last acted as an official representative of any poker brand, so the news about the WPT partnership comes as somewhat of a surprise. Moreover, Brunson will be celebrating his 89th birthday in August, and for most people out there that's just not an age at which they'd usually be embarking on new adventures.
That said, Doyle has been very active recently. He played in a few events at last year's WSOP, appeared on multiple episodes of High Stakes Poker Season 9 (sporting the WPT brand), and he further hopes to play in this year's WSOP Main Event as well. The indefatigable gambler from Longworth, Texas, still somehow shows no signs of slowing down and clearly enjoys playing poker as much as possible.
Brunson is one of the most decorated poker players in the history of the game. In addition to having 10 WSOP titles and being a member of the Poker Hall of Fame, he is also a member of the WPT Champions Club – the honor he earned after winning the 2004 WPT Legends of Poker event.
He's always had a very good relationship with WPT, and there is even an event named after him, specifically the Doyle Brunson WPT Five Diamond Poker Classic.
World Poker Tour CEO Adam Pliska remarked that it felt surreal to welcome Doyle Brunson to the WPT family after all this time, but given the aforementioned long history Brunson has with the brand, the partnership feels very natural.
Great News for All Poker Fans
There is probably not a poker fan out there who doesn't know the name "Doyle Brunson." On top of his documented tournament results to go with countless millions won in cash games the world over, the Hall of Famer is also a hugely successful poker author, and Brunson's Super System, even if outdated from a purely strategic point of view, is still considered one of the greatest poker books ever written.
For many fans, having a chance to meet Brunson in person and play against him would be an honor and privilege, and thanks to his engagement with World Poker Tour, there will now be more opportunities to do just that perhaps than ever before!
WPT has been working hard to grow its team of ambassadors over the past several months, bringing in numerous popular players and celebrities to help them extend their reach. Adding "The Godfather of Poker" himself to the roster, however, might arguably be their biggest signing to date.
Brunson is notably a man of few words, but in the wake of the announcement he summed up his feelings perfectly with a familiar trope that seems to perfectly describe his life philosophy:
We don't stop playing because we get old; we get old because we stop playing.
If we take his statement at its face value, there is just one conclusion to be drawn: Doyle Brunson clearly has no plans to get old anytime soon!
READ MORE: Doyle Brunson Interview