Ed. Note: This poker room review was written up by one of Cardplayer Lifestyle's loyal readers, Hank_AK. We would also like to thank him for the courtesy photo.
Casino Copenhagen is situated connected to the Radisson Blu Scandinavia business hotel at 70 Amager Blvd.  One can access the casino either directly from the outside or from within the hotel.  The casino charges a 90DKK ($15) entrance fee and a picture id is required.  They have 4 active roulette tables, 3 active blackjack tables and one active Ultimate Texas Hold'em table (you play against the house).  When there are significantly more visitors to the casino they can double that amount of table games, but when I was there they kept to the tables listed above.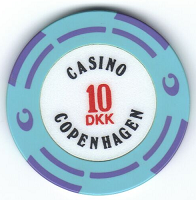 Casino Copenhagen's Poker Offerings
Every night they have a different style Texas Hold'em tournament.  For example, on Mondays, they play a 400DKK ($70) buy-in bounty tournament (each bounty worth 100DKK) with a maximum of 30 players on 3 tables and minimum of 10 players on one table.  On Tuesdays, they play a rebuy tournament with a buy-in of 250DKK ($45) and rebuys until the first break (maximum 20 players and minimum 10 players).  The poker tournaments all start at 8 pm and there's a 15-minute break every 75-80 minutes.  Cash tables open at 8:15 pm and the lower stakes table featured a minimum buy-in of 1000DKK ($175) with a maximum buy-in of 10,000DKK ($1,750). Most poker tournaments at Casino Copenhagen end by 1:00 am.
Tips to Improve Your Poker Experience in Copenhagen
If you're sensitive to smoke, be advised that the casino has open-sided smoking booths inside the casino; in general, smoke stays inside the booth but if you wander past the booth you'll probably get a whiff.  It being Denmark, the language spoken at the tables is Danish, but chips and cards talk best and if one doesn't understand something, the dealer and players will respond in English, which is widely spoken in the country. Some dealers are better than others and a couple of them made small mistakes at my table that would've influenced the action had I not spoken up, so be sure to pay close attention to everything going on at your table.
All in all, since this is pretty much the only game in town, if you're a poker player and find yourself in Copenhagen, it's well worth a visit for a fun night of Texas Hold'em.
If you would like to submit a poker room review or other poker blog content for publication on Cardplayer Lifestyle, please contact us.