It's the holiday season and here at Cardplayer Lifestyle we're always happy to spread some good cheer.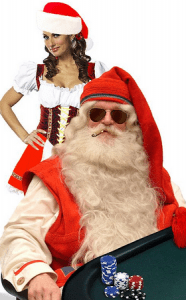 Jolly old St. Nick got in touch with us and mentioned he'd be quite happy to entertain questions from some of the more well-known people in the poker world. So, we approached 21 of the world's best known poker pros and personalities of the game to find out what they wanted to ask Santa. Here's what they replied, in alphabetical order:
Jean-Robert Bellande: Just one time, c'mon Santa… one friggin time! PLEASE?!
Liv Boeree: Is that a candy cane in your pocket or are you just happy to see me?
Norman Chad: How's Mrs. Claus doin'? She free tonight?
Freddy Deeb: Can you please stop asking me to sit on your lap?
Tom Dwan: (Didn't show up on time to ask his question)
Ari Engel: Do you get frequent flyer miles when you travel in that thing?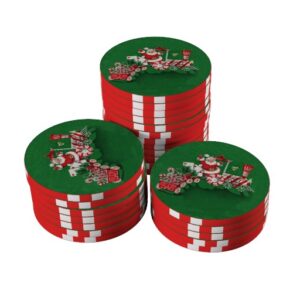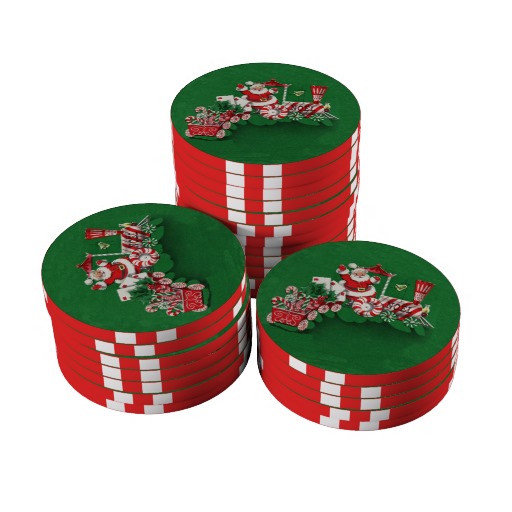 Antonio Esfandiari: Did you know, sir, that YOU are my FAVORITE mythical character? What's your Ultimate Poker screen name and will you be in Nevada or New Jersey soon?
Chris Ferguson: How the hell did you find me?
Tony G.: How much would you like to bet that if I dressed up as Santa I could give out twice as many gifts as you in half the time – and still find a way to profit?
Gus Hansen: Theoretically, if you sold all the reindeer, presents, and the sleigh, you think it could fetch $20 million or so?
Phil Hellmuth: Would you like a signed picture of me? No? How about a signed hat? A jersey? Honey – do we have an extra large jersey for Santa?
Phil Ivey: Have you signed up to start playing on Ivey Poker yet?
Gabe Kaplan: What do you get when you cross a rabbi, a poker player, and a Christmas tree? A poker Star of David? Nope. Cute, but that's trademarked…
Allen Kessler: How did you arrange those reindeer? The structure is absolutely horrible…
Phil Laak: So, like, if the trajectory of your flight path was altered slightly based on the curvature of the globe as you passed through all of the world's time zones, and the sleigh would keep getting lighter since you'd be getting rid of millions of presents each hour, what color do you think Rudolph's nose would turn?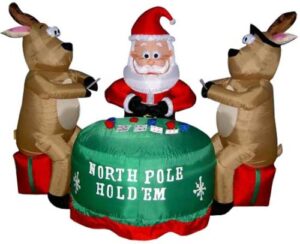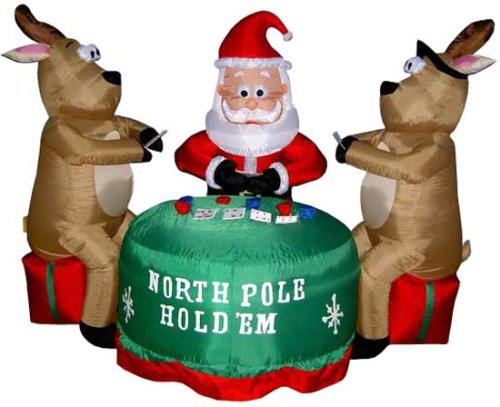 Howard Lederer: I don't know. I'm not at liberty to disclose that information.
Michael "the Grinder" Mizrachi: How many patches do you think I could fit on a Santa suit?
Darvin Moon: Ever consider shaving off the beard and just going with the goatee?
Daniel Negreanu: It's alright, I'm good…
Scotty Nguyen: Instead of "ho, ho, ho", can you say "ha, ha, ha"? Just one time baby? For Scotty, baby? Ha, ha, ha!
Chino Rheem: So can I borrow that sleigh? I promise you'll get it back really soon.
If you're one of the poker personalities listed, thanks for taking it all in good fun.
If you had a good laugh, we'd be thrilled for you to share this with your family, friends, and followers, and give 'em a smile over the holidays.
…and if you're Chris Ferguson, feel free to check in and say hi!