Poker has a long and rich history in the Golden State. Californians have always loved playing the game. Thanks to its massive population, the state has always been one of the biggest poker markets in the United States. Poker in California is something that always resonates strongly with me on a personal level, as it's where I was born and raised. Though I left Los Angeles many years ago, each time I come back to visit, I spend as much time as I can in the metro area's amazing poker rooms.
With all of that said, however, as many of you already know most forms of gambling are still illegal in California. As far as poker is concerned, people are free to play the game as no rules state they can't. This is why you can find a wide range of quality poker rooms in California, where you can enjoy Texas Hold'em and numerous other poker variants and other card games.
Even though that's the case, there are still nuances regarding the exact form of poker you want to play. That's what we are here to discuss, so let's begin!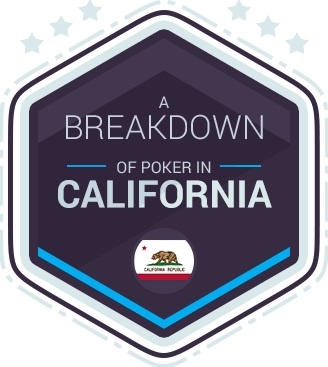 Is Poker Legal in California?
Poker is very much legal in California, as long as we are talking about live poker played in registered brick-and-mortar casinos and card rooms. As you can expect, there are many of these in the state thanks to its large population and interest in gambling games.
Several dozen casinos and poker rooms operate in California, and the largest one in terms of poker tables is the Commerce Casino in Los Angeles. It houses over 200 poker tables, making it the world's largest; a veritable sea of poker.
Besides casinos and poker rooms, nonprofit organizations can also legally host poker nights once per year.
Is Online Poker Legal in California?
No, online poker is completely banned in California. Even though more and more states keep legalizing online poker, California is still not there, primarily due to the significant opposition from both tribal and commercial casinos. Many lawmakers have tried to legalize online gambling for a decade now, but all attempts have thus far ended unsuccessfully.
Thankfully, as the game's popularity is massive and many people support online poker legalization, we are optimistic that something is bound to happen on this front soon.
Until then, many Californians are choosing to play online poker in offshore online casinos that, while unregulated, are catering to Californians. You only need to be careful and choose a good one, so do your research before creating and account on and funding an offshore online poker site.
Is Sweepstakes Poker Legal in California?
Sweepstakes poker refers to any poker game that's played for virtual coins, not real money. Sweepstakes sites are pretty popular in the US — in California in particular — and many offer poker.
What's more, some even allow you to win cash prizes. Games are played with purchasable sweeps coins used as virtual currency, but these can still be exchanged for real money in a wide variety of ways.
When discussing sweepstakes poker, most people want to know about Global Poker, the most popular sweepstakes poker site in the US. So, is Global Poker legal in California?
Yes, completely. The site is legal throughout the overwhelming majority of the United States, with Washington State being the only exception.
Are Home Poker Games Legal in California?
Another legal form of poker in the Golden State is home poker games. However, there is one stipulation — everyone is free to host poker games at their home but they can't take a rake from the pots. In other words, it's illegal for people to earn money from hosting poker games.
Naturally, if you're hosting a game and playing, you can still win money from the game — you just can't take an organizer's fee.
Summary
As you can see, poker has a complicated relationship with the great state of California. Online poker is still not legal, but players are free to play it in offshore poker rooms and online casinos, if they wish to take such a risk on unregulated sites. You are also free to play poker on sweepstakes sites like Global Poker.
Land-based poker is legal, and you can play the game in several dozen brick-and-mortar casinos and poker rooms spread throughout California.
You can also organize poker nights with your friends, but make sure not to take an organizer's cut or fee, or you could get in trouble with the law.