Online gambling has made great strides over the last few years. What was a small niche industry has gained prominence to become one of the leading sub-sectors of the gambling world. The cut-throat competition in the online gaming industry has necessitated gambling platforms to employ new marketing strategies that appeal to players.
One of these creative strategies involves offering welcome incentives to new players. By registering an online gaming platform account, you will receive a wide range of free bets or cash bonuses. You can get free cash after making your initial deposit, free bets after staking a particular amount, or even free cash with no attached conditions.
However, you will be required to meet some wagering requirements in some instances before receiving these incentives.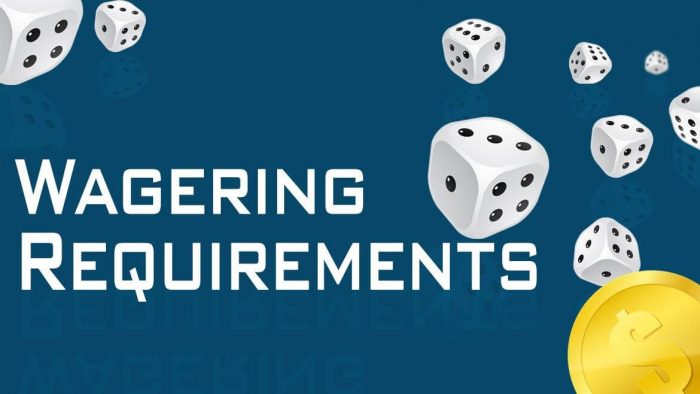 What are Wagering Requirements?
To understand what wagering requirements are, you need first to know what a wager is. It is the amount of money you stake in a casino game. It can also mean the amount of money you bet overall within a specific period or in a session.
Most online gaming platforms have wagering requirements to discourage players from taking advantage of casino bonuses. In most cases, they limit the number of times you can wager using your bonus before withdrawing your winnings. Although they vary depending on the online casino, wagering requirements usually range from 10x to 100x your bonus amount.
All bonuses offered by online casinos come with attached terms and conditions that you must fulfil to cash out the bonus money.
You must meet these requirements to reap the benefits of any promotion. The only time you don't have to fulfill wager requirements is if you claim the no wager bonuses listed at https://fruityslots.com/casino/bonus/no-wager/.
How Do Wagering Requirements Work?
Wagering requirements differ according to the bonus type. Therefore, you must understand how they work. Assuming that a casino offers you a bonus with a 20x wagering requirement, you will be obliged to wager your bonus amount twenty times to meet the wagering requirement.
If your bonus is in the form of free spins, the criteria you have to meet will be slightly different. All your winnings from the free spins will be subjected to your multiplier. You should also understand that your bonus will be a pre-determined number of free spins instead of a cash amount. The casino applies any cash winnings to the wagering obligation multiplier from these free spins.
Different Types of Wagering Requirements
1. Welcome Bonus Wagering Requirements
You will receive this bonus as a first deposit. Welcome bonuses usually have higher wagering obligations than other types of bonuses. Since the numbers can reach up to 100x, you must understand its terms and conditions.
2. Deposit Bonus Wagering Requirements
In most instances, deposit bonuses will match your initial deposit. The matching amount can be up to a certain amount depending on the online casino. For example, you could receive a 100% matching bonus of up to $200. Depending on your betting budget, finding the lowest possible figures is always best, as deposit bonuses can be very costly.
3. Free Spins Wagering Requirements
The wagering requirements for free spins refer to the sum of your accumulated winnings. You will be obliged to stake the bonus amount you generate from your free spins the number of times indicated by the wagering requirement. However, you may also be required to wager your deposit and winnings from the free spins.
What are the Benefits of Understanding Wagering Requirements?
Helps You Understand How to Calculate Your Wagering Requirements
Calculating wagering requirements is relatively easy since there is a simple formula to follow.
Bonus Amount x Wagering Requirement = Total Bet
For example, you deposit $100 to your online betting account, get a deposit bonus of $100, and your wagering requirement is 30x. The formula would be: $100 x 30 = $3000.
Some casinos offer 'sticky bonuses, ' meaning that your deposit is also added to the wagering requirements. Therefore, the formula will be as follows:
Bonus Amount + Initial Deposit x Wagering Requirement = Total Bet
Although you may think these numbers are high, it is easy to meet them. The best way to do this is by using the winnings from the bonus amount to place bets. It can help you beat the wagering requirements and have some balance at the end.
Determine How Wagers Differ According to the Game Played
Most online players don't know that not all wagers on games contribute fully to the fulfilment of the wagering requirements. It would help if you were careful when using some of the skills you've acquired by way of the best poker training sites to fulfil these requirements, as table games only account for between 10% and 20%. Also, some online gaming platforms do not allow wagers on certain games.
Slots will help you meet the wagering obligations much faster. However, it would help if you kept in mind that not all slots are equal. Therefore, it is essential to consider the game's return to player (RTP) percentage and variance. Although games with a low RTP and high variance don't pay out often, your winnings will be significantly higher.
Understand that Some Wagering Requirements have Time Limits
It is a common misconception that time limits are only applicable when claiming and cashing in on bonuses. However, you risk voiding your bonus and sometimes any winnings you generate from them if you fail to fulfil the wagering obligations within the stipulated period.
Since these requirements mean betting with a large sum of money, you have to race against time to complete them. Time limits vary according to the online platform you are playing on. While others can allow you a whole month, some give you a week or even a day in some cases.
Understand that Maximum Bets Can Prolong Fulfilling the Requirements
You will notice that you can only wager a particular amount each game using your bonus funds. For example, if your bonus amount is $5, you will be restricted to bet a maximum of $5 per spin when playing online slots.
Although maximum bets don't affect your odds of winning, they could prolong the time taken to meet the obligations. Therefore, it is vital to read the terms and conditions of online casino bonuses.