The game of poker can be an extremely unique pastime or profession – as it includes a blend of gaming, card playing, competition, poker strategy, gambling, skill-based monetary rewards, and leisure-based entertainment. However, poker addiction is a term that is most often correlated with real money gambling, while the other facets of the game may get overlooked by treatment professionals or, due to one's personal circumstance, may not receive the high priority that the "gambling" element does.
In this article, we will discuss poker addiction, its relation to gaming, and the resources available to individuals who may be seeking help.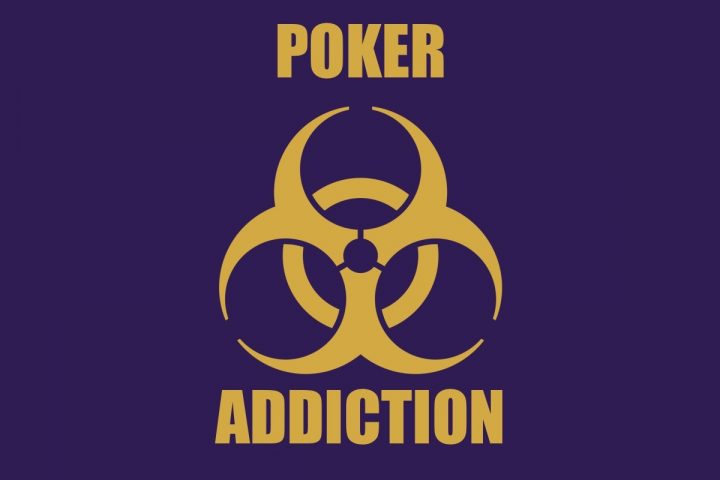 Free Assistance For Gambling Addiction, Problem Gambling
If you or someone you know is suffering from gambling addiction, there are qualified professionals who you can talk to via helplines and community resources that vary per jurisdiction. These services are typically available around the clock and are free to use.
In the United States, you or someone you know who has a gambling problem can call toll-free 1-800-GAMBLER and/or contact the National Council on Problem Gambling at 1800gamblerchat.org for live chat services at no cost.
Poker Addiction and Gaming
In a live setting, poker is typically played in a casino, card room, or third-party location for home games – and requires props such as playing cards, chips, a table with seating, a dealer, and multiple human competitors to satisfy the basic elements of a "game."
Online, a player will need an internet connection, a personal computer or mobile device, an account with the poker operator, real money or "play money" tokens, a player pool interested in competing at the stipulated stakes and format, plus accompanying digital props (software) before a poker game can commence.
The "bringing together" of these elements – typically performed by a host, casino, card room, or online poker room operator – results in an enticing gameplay "bubble" that cannot otherwise be replicated.
For the duration of the game one participates in, a player can "escape from" or "override" societal pressures, personal insecurities, or external responsibilities due to the organized, intimate composition of a poker game. This circumstance in itself can manifest into a number of positive or negative outcomes – one being poker addiction.
Recognizing when one has become afflicted with poker addiction can be a process that includes measuring one's actual enjoyment (or lack thereof) of the activity, while overcoming habitual obsession with poker may require outside assistance, personal reflection, and seeking out other activities that are more fulfilling to the individual than actual poker play.
Regardless, poker is a gaming activity that, in many cases, also includes "gambling," which can add a variable to typical card/video/board games that can become unwieldy if not properly identified and taken into account.
Resources for Poker Gambling & Bankroll Management
Bankroll Management resources have been published in physical books and online for decades, and make up a tremendous database for personal study and implementation.
A person suffering from poker addiction (in which real money wagering is involved) currently enjoys a well-researched choice of literature ranging from physical books and printed material to digital software, specialized forum content, social media outreach, and multimedia guides with highly relatable, real-world examples.
Due to the skill-based aspect of poker (along with how this will vary depending on not only one's own skill but that of the individual's opponents, rake rates, and other expenses), deciphering one's win/loss rate will be key when determining the stakes a player should participate in as far as bankroll management goes.
Poker, Table, and Casino Games Only Form a Part of "Gaming" Activities
Despite the common use of the term "gaming" by U.S. statewide and other regulatory jurisdictions who mainly oversee gambling activities, gaming includes a wide array of leisure activities that do not include real money wagering.
READ MORE: A State-by-State Guide to the Legal Poker Age in the United States
Gaming addiction and poker addiction may be two separate concepts due to the real money aspect of poker compared to other Player versus Player (PvP) activities.
Although real money has long since been introduced into the "competitive" environment found in massively popular video games such as League of Legends, Call of Duty, Madden NFL, Age of Empires, Fortnite (among others), the "gambling" concept doesn't really play a factor until a certain, relatively high skill level is achieved.
In poker, small dollar stakes are routinely available at brick and mortar establishments while "penny" games can be played online 24 hours per day. There are even poker sites that offer tournaments for as little as a $0.01 USD entry fee – or "freeroll" events that can be entered into as long as the poker players fulfills the online company's prerequisites for entry.
How To Beat Gambling Addiction
It's worth repeating that there are licensed, professional services available that can help you beat gambling addiction, or at the very least assist you with resources that can put you on a more positive life track in which gambling habits do not become overbearing.
One way some poker players have combated their own gambling addiction is through skill-based improvement – which in turn can decrease one's loss rate or, in the case of professionals, enable an individual to actually have a positive expectation of making money when competing at the tables.
With that said, there are a number of factors that might go into turning an addiction into a profession that can require an enormous amount of study, game format specialization, and table selection.
Attempting to actually learn how to play poker or "go pro" is something that is not typically recommended as a solution to a gambling addiction – although there have likely been at least some successful cases over the past few decades of this being the case. However, the poker world is also filled with tales of positive expectation (aka "winning") poker players heading to casino pit games following a big win, only to lose their poker bankrolls (and then some) due to some form of gambling addiction.
If an individual outright needs another activity to "replace" a gambling addiction (again, this is not something that is recommended without the guidance of a licensed professional), then there may be other games that can be studied, enjoyed, and serve as a "time sink" without the element of real money wagering.
How To Quit Poker Addiction
If poker addiction has become something you are interested in quitting, then there may be a few steps that you can take in order to occupy your free time with other activities. However, many of the "time sink" options you will find available to you include some form of "gaming."
If it's actual "poker" addiction you're dealing with (instead of "gambling" addiction), then studying the game, consulting free and/or premium resources, plus spending your time talking about poker (rather than playing) may help decrease the time you're spending at the tables.
If you're looking to get out of the poker world entirely, then you may want to seek out community groups in which you share an interest and become involved. Some of the choices available to you include volunteering, online courses, in-person gatherings, or even physical sports.
Perhaps one idea would be to isolate the elements of poker that you find "addicting," then follow-up to see which exterior activities might satisfy that personal need.
Do you find the Player vs. Player component of poker to be super-addicting? In a way that keeps you at the tables when you would rather be spending your time doing something else? If so, then traditional sports and video games will likewise provide that component?
Is it being around a group, socializing, and having a good time that you find most addicting? If so, then perhaps social groups, volunteering, or seeking out a profession that allows you to work in a team can be the answer.
However, keep in mind that if the "gambling" component of poker is what you believe you are most addicted to, then professional counseling or community services that are directly geared towards assisting with gambling addiction may be your best choice.
Poker Addiction and the Author: A Personal Story
The following biographical information is aimed at providing a relatable story to readers in terms of poker addiction.
I first got into poker online, in Q3 of 2004 and quickly became addicted to not only the PvP aspect of the game, but also the real money wagering element of it.
Fortunately for me, it only required around $700 in real money deposits before I was able to begin turning a profit in low stakes games at online poker sites like PokerStars, mainly through a primitive, rudimentary "fold-to-win" strategy (defined at the time as "weak-tight") that just happened to be profitable during the early peak years of online poker.
Through a combination of overly-loose opponents, rakeback that was awarded not through individual contribution but divided equally among participants per table, and an enormous amount of time invested in playing, I was able to sustain a modest full-time living from online poker from 2005-2007.
In all, I played well over 1,000,000 hands of online poker during that time, and was VERY fortunate to find myself in mostly positive-expectation games without putting much effort into actually studying the game. This also justified my own "poker addiction" since I was slightly profitable during the 80+ hours per week I was playing.
With that said, the competition soon caught up to me, and it wasn't long before I found my expectation dwindling towards zero in games that I had previously been able to comfortably win at. This was a combination of opponents getting better and not progressing my own play.
By late 2007, it became obvious to me that, within months or sooner, I would no longer have a positive expectation in the low stakes games I was playing online – meaning it wouldn't be long before poker once again became a "gambling" activity for me personally (as opposed to a way to make a living).
So luckily by this time, I had already seen more than a fair share of hands online (although 1 million hands total is NOTHING compared to some of the players who arrived on the scene in the mid-2000s), and had begun yearning for other possibilities that didn't involve playing in dozens of "SNG" and "MTT" tournaments per day. I was very fortunate to find a position within the poker industry at that time, and that kept me involved in the poker world until April 2011.
Although my story may be somewhat common among fold-to-win online poker grinders from the mid-2000s, I was able to stop playing poker at a moment in time which allowed me to still have made more money from the game than I had lost. This is something that some players who were far more talented than myself were not able to do, as they may have stayed in the game longer and increased their stakes rather than reducing stake amounts and/or retiring.
Poker Addiction Summary
If poker addiction is something you are suffering from, then you may want to seek out some of the following resources:
Professional help for gambling issues and/or community organizations
Free and premium poker training material that can be found on forums, in books, social media, specialized websites, and on platforms such as YouTube
Communities of like-minded individuals who have found a way to successfully deal with their own poker addiction
Poker addiction, especially when it includes an element of real money gambling, can become a serious issue if not identified and appropriately treated.
If you or someone you know has a gambling problem, there are helplines that operate 24 hours per day in multiple jurisdictions around the world.
In the United States, you can call 1-800-GAMBLER toll-free and/or use the National Council on Problem Gambling's live chat by visiting 1800gamblerchat.org. Your calls and/or chats will be confidential, and you will be able to speak to qualified professionals who have experience dealing with problem gambling activities.