People might not know that many poker players are very passionate about betting, but it is not hard to see why it could be the case.
First of all, it is clear that poker players are very competitive in general, and we have seen quite a few intriguing prop bets over the years. On top of that, many of them are also sports fans and combined with the fact that betting actually has quite a few things in common with poker, it is not a surprise to see many players showing interest in it.
To break this down even further, I covered the top five reasons why poker players love sports betting.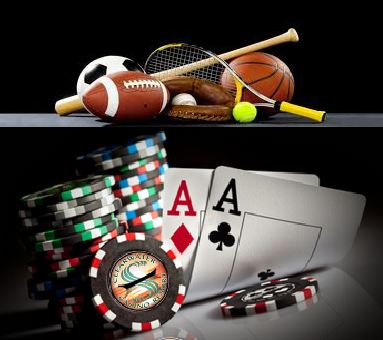 5. Poker Players Like Risk
It's no secret that poker is one of the coolest games and that poker players often put large amounts of money on the line to beat their opponents. Moreover, you can say that the best poker players make a living by knowing when and how big a risk to take.
This unique skill perfectly translates to sports betting and makes this activity so fun for poker players. While they don't need to take as significant risks as they do when playing poker, there's still no such thing as risk-free sports betting. This element makes sports betting a great hobby for poker players since they still get that rush of risk just by placing a wager.
4. Bankroll Management Plays a Great Role
Successful poker players understand that proper bankroll management plays a massive role in long-term profitability. Losing streaks are as inevitable as winning ones, and the only way to ride through them is to be prepared and know what to do when they come. With that in mind, this aspect isn't so significantly different in sports betting.
While casual sports bettors might find it tedious to keep track of their spending habits when betting, this comes naturally for poker players. What's more, for poker players that have mastered this skill, keeping track of a bankroll and managing it can be an enjoyable and rewarding task.
You questioned my critical thinking and my critical thinking skills built up a bankroll unit by unit into the 100s of millions. So on this topic, ya I'm probably a better critical thinker than you. I'm also probably richer than you. Sorry.

— Haralabos Voulgaris (@haralabob) November 5, 2021
3. Sports Betting Requires Strategy
There's no arguing that betting on sports requires a good understanding of math and strategy. And, when it comes to this, no other type of player is as good at these aspects as a skilled poker player. Experienced poker pros have trained their minds to be analytical, observant, and analyze any piece of available data they're presented with.
Sports betting strategies seem like a great way to keep the mind active but not as strained for players who spend several hours every day reading other players, bluffing, and betting big money.
Applying their poker skills to sports betting when weighing the odds and potential payouts makes poker players great at it and keep them amused while watching their favorite games. If you are not sure how these correlate, make sure to read the betting guide to learn more.
2. Sports Betting Great Long-term Potential
In addition to the three reasons mentioned above that play a significant role in why poker players love sports betting, this activity also offers excellent long-term potential. Poker players generally have a very different mindset from all other gamblers.
More specifically, they focus on the long run and don't mind short-term wins and losses unless these results are really substantial. This trait allows poker players to adapt to sports betting very easily since they have a great understanding of variance.
They don't get disheartened by the lows of losing sports bets and know how to appreciate and handle the highs of it. Unburdened by such aspects, poker players can enjoy the purity of sports betting in the long run while remaining profitable.
1. Sports Betting Is Fun and Exciting
Poker is arguably one of the most exciting games you can play, especially when there's big money on the line. That said, betting on sports can be as equally thrilling.
This is primarily because betting on sports requires extensive prior knowledge and love for the game itself, much like poker. Before you can make an educated sports bet, you need to do some homework, do your research, follow the recent games and results, know valuable updates, and understand common sports trends.
Apart from this aspect, poker players who are passionate about a particular sport take even greater pleasure in betting, making it more engaging and interesting to watch. Not only this, but when you're passionate about something you're betting on, you put extra effort into making sure you're good at it. This is where poker players thrive.