Finding local poker games at a new location isn't always easy. Whether you've recently moved to a new city or traveling to play poker, you want an easy way to find the best places to play.
In this article, I will briefly explain the top 3 ways to find poker games near you. Using these methods, you won't just save a lot of time but you will also be able to find the best venues and games you want to play.
Mobile Apps for Local Poker Games
In this day and age, technology offers a lot of help in all walks of life, and poker is no exception. You can find several mobile apps, such as Poker Atlas, which offer an easy way to find local poker games in many towns around the world.
These apps are completely free and very easy to use. You simply install them on your phone and search by the name or the zip code of the city you're currently in or plan to visit.
You can even list all the available cash games and upcoming tournaments and browse through them. You'll get plenty of information about starting times, buy-ins, structures, rake, any special rules like straddles, and some rooms will even let you get your name on the waiting list straight from the app. If you're in Europe, the Pokerlist app is particularly useful.
If you want to get even more info about a particular venue, you can check out player reviews. These comments will tell you more about what other players are like, how competent and friendly the dealers and staff are, if there are free things on offer, etc.
Mobile apps are becoming the best solution for finding local games, and they're bound to become even better with time.
So, if you often travel to play poker or want to have the info about the nearest games always available to you, you should get one of these apps. While Poker Atlas is a great option for finding cash games, if you play tournaments, you should also check Bravo Poker Live App.
If you're not in the mood to visit a casino or poker room, then perhaps a home game may be just the thing to lift your spirits. The Meetup platform is available both via desktop or mobile device and is full of thousands of home game listings. Certainly worth checking out.
Local Casino Sites / Social Media Pages
Usually, you will be able to find casinos that operate in a particular city quite quickly. Once you have the names, you can use Google to find their websites and check out the pertinent information. With that said, there are often some smaller venues aren't that diligent about updating their sites. As such, you might have more luck checking out their social media channels, for example. While many casinos don't have a staff member to update their websites with new info regularly, they'll usually have someone dedicated to maintaining their Facebook page or Twitter feed.
Some rooms will even post every day about the games currently running and announce any upcoming tournaments ahead of time. You'll usually be able to get in touch with someone from the casino through the page (either using the chat or the listed phone number) if you need any additional information or want to reserve a seat.
The bottom line is, don't get discouraged if you notice the casino or poker room website hasn't been updated in a while.
This isn't all that uncommon, but a majority of them do a much better job on their Facebook and Twitter profiles, so try to find those. Also, most sites will at least give you a phone number you can call, so if you can't find any other information available, give them a ring and ask about their poker offerings.
Hendon Mob Tournament Directory
If you're more interested in playing bigger tournament series, then you should check out the Hendon Mob's Tournament Directory. This is the ultimate resource for many major events across the globe and will provide you with a lot of information about upcoming and currently ongoing events.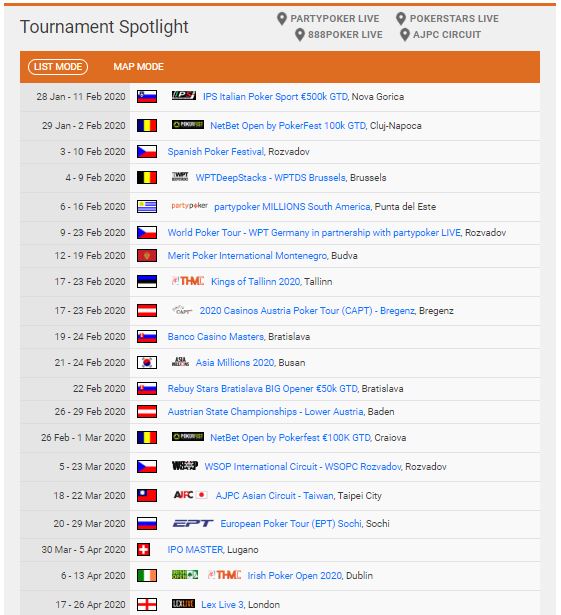 For every series listed on the site, you'll find the full overview of all tournaments, with venues, buy-ins, starting times, and the note if the event counts for the GPI Player of the Year race or not.
So, if you're into poker tournaments and want to plan ahead of time, this is probably a resource you want to use.
So there you have it. three great ways to find all the live poker information you could ever possibly need!