"Thank you so much for being here."
"You're so sweet for coming today; thank you."
"I'm so grateful you came!"
"So nice of you to come. It means the world to me!"
One after another, Maria Ho, Lupe Soto, Linda Johnson, Jan Fisher, and a handful of other legendary ladies of poker thanked me for having attended the 2018 Women in Poker Hall of Fame induction ceremony. Time and time again, I was struck dumbfounded, wondering why on earth I was deserving of any sort of thanks. I was fortunate enough to be in Las Vegas on the day of the ceremony, so how could I have NOT attended?! To me, it's a no-brainer.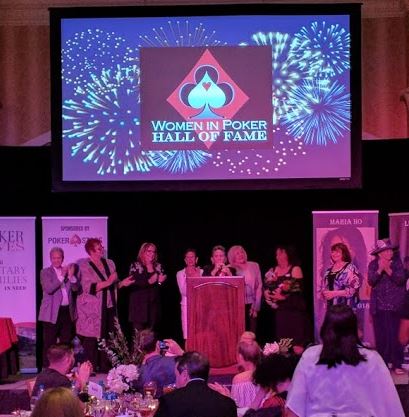 Getting more women into poker has been on our industry's agenda for years, now. We all know the oft-repeated statistic: a historically male-dominated game, poker tournaments tend to boast a paltry 5% female participation rate, with female cash game attendance reflecting a mere couple of percentage points higher than that.
We long for the "glory days" of the poker boom, but we've systematically failed to successfully tap into a potential player pool amounting to half the general population! Dare I suggest that it's finally time that initiatives to bring more women into poker ought to be made a priority #1 item on the industry's collective agenda.
READ MORE: Why Don't More Women Play Poker? Leading Poker Ladies Unite for Change
Trailblazers
And yet, somehow we've at least managed to reach this point. For women to have made any sort of inroads into such a heavily male-dominated game in the first place requires moxie. It takes guts, determination, and intestinal fortitude; traits shared by each and every member of the Women in Poker Hall of Fame.
Listening to Ho and Soto, the newest WiPHoF inductees, deliver their speeches was deeply stirring.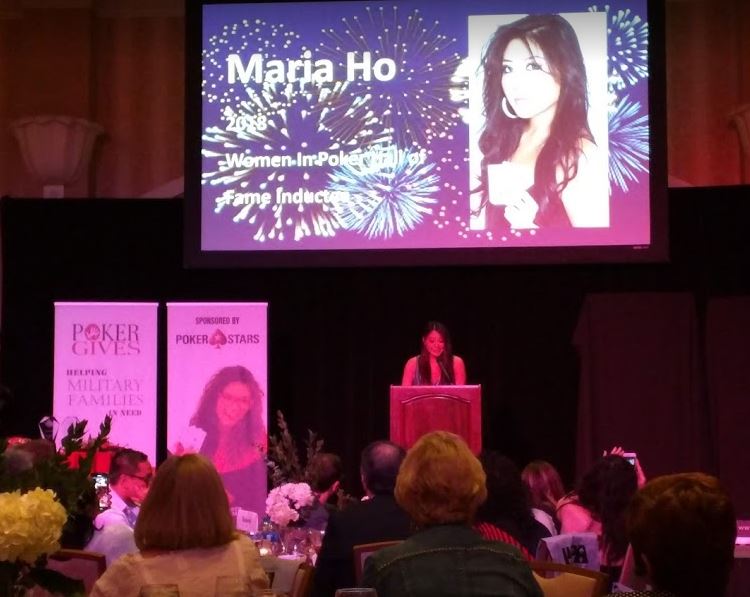 Maria spoke of her main motivation for working so hard over her decade-plus in poker: She couldn't stand hearing "No girls allowed." Knowing smiles crossed the faces of the assembled crowd, nearly 200 strong.
How bittersweet.
We understood exactly the type of adversity she had to face on her road to becoming one of poker's great success stories. Exuding power and grace while speaking, it was obvious to all that Maria was deserving of WiPHoF distinction already at age 35, for it's precisely those qualities that have carried her to the game's heights both as a player as well as on the industry side.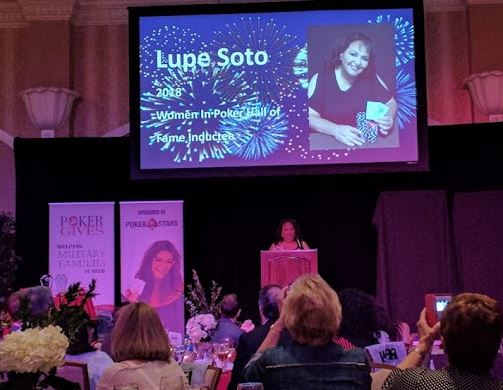 Hearing Lupe tell the tales of sitting in casino lobbies for hours on end just to get meetings with management to try and convince them to host ladies tournaments was radiantly heartbreaking. Two decades of fierce advocacy for women in poker were finally being dutifully recognized. If not for her work, even 5% female participation rates might still be a pipe dream.
The event was a rare occasion to see poker players – always so well-trained to be tough and aggressive at the tables – let their guard down and open up to share their gratitude. I believe Lupe captured the moment perfectly, saying that "It's not happy people who are thankful; it's thankful people who are happy. Today, I'm the happiest I've been in my entire life."
A Keynote to Remember
Not to be overlooked was the excellent keynote speech by renowned tournament director  Matt Savage. Wearing his heart on his sleeve, he spoke passionately about the need for men to conduct themselves better, to stand up for women. "We're all brothers and sisters in this together, and can't allow abusive behavior to happen!" he boomed. But perhaps the most moving, beautiful, and touching moment of his speech was when Matt shared that "I brought my daughter Rizaann here so that she could be inspired by such amazing, accomplished women."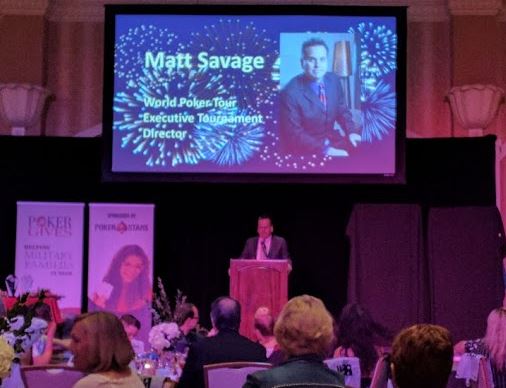 It's said that actions speak louder than words, so kudos to Matt for "voting with his feet," as it were, and demonstrating to us all how it ought to be done. Not only showing up to attend, but manifestly exposing new women to just how great of a game poker can be.
Looking Towards the Future
As the founder of the Women in Poker Hall of Fame, Lupe also took some time during her induction speech to share a new, exciting development, namely that the Women's Poker Association (WPA) will begin working with poker rooms around the United States to issue official "female friendly" certifications. An initiative of this nature is sure to be quickly embraced by leading rooms around the country, so much so that Aria "Poker Boss" Sean McCormack, also in attendance, told me that he wanted to make sure he'd be "first in line."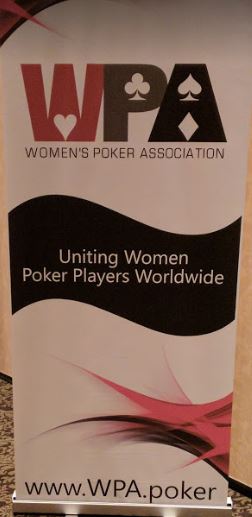 Multiple sponsors, including PokerStars, 888poker, Card Player Cruises, Violette's Vegan, and The Poker Depot, stepped up to help cover the costs of the 2018 WiPHoF ceremony, and it was announced that the World Poker Tour is set to become a new sponsor as well in the immediate future. This is great news, and I hope to see additional well-respected poker organizations make the effort to show their support in the coming years.
It's one thing to wish that more women were playing poker and involved in the industry, but it's quite another to take the next step and invest the time, effort, and resources necessary into trying to make those wishes become a reality.
Event emcee Jan Fisher asked at some point towards the end of the ceremony "so, are you guys ready for 2020 yet?" The year was a nod the next time a WiPHoF induction ceremony is scheduled to be held, and as I heard Jan ask the question, I couldn't help but think what a shame it is that it's a biannual and not yearly event. Maybe there's an ace up Lupe's sleeve and she'll surprise us with some more great news in this regard before too long.
A Truly Special Experience
Since the event ended, I've been being asked repeatedly "did you enjoy yourself?"
After reflecting upon it, I think that "enjoy" is the wrong word. This wasn't a show. We weren't there to be entertained. We were there to acknowledge greatness. We showed up to take part in something special. We showed up because it's an honor and privilege to be able to attend events like these.
More people need to start showing up.
So, to all you wonderful ladies of the poker world, respectfully, I think you've got it the wrong way around. Thank YOU for all you've done thus far! Thank YOU for inspiring the rest of us to try and do better from now on.