In my latest monthly newsletter, I announced a contest whereby I'd be gifting $100 to an individual who shared with me a positive story of something that went right for them in 2020.
Here's what I wrote in the newsletter: "While 2020 has certainly earned itself the moniker of 'a year that nobody wants to repeat,' I'm choosing to look on the bright side at some of the good things that have happened. As rough as 2020 has been for you, I'm absolutely positive that there are some things that have gone right, too. Focusing on that leads to optimism, internal happiness, and ultimately outward happiness."
With last year having been for so many people quite simply a year they'd rather forget, I nonetheless felt it would be a uniquely uplifting experience for people to reflect on some of the good things that may have happened for them. I received a total of 20 responses, each of which told a unique story that made me smile. There were no major outliers like someone winning an online lotto, or anything like that. That said, the responses did run the full demographic spectrum: men and women of all ages and backgrounds from multiple places across the globe sent in some really beautiful stories.
I've decided to select half a dozen of the truly special ones (the winning story included) and am publishing them below with permission, sans any identifying information of course. The world could surely use as much positivity as possible right now, and I'm grateful we have such a wonderful poker community to share these great stories with. I hope the stories warm your heart as they have mine.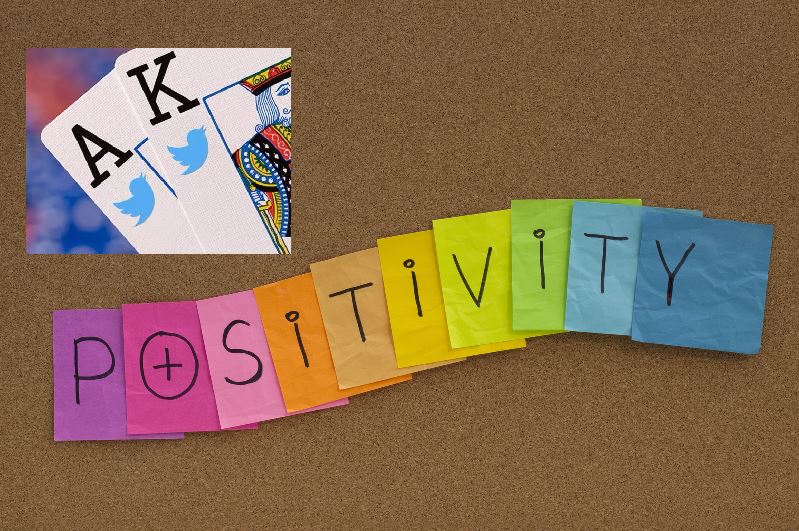 For Mama
2020 was obviously a difficult year for all of us, but I was very fortunate to not have my job affected by the pandemic. Because of this, I was able to take care of my Mom from my house instead of having her in a nursing home. It's been very stressful because no one will put her in assisted living either due to Covid. I am spending a lot of money out of pocket to pay for home health.
One thing that has been a nice break from taking care of her has been playing online poker. Very low stakes, but still fun and sometimes profitable 😁.
Personal Growth
I have been reflecting on 2020 recently and feel very lucky and fortunate to say that it was one of the biggest years of growth for me. I have been afraid to share these positive outcomes beyond a couple close friends in fear of appearing perhaps selfish and lacking sympathy for all the bad and suffering that has also come for many this year. So, thank you for providing a safe space for us to reflect and celebrate our wins.
What's gone right for me in 2020:
My family and I are in good health.
I started listening to and prioritizing my needs.

I set boundaries with family and friends.
I can say 'no' now, and am getting pretty good at it!
I am more selective of to where and to whom my time and energy goes.
I realized my living environment was causing me stress, and moved to a quiet space of my own. My mind now feels free.
I realized exercise is the foundation of my life's momentum so I prioritized time for exercise above all else.
I made eating healthier meals a priority and did a lot more cooking at home.
I made time to get outdoors more and have discovered a lot of new hiking and fishing spots.

Socially:

I found a new sport to enjoy: pickleball!
I made a new friend who I connect very deeply with and I adore.
I have kept in touch and even become closer with a few out-of-state friends via text and Zoom.
I have found a new small group of poker people to hang out online with, which has been an easy way to relax and socialize from home.
I have become closer to my family.

Poker:

I feel fortunate I had a network already established to be able to transition from live poker to app games when casinos shut down.
I moved up in stakes
I have gained some confidence (although this feels like a rollercoaster, it appears to have an upwards trajectory)
I feel like my theoretical curiosity and understanding are both constantly growing.
After taking this year to remove so many stressors, my mind feels free, and I am no longer just satisfied coasting through the day. I am eager for growth and challenges. I am not sure what this means for me yet, but the spark, drive and motivation are all back.
Happiness and Good Health
I guess what went right for me in 2020 wasn't much of a personal achievement but it felt like a miracle, purely because so many people didn't have it happen for them. In a year devastated by COVID-19, I think the best thing that happened to me was that somehow all four children in my care in any way are happy and healthy and head into 2021 with a roof over their heads.
We had a few worries along the way, illness and injury, sadness and frustration at the collapse of education, but we educated them at home, we kept them on the straight and narrow and by Christmas were able to provide a few happy memories for them; in years to come, I hope that they talk of this time of a special Christmas, maybe even the year. As a society, we often look back of periods of great suffering or hardship with pride – the war, a recession, episodes of tragedy such as 9/11, they can reboot families, stir a drive for peace and happiness within people and I hope that what comes out of the global pandemic we're living through is a new era of togetherness, kindness and appreciation. Those are qualities we all need to pass onto our children and if that happens, then it'll be something positive that came from 2020 that can last into the next decade and hopefully beyond.
Retirement Benefits
I can think of three things that made 2020 less sucky for me personally. The first is that my wife retired in December of 2019. And even though her first year of not working in over 40 years turned out to be the year of a global pandemic, she took it in stride and began baking, crocheting, and doing other crafty things that she always wanted to do. It's been a blessing seeing her relaxed and enjoying life and I'm looking forward to two years from now when I plan to retire also.
The second positive from last year was the feeling I got while donating all the tournament buy-ins that I would have spent to various charities. I decided to do that back in May and plan on continuing it through this year until live tourneys start up again. Granted, it's not a ton of money but at least a needy cause can put it to work accomplishing their goals.
Lastly, and somewhat selfish, was that back in mid-March I finally went through the Maryland motorcycle safety course and got my motorcycle license at 59 years old. This is something I've always wanted to do and was lucky since the class I attended was the last offered due to rising COVID-19 concerns at that time. I also bought a new Harley and it was delivered to my house in late March. I've really enjoyed getting comfortable riding the bike around during the past year. Since most folks were staying home and off the road, it gave me a chance to ride more open roads than I ever could have.
A Full House
2020 was an amazing year for my household if not for one reason alone. We purchased our forever home here in Ohio! I thought I was going to hate it but it has brought so much love and shared memories for me and my wonderful family. My older step-daughter and younger daughter spent their entire childhoods growing up in apartments. Sharing rooms, sharing a bathroom, trying to constantly not strangle one another in tight quarters. Then we added a third daughter, so, yea, four women and me… IT WAS HARD!
Now my girls have a loft with a movie room for us to have movie nights. We have a play area full of kid toys to stimulate the mind and help the little one grow into a beautifully talented woman. We have a sunroom where the piano sits. My middle daughter gets to rock out with her headphones there often. My oldest doesn't have to share a sink anymore. My wife has her dream kitchen where she gets to cook/bake in comfort. Me? I have a beautiful office I get to escape to here and there. We all enjoy the front porch more than anything.
There isn't much else that was considered good. My wife is an emergency room nurse. My work/passion clearly disrupted by the pandemic often as it has been most of my friends. Kids seeing less of their friends because of lockdowns. HOWEVER… with family and our new home it has been perfect and I wouldn't change it for the world. Everything works out when and how it is supposed to.
Prepping for a Bright Future
In 2020 I:
Got my first WSOP cash which led to me being added to The Hendon Mob website
Decided I would like to be a lawyer and wrote the LSAT, followed by applying to Law schools
Got my first university semester with a perfect 4.0 GPA (I am currently in my fourth year of University)
Was able to stay in a long-distance relationship with my girlfriend as she lived in Europe for 4 months
Had my first "large" (relatively) poker cash
Was able to visit my grandparents and cousins in the summer who live in Quebec
Starting managing my personal finances and created investment accounts
Re-found my love for tennis and started playing weekly again
Started the process of creating my own poker related social media sites: Twitch, YouTube, Tiktok, Twitter, Instagram
Making Lemonade Out of Lemons
For starters, I really appreciate someone wanting to know the positive things that have happened in 2020 as opposed to the negative…
2020 was a pretty miserable year for a lot of people including myself but there were also bright spots.
I lost my job due to the pandemic but I found a new one that I like much better.
I was also awarded full custody of my 8 year old son which is a huge feat for a single father but I persevered. We are happier than ever.
And in the last part of 2020 I have reconnected with 'the one who got away' when we were young and not ready for each other yet. We are now together again, soulmates, and also happier than ever. And she is amazing with my son and has given him a strong female to look up to and we are also able to show him what a loving relationship looks like.
2020 was also the year I got my first online poker tournament win. And it felt really good to break that barrier.
Click here to subscribe to the Cardplayer Lifestyle monthly newsletter.