Over the last couple of years, the poker space has been inundated with various GTO (game theory optimal) and solver apps meant to help players improve and stay sharp with their ranges and play. Red Chip Poker's GTO Ranges app attempts to cut through the noise and keep things simple and easy to understand while still giving those who want a little more in-depth review the options and flexibility they need to review ranges.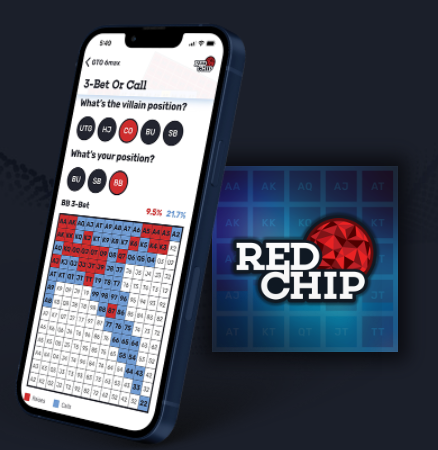 An App With a Full Range of Features
When you open the app, you come across a very simple screen with 6-max cash game ranges, full ring cash ranges and tournament ranges, along with a section where you can save your favorite scenarios for easy access. When you open one of the sections, for most scenarios, Red Chip Poker makes sure to differentiate GTO ranges from exploitative ranges, so that players can better see the difference between the two play styles. You then have different sections for open raising, 3-bet or call, isolating and 4-betting. I found that really helpful because a lot of what's already out there is opening ranges, but it's good to know the ranges for 4-betting from different positions when I don't have access to a solver.
One of the other great features this app has is color-coded ranges for some optional opens. In exploitative ranges, it gives you optional ranges as well as on occasion asks how your opponent has generally been playing, and then gives you a range based upon that feedback. Having the optional opens and getting to see what a mixed strategy looks like has allowed me to be more versatile at the tables and understand what happens on the very fringes of ranges, where I'm likely to make more mistakes.
A True Test of Skill
One of the main tests of how an app performs, however, is when someone who has little familiarity of the app uses it. My partner has been trying to learn poker, so I've been teaching her more about opening ranges and when to do what with certain hands and in certain positions. When we practice, I've had her use the Red Chip Poker GTO Ranges app to find the scenarios we were playing through, including opening ranges.
She was able to quickly pick the positions and clearly see what the ranges were. There was very little confusion and very little input needed on her part to get where she wanted to be, which is exactly what an inexperienced player or anyone needing to find a range quickly wants.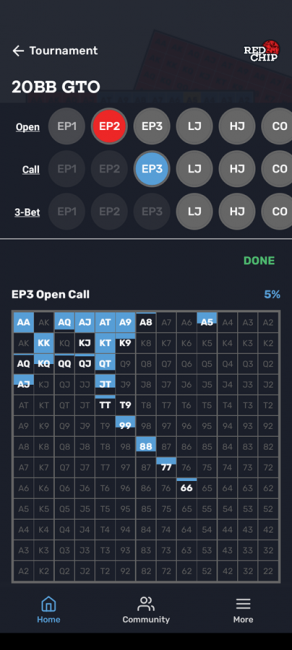 Some of the things that I would like to see further developed within the app down the line are some expanded tournament ranges at bigger stack depths, along with more specific ability to favorite ranges, down to the stack size and position. Then, you could have the spots where you make the most success easily accessible and put in even less input to get the information you need.
Overall, if you're looking for an easy-to-use yet expansive poker ranges app, Red Chip Poker's GTO Ranges app has what you need for off-table review or quick recall in stressful moments at the table. I'm excited to see how this app evolves as time goes on!
Click here to try the Red Chip Poker GTO Ranges app.