While attending the the 2017 PokerStars Championship Barcelona, I was able to get a look at the latest version of PokerStars' newest No Limit Hold'em Sit N'Go poker variant – Power Up. The game, which was released for an alpha test earlier this year and will soon be beta launched, represents the company's most ambitious attempt to date at reorienting Texas Hold'em towards 2017's recreational poker player and gamer.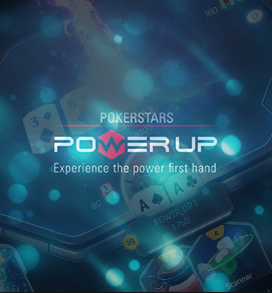 After speaking with the people spearheading the development process at the highest levels, including PokerStars Director Innovation and Operations Severin Rasset, one thing became very clear: Power Up represents an entirely new way of approaching the entertainment and gaming possibilities offered by No Limit Texas Hold'em.
Targeting Those Who Have Fallen Out of Love with Poker
The PokerStars team found its genesis idea for Power Up in the belief that many players are growing bored with poker and moving on to other forms of gaming. Internal research into its own player base showing that more than 40% of players simply do not find the game engaging anymore and are open to alternatives to the traditional poker experience only solidified that understanding.
Finding a way to bring these players back into the fold became a casus belli.
In thinking about how best to accomplish this, the product and innovation teams' thoughts wandered to the revolution currently going on across the gaming world generally. It's no secret that gamers' expectations are growing every day, and are largely focused on engaging graphics and immersive experiences.
That became the starting premise the team would work from, with the goal being to create a version of poker that could hold its own in an increasingly visual, narrative, and strategic-depth driven gaming space.
Such exciting times ahead, i can't wait to be able to play and show it to all of you ! ? #PowerUp by @PokerStars ! #HYPE https://t.co/YwF1x2WXBD

— ElkY (@elkypoker) February 16, 2017
Answering the Eternal Question: What if I Actually Wasn't the Most Unlucky Poker Player in the World?
No Limit Texas Hold'em is a game largely underscored and driven by narrative, with perhaps none being more iconic than the classic "bad beat" story. And when considering what lies at the heart of a bad beat narrative, PokerStars came up with two simple words: "What if?"
While certainly not all-encompassing, it's nevertheless a good insight that I admit had never crossed my mind before.
"Can you believe I got two outered? What if I had won that all-in with 10 players remaining? I would have shipped the tournament!
or:
"And AGAIN my kings got cracked! Can you imagine what would happen if an Ace didn't come on the flop every time I had pocket kings? I'd be rich!"
After zeroing in on this part of the game experience, it wasn't hard to make the next jump: how could we find a way to eliminate the "What if?" from Texas Hold'em Poker?
Looking to Maintain the Balance Between Skill and Fun
The answer came in the idea to offer players different "powers" that would empower them to "influence their destiny and give them the ability to change what happens during a poker hand."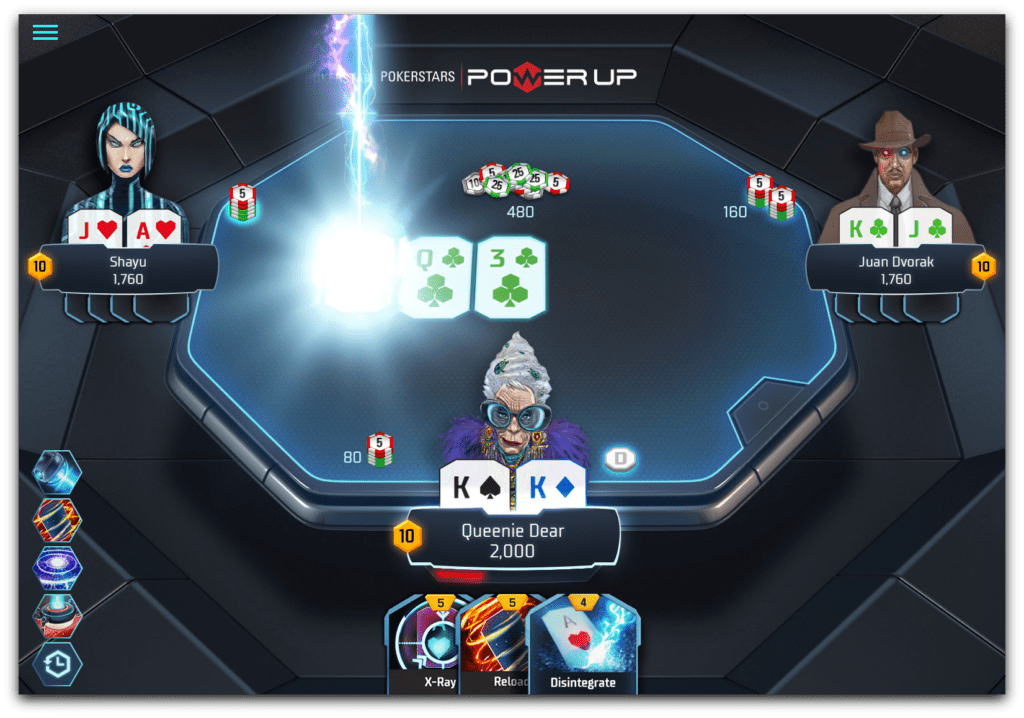 Around three years has gone into coming up with the different "powers," and reviewing and innovating them will always remain an ongoing process. The version of the game I test-drove featured nine of them, and included things like removing a community card from the board, seeing one of your opponent's hole cards, and seeing the top of the deck.
But while these powers are absolutely designed to fundamentally alter No Limit Texas Hold'em, the PokerStars team went to great lengths to emphasize that in their vision, Power Up's core remains fundamentally a poker game.
Most crucially, the fundamental rules of the game remain unchanged. It's a five-card game with the same betting rules; a flush still beats a straight; there is no "wild card" or anything resembling it added. But also, powers that were deemed too strong – internally known as "I win" powers – were excluded as well. For example, the idea of a "zombie" power that would allow a player to remove their cards from the muck after seeing a flop was quickly discarded (pun intended) since it would (mostly) only be used by a player when it would give them the nuts.
Ultimately, Chris Straghalis, Head of PokerStars' Product Team, stated it this way: "We want to give people more control, but we don't want to take them too far. We want to still keep the balance."
Great way to start the day – @PokerStars power up presentation with @elkypoker & @Liv_Boeree here at #PSCBarcelona ♠️? pic.twitter.com/blK1epkrdO

— Melanie Mo… (@MelanieMoser_) August 20, 2017
Ensuring Poker Remains Both Competitive and Fun
During the presentation, PokerStars emphasized that this concept of strategic depth was the other critical North Star in the development of Power Up. The idea that No Limit Texas Hold'em in its current form has been analyzed by some very smart and dedicated people for almost 15 years is clearly at the center of the thought process.
After noting that this intense analysis has created an ever-widening skill gap between advanced and recreational players, Chis Straghalis went on to explain that the inherent nature of "powers" meant they could also be used to fundamentally alter the game if it became too "solved," forcing all players to readapt:
"The idea with Power Up is to create an environment where the rules can constantly be changed, so the way to play the game will evolve over time and making a game that you need to constantly relearn because it's constantly changing," he said.
Presumably, this will allow Power Up to continually offer recreational players a more level playing field than they are currently experiencing with traditional No Limit Texas Hold'em.
Playing Power Up: My Thoughts and Impressions
Unfortunately, I only got to actually play Power Up for about 10 minutes, but my impression of it is that, if nothing else, the "powers" concept definitely delivers on its promise of adding a new element of strategic depth to the traditional No Limit Texas Hold'em Sit N' Go. In that respect, there is without a doubt an added element of fun and complexity for anyone who enjoys the strategy side of poker.
On the other hand, I did feel like the game failed to live up to the hype from a visual standpoint. The moments when a board card is blasted into smithereens, or the eerie glow of an x-ray machine reveals one of an opponent's hole card, are definitely neat, but I wouldn't call them "revolutionary."
So, when it comes to impressing purely recreational gamers, I assume the audio and visual impact PokerStars is going for will at best be met with a disinterested shrug. I don't blame the PokerStars team for this – their stated commitment to keeping Power Up fundamentally a poker game places limits on what they can do. And given those constraints, what they have done is impressive. I just think we are talking about a level of expectations from the modern gamer they are targeting being such that poker is incapable of meeting them.
And that brings me to my most fundamental thought surrounding Power Up.
Conclusion
There is no question the game is poker; there is also no question the game has elements of e-sport. But does it retain enough of each to attract both camps while alienating neither? I'm honestly not sure. Bottom line, Power Up is without a doubt well thought out, well designed, and a lot of fun to play. But I think it would be a fool's errand to speculate on what will happen when it's finally released to the world for real-money play.
I could see the game doing well with the e-sport community and growing poker as a whole. I could see it doing well with current or returning recreational players and by extension siphoning off some action from traditional poker. And I could also see it being a niche game with a small following that ultimately has little to no impact at all on the broader poker ecosystem.
What if we were able to combine poker and e-sport? We'll just have to wait a little bit longer to find out the answer.