The just-completed PokerStars EPT Barcelona series is a poker festival full of prestigious tournaments. Regarded by many as the start of the new poker calendar (after the World Series of Poker), EPT Barcelona is loaded with poker's best players, with plenty of big money to go around.
It's also, however, located in Barcelona, Spain, one of the top destination cities in the world. I sat down with a few of the Team PokerStars Pros, including Lex Veldhuis, Muskan Sethi, and Kalidou Sow to ask how they prepare for big events like EPT Barcelona, and how do they balance their poker-playing duties with non-poker activities in Barcelona. I picked up some interesting insights from speaking with them and I imagine some of their responses might even surprise you.
LEX VELDHUIS
You specialize in online tournament play; when you do play in a live tournament, how do you prepare and adjust for the live setting?
I think online is a little bit more technical. I think generally, live, you get a little bit more info, or feel for the table. Because you have the social angle, right? I could even mean where somebody's from, or how somebody sits down at the table, or how they talk to the dealer. You have so many more angles into live poker, that make it so much more specific every time, and situational.
Live, I go in with a much more blank face. Like I'll rely on my fundamental strategies, and go in as a blank canvas. Whereas online, if I play a $1k and I know it's going to be a tough SCOOP, this is the plan, this is what I'm going to do, and these are the spots that I'm not going to back down from. So I feel like online is a little bit more technical.
Have you found some time to relax here in Barcelona? If so, what are some of your favorite activities away from the poker table when you're in town for the European Poker Tour?
I've pretty much been doing interviews, and we played the awesome Chase Your Dream stuff. Honestly, that's one of my favorite things; to play a TV sit n go, against pros that will try their best. Because everybody play for pride, and really likes the dynamic when there's a qualifier involved.
Did you miss Gerard Piqué's huge bluff against @LexVeldhuis?

What about the cooler between @Patrik_Antonius and @brucebuffer?

Watch the top 5 hands from the Chase Your Dream invitational (also featuring @CMONEYMAKER and @Fatimademelo) here:https://t.co/R46xltlI98 pic.twitter.com/YYSjo5WdQT

— PokerStarsBlog (@PokerStarsBlog) August 29, 2019
The key thing for me with streaming is you hear people's stories, but they live through me because I'm a poker pro. But I live through them because they're grassroots! They have this image of poker that is just so wholesome and nice. They are motivated, and they want to learn it. You see that with qualifiers, too.
I haven't done much relaxing, but it's been a blast. I've had so much fun. I've met Bruce Buffer before but I've never really talked to him. I love UFC! I had so much fun with Patrik Antonius and Chris Moneymaker, too. It was a great table setting as well, so that was really nice.
Had I planned to stay here longer, I would have definitely ventured out in the city and see stuff. That's also a thing I never used to do. Play my tournament, done playing, OK cool. Drink, and hang out with friends. That's done, OK. Play online. Now it's just like, you're in Barcelona, go see it! You know?
MUSKAN SETHI
I've been seeing you in the poker room, playing a lot. Have you found any time to relax here in Barcelona, and if so what have you been doing non-poker-wise since you've been here?
I love Barcelona; this is, I swear, my favorite city. This is the first city I flew myself out of India to. The first time I flew myself out, on my own time, was when I won the PokerStars Shark Cage qualifier. It was a little bit of a sad phase in my life at that time. I was going through some personal issues; I had lost my mom. But when I got here, and I went on the beach I remember it was just so beautiful, the breeze and everything.
So I've explored the Gothic Quarter, I've explored Gatti's art everywhere, I'm a big fan of his architecture and beauty, and everything that Barcelona has to offer. And I am a beach lover, I'm always on the beach. In fact I want to give a compliment to the Barcelona beach, which I feel is like no other beach in the world.
If you walk during the sunset, or any kind of hour, you will find different groups of people sitting and doing amazing things. It doesn't cost money to have a good quality of life here. There's gym equipment all over the beach, so people can actually go and work out on the beach, which I've never seen anywhere. And also, imagine that view, wow! I would never join a gym if I lived in Barcelona, I would go and work out on the beach.
🏝 #sunset #EPTBarcelona #Eptdiaries pic.twitter.com/yFeIsWCjU1

— Muskan Sethi (@muskaansethi) August 25, 2019

Then if you walk a few more steps you'll see a meditation group, a few more steps ahead people sitting and making music. People dancing, people playing ball, every sort of sport. It's a really beautiful environment. Even at night, if you walk the streets, you suddenly see 50 couples doing salsa, on the beach, out of nowhere. It's just like salsa night or something.
The city, the culture here is top notch. I love it; everyone's happy. They have their siestas, which I've never seen in my own country. I honestly was playing a lot on this trip, but on earlier trips I've had time to explore. I've done segway tours, I've done a lot.
This time in Barcelona I was busy playing, but now I'm free, and I'm heading straight to the beach. I'm going to be doing some meditation, and just focus and take in this beautiful view. Because I'm actually going back to India now, and I'm going to be there for a while, until next summer.
KALIDOU SOW
What does a typical day at EPT Barcelona look like in the life of Kalidou Sow?
I wake up and go running, and after running I go to eat my breakfast. After that I take a 30- to 45-minute nap to relax. Then I come back and I start my day. I'm very focused. Every break I go to my room and relax. I don't like to stay around a lot of people because I need to be focused.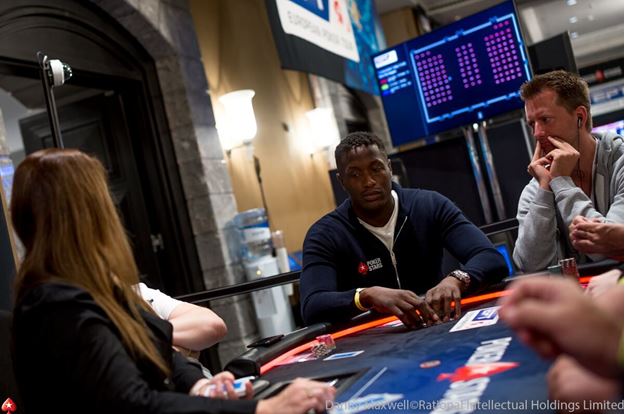 What kind of non-poker activities do you like to do here in the city when you're here for EPT Barcelona?
I like to go to the restaurants. This is a very beautiful city; the Spanish are very good people. And I get a good feeling here because they are very welcoming, and I like the restaurants because I like eating, always.
The festival is incredible! We beat the (attendance) record from last year. Every year it gets bigger. A lot of players prefer this stop because this city is great. The sun, the beach, it's a beautiful city. When you bust out of a tournament you can go do other things, and that's nice.