Tournament poker dominated the previous month on PokerGO, but November will be all-in on episodic cash game content. Prior to Thanksgiving, Season 11 of High Stakes Poker will conclude, while Season 3 of No Gamble, No Future will wrap up.
But don't get too sad because Season 12 of High Stakes Poker is being filmed in November, while Season 4 of No Gamble, No Future is already being edited in preparation for release.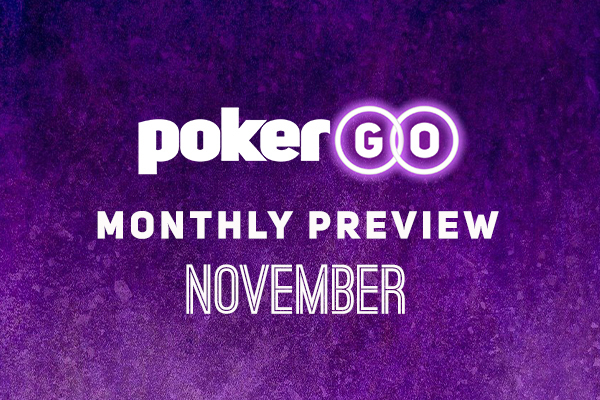 High Stakes Poker
The penultimate lineup of the season will see Brandon Steven, Bobo Chann, and Justin Gavri join Rick Salomon, Jean-Robert Bellande, Jennifer Tilly, and Rob Yong to play $200/$400 No-Limit Hold'em for one episode.
The final lineup of Season 11 will see the debut of Nik Airball who will join Bellande, Tilly, Yong, Doug Polk, Matt Berkey, Lynne Ji, and Eric Persson in a $200/$400 No-Limit Hold'em cash game for two episodes.
Watch Season 11 episodes of High Stakes Poker every Monday at 8 p.m. ET.
No Gamble, No Future
Season 3 concludes with the $100/$200 No-Limit Hold'em game featuring Eric Hicks, Kevin Martin, Matt Berkey, Matt Steinberg, Lynne Ji, Eli Elezra, Daniel Negreanu, and Phil Hellmuth. It will be action-filled final three episodes to wrap-up another season of No Gamble, No Future, as poker legends Hellmuth and Negreanu go to war with their chips and their words.
Watch Season 3 episodes of No Gamble, No Future every Wednesday at 8 p.m. ET.
What Did You Miss in October?
The month of October on PokerGO would be incredibly busy with PGT Mixed Games, Super High Roller Bowl: Pot-Limit Omaha, and PGT PLO Series taking center stage at the PokerGO Studio.
The inaugural SHRB: Pot-Limit Omaha attracted 38 entrants for the $100,000 buy-in, and it would be Jared Bleznick emerging victorious to win $1,292,000 in prize money and the Super High Roller Bowl ring.
Following the biggest buy-in Pot-Limit Omaha tournament of all-time, the second PGT PLO Series of 2023 would be met with the first use of the new PokerGO Studio Triangle Room. Eight of the PGT PLO Series final tables would be livestreamed on PokerGO with winners including Matthew Wantman, Eelis Parssinen, Stephen Hubbard, Adam Hendrix, Bryce Yockey, Joao Simao, Benjamin Juhasz, Zhen Cai, David Wang, and Daniel Geeng. Geeng was also crowned the PGT PLO Series II champion after winning Event #9 and cashing three other times. He collects the $25,000 championship bonus and PGT Gold Cup.
Wedged in the middle of the PGT PLO Series was the StormX Invitational III that attracted 95 entrants and was won by Jonathan Little for $130,386.
High Stakes Poker continued in October with everyone's favorites returning, including Jean-Robert Bellande, Rick Salomon, Jennifer Tilly, Rob Yong, and Andrew Robl. New faces to the show included Bob Bright, William Tjokro, Farah Galfond, and Matt Berkey.
No Gamble, No Future also returned with the conclusion of Clash of the Titans before Phil Hellmuth headlined a $50/$100 No-Limit Hold'em cash game that included Arden Cho, Lawford Edwards, Lynne Ji, Matt Steinberg, Shawn Madden, and Justin Young.
Connect with PokerGO on Facebook, Twitter, Instagram, and TikTok. Watch daily poker clips on the PokerGO YouTube channel. Join the conversation on the PokerGO Discord server.