It will be a quiet month of May on PokerGO which will be needed prior to two months of continuous WSOP action from Bally's / Paris on the Las Vegas Strip.
Season 9 of High Stakes Poker will conclude during the month, while Round 4 of High Stakes Duel III is scheduled to feature the return of Phil Hellmuth and Tom Dwan for an unprecedented $800,000 match.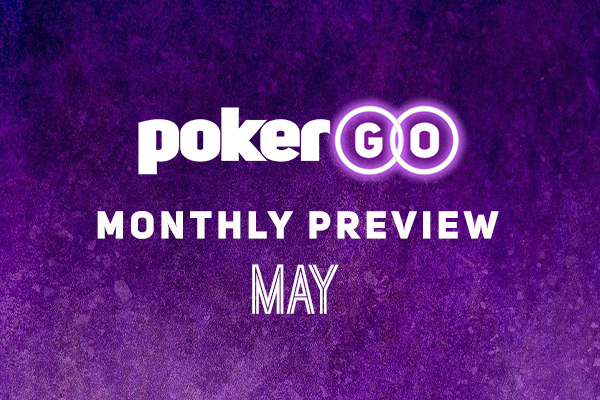 High Stakes Poker
The highly anticipated Season 9 of High Stakes Poker concludes in May with the final few episodes set to top off a great season that included the return of poker legends, new players making their debuts, and some massive six-figure pots.
A new line-up took a seat last week with DoorDash Co-Founder Stanley Tang and casino owner Eric Persson making their High Stakes Poker debuts. They were seated alongside poker professionals Patrik Antonius, Bryn Kenney, Tom Dwan, Phil Ivey, and Garrett Adelstein, along with entrepreneur and one of the Season 9 breakout stars, Krish Menon.
There will be two more episodes with this line-up playing $500/$1,000 No-Limit Hold'em, before the fifth and final line-up takes a seat for the final two episodes of the season. Daniel Negreanu and Doyle Brunson will return to take a seat alongside Dwan, Ivey, Antonius, and Tang. Jason Koon will make his season debut, while Jonathan Gibbs will return following his debut in episodes two and three of the season.
Watch new High Stakes Poker episodes every Monday at 8 pm. ET.
High Stakes Duel
High Stakes Duel III is returning this month with Phil Hellmuth back in the winner's chair following his Round 3 victory over Tom Dwan. Both players will be making High Stakes Duel history with Round 4 and a $800,000 prize pool being reached for the first time.
Hellmuth's seven-match win streak was ruined by Dwan in Round 2, but The Poker Brat righted the ship that has seen him collect eight High Stakes Duel victories against Daniel Negreanu, Antonio Esfandiari, Fox Sports 1's Nick Wright, and now Dwan.
This Round 4 match will see an unprecedented $800,000 prize pool at stake, and regardless of the result, the duel's rules stipulate that a Round 5 will be needed where there will be $1.6 million up for grabs. Following High Stakes Duel rules, both Hellmuth and Dwan will have to win two consecutive matches before they have the option to cash out.
Round 4 of High Stakes Duel III is set to premiere on Thursday, May 12, at 8 p.m. ET. The Hype Show will air on Wednesday, May 11, at 8 p.m. ET, while The Weigh-In is set to air on Thursday at 7:30 p.m. ET.
Watch Round 4 of High Stakes Duel III on Thursday, May 12, at 8 p.m. ET.
What Did You Miss in April?
It was a busy April on PokerGO with the continuation of High Stakes Poker, Super High Roller Series Europe, and the inaugural PokerGO Tour (PGT) Heads-Up Showdown.
Season 9 of High Stakes Poker in April saw four action-packed episodes where the pots were big, and the table talk even grander. Jennifer Tilly, Garrett Adelstein, and Daniel Negreanu couldn't stay out of the limelight as they were involved in some of the biggest pots of the season.
The high roller poker tournament action headed to North Cyprus for Super High Roller Series Europe. Phil Ivey won two events and the overall championship, while Jake Schindler won Super High Roller Bowl Europe for $3.2 million in prize money.
PokerGO's newest event was the $25,000 PGT Heads-Up Showdown. The 32-player invitational included a mix of PGT players, cash game players, tournament veterans, celebrities, and other PokerGO invitees. The final would see Chino Rheem taking on Darren Elias with Rheem continuing his outstanding year and notching a $400,000 win against his fellow WPT Champions Club member.
Connect with PokerGO on Facebook, Twitter, and Instagram.